Andaman and Nicobar Islands are the perfect mesh of nature and wildlife, with sparsely populated beaches and an ocean brimming with fascinating marine life. An ideal paradise for nature lovers to relax and taste seafood delicacies.
However, scuba diving in these isles is the greatest attraction and the perfect utopia for adrenaline junkies looking for scuba diving and snorkelling opportunities to explore the azure sea. Besides, scuba diving in Andaman opens up a whole new world of experience for the divers with its silver shores, mysterious ocean beds and their exciting ocean waves, the vivid inhabitants, intricate and fun corals, and exotic marine life.
Plus, if a newbie wants to get first-hand experience in scuba diving, some certified instructors can help explore dive sites safely. And below are the types of scuba diving with sites in Andaman better suited as per experience level. We have also mentioned scuba diving In Andaman prices for you to make the most cost-effective choice.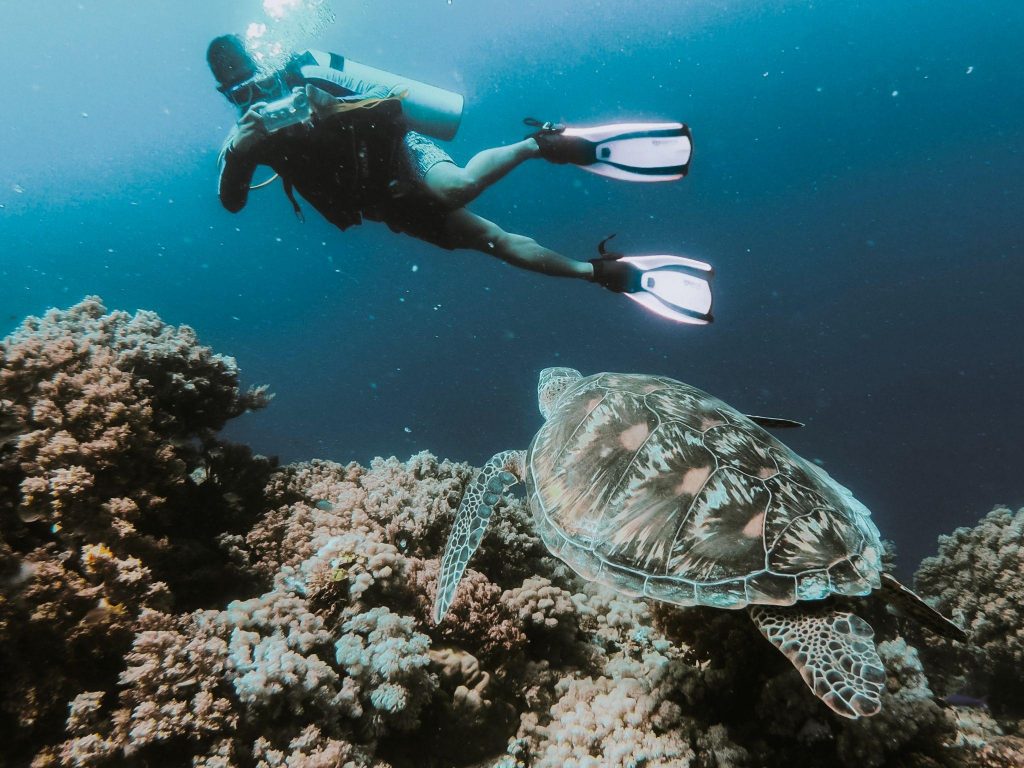 Types of Scuba Diving in the Andaman and Nicobar Islands
Diving is mainly divided into two categories, free diving and scuba diving. While diving mostly depends on holding breath, scuba diving requires specific equipment. And here are the best types of scuba diving in the Andaman and Nicobar Islands, gathered and explained.
Shore Diving
Shore diving is simple; it means slowly trudging into the ocean and diving from the shore. This is mainly recommended for non-swimmers and beginners since it tones down the intimidating sea when trudged in slowly.
Shore diving fees in the Andaman are lower than those for other types of diving. Apart from that, a certified diver will always be there for instruction and a safe experience.
Boat Scuba Diving
Boat scuba diving in the Andaman has become pretty famous and is done by only a handful of institutions that are experienced. This is for beginners and intermediate levels of scuba diving.
And as the name suggests, boat scuba diving starts from a boat. However, first, the divers or tourists are trained on know-how equipment briefly before jumping into the ocean. Even though the boat scuba diving in the Andaman price may flip out and be off-budget, the serene experience is worth every penny.
Scuba Diving Courses
After experiencing basic scuba diving, some people—mostly daredevils—look out for opportunities to explore the oceans and seas around the world. However, for that, a certified expert is needed.
Andaman and Nicobar Islands are well-known for their diving schools, such as PADI (The Professional Association of Diving Instructors) and SSI (Scuba Schools International), which provide diving courses and advanced diving courses.
It could be a golden opportunity for people wanting to make a career out of scuba diving, as they offer both theoretical and practical classes in the courses.
Open Water Diving
Open-water diving is an advanced level of diving where divers can jump into unrestricted waters like lakes, seas, or flooded quarries. Divers are ready to explore the waters once they have completed the course and are certified.
Andaman Islands offer advanced open water diving courses where a dive master is certified to assist any newbie in the field of open water diving or even shore water diving. Many have already been certified and are diving across the globe.
Cost of Scuba Diving in the Andaman
The average cost of scuba diving in the Andaman and Nicobar Islands is INR 2500-4000 for 30-45 minutes and more for longer durations and peak seasons. Beginners and first-time divers typically participate in these sessions to enjoy the activity and get a feel for the ocean without spending too much money.
Best Places to Scuba Dive in the Andaman Islands
It could be overwhelming to select the best places to visit in a limited time. So here is the list of the best places for the ultimate scuba diving experience.
Havelock Islands
When it comes to scuba diving, it is impossible to not mention Havelock. Why? Well, because of its fantastic getaway packages of a pristine oasis of pearl white beaches, coral reefs, and top-class scuba diving sites. Whether a person is a novice or an expert, scuba diving in Havelock offers an unforgettable experience to everybody.
Aquarium
When it comes to scuba diving, it is impossible to not mention Havelock. Why? Well, because of its fantastic getaway packages of a pristine oasis of pearl white beaches, coral reefs, and top-class scuba diving sites. Whether a person is a novice or an expert, scuba diving in Havelock sites offers an unforgettable experience.
Barracuda City
Barracuda is simply the best spot for scuba diving in Havelock for intermediate and expert-level divers. The fresh water and long strips of radiant coral belts with both soft and hard coral reefs contribute to the rich ecosystem. The wandering turtles that are spotted near these reefs make the diving experience unique and memorable.
Seduction Point
Seduction Point is among the best-known places for scuba diving in Havelock. It is an underworld of rocks and staghorn coral adventure for beginners and intermediate divers. Moreover, this shallow water is densely populated with numerous inhabitants, including Napoleons, which makes the diving experience more happening.
Lighthouse
Lighthouse has spread out its arms for every type of diver, all the way from beginners to experts. It is located near the shallow waters and is best known for nighttime diving. The perfect balance of radiant fish, soft and hard corals and the serenity of being underwater boosts the experience. Besides, the lighthouse is ranked as one of the best scuba diving sites in the Andaman Islands.
Apart from the sites mentioned above, there are other fine scuba diving sites, including The Wall, Pilot Reef, Minerva Bridge, The Slope, Red Pillar, and many more.
Neil Islands
The preserved marine life, medium currents, and alive corals around the shoreline and beyond are perfect for an optimal underwater adventure. And though the water isn't crystal clear, it can still offer a fine diving experience.
Plus, Neil Islands is best known for its stellar hotels and resorts and is ideal for those looking for peace. Even so, due to low competition and less number of tourists, scuba diving in Neil Island is expensive compared to other places in Andaman.
And some of the best diving sites on Neil Island are:
Margherita
Margherita's Mischief is a calm holiday spot with boulders on soft sand and crystal clear water, offering an on-fleek diving experience. The myriad shades of sublime marine life like Batfish, Pufferfish, Angelfish, Blue-spotted Stingrays, Soldierfish, and Yellow Snappers are spotted while the diving course is a plus in adventure. Besides, it is suitable for all kinds of divers, from novice to expert.
Junction
Junction is located between the Neil and Havelock isles, a diving spot exclusively for divers seeking thrilling experiences. Surrounded by radiant corals and beauteous marine life such as Lionfish, Barracuda, Marlin, Trevally, and sometimes reef sharks too. Thus, it is not ideal for novice divers.
Bus Stop
"Bus stop" is one of the famous diving spots in the Andaman, with a gently sloping seabed with a sandy bottom and a small reef. It is located at the western end of Neil Island. It offers a perfectly smooth diving experience, thus suited for all kinds of divers.
K Rock
As the name suggests, K Rock is a huge volcanic rock that sits on the soft sandy seabed, and because of its geographical location, it is one of the tourist favourites and is considered one of the best diving spots. Plus, thanks to the soft currents, K Rock is suited for all kinds of divers.
North Bay Islands
North Bay is the second-best place to dive in the Andaman. The captivating landscape, glittering blue water at the shoreline, and rich and enchanting corals add up to the diving experience. Plus, it is suited for all kinds of divers. Whether it's a family vacation or an exciting getaway, North Bay is the best spot worth visiting.
Barren Islands
Ironically, Barren Island is not quite barren. And though it is recorded as one of the active volcanoes in India, there's more to it than just rocks and hot lava. Plus, the untouched waters and unique marine life has peaked its popularity as one of the top tourist attractions.
Port Blair
Port Blair is located on the east coast of the south and is the capital of Andaman and Nicobar. Being the capital of the Islands, it carries its own package of adventures; stunning coral reefs, breathtaking sightings, and numerous diving sites.
Plus, the Mahatma Gandhi Marine National Park near Wadoor is a must-visit while in Port Blair. They allow tourists to sight abundant marine life with over 50 types of coral and sea flowers and marine species like whitetip sharks, clownfish, and butterflyfish.
When to Visit Andaman for Scuba Diving?
It is best to visit the Andaman Islands when the currents are at peace, and the clouds aren't pouring. So, the suggested times of the year are from October, since that's when the diving seasons usually start, stretching up till May.
From June to September, the region sees heavy rainfall and monsoon storms; thus, it could be dangerous to dive in the rough sea. Plus, because of the pleasant weather between May and October, it is considered to be the perfect time for sightseeing and beach excursions.
Final Thoughts
Gliding into the crystal clear water is an adventure in itself. However, the most crucial adventure can be deciding on the tour site and suitable packages that are get-set-ready specifically for you.
Thomas Cook is a trusted and easy-to-connect site. Thomas Cook offers an exclusive Andaman and Nicobar packages. So, grab this chance to explore the marine world in the Andaman, and see colourful fishes, coral reefs, and flora.
FAQs
What is the minimum age for scuba diving in India?
The minimum age for scuba diving is 10 years. Hence, children above the age of 10 can do scuba diving.
What is the best scuba diving season in Andaman?
The Andaman Islands' diving season runs from October to May. Heavy rain and monsoon storms are common from June through September. The ideal time to dive the Barren Island is between February and April.
What is the cost of scuba diving in Andaman?
The average cost of scuba diving in the Andaman Islands is INR 2500-4000 for 30-45 minutes and more for longer durations and peak seasons.