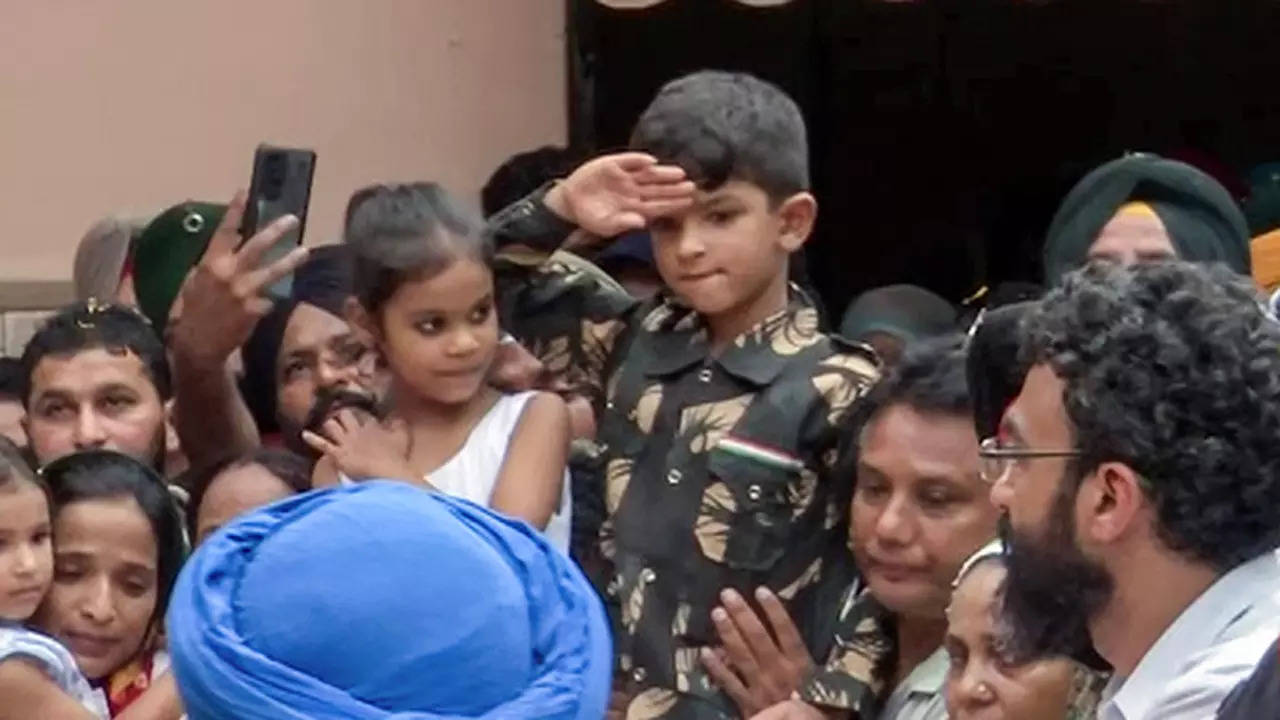 NEW DELHI: Heartwrenching scenes unfolded in Punjab's Mohali on Friday when the six-year-old son of Colonel Manpreet Singh, who died during a gunfight with terrorists in Kashmir, gave his braveheart father a final salute.
The stoic child, dressed in Army-style camouflage, saluted his father one last time before the cremation.
Since morning, Colonel Singh's house in Bharaunjian village witnessed a steady stream of mourners who joined his inconsolable wife, mother and other family members in his final journey.
In videos being circulated online, a man can be seen holding the boy on his shoulders as he salutes his father.
The six-year-old was later seen clinging to the tricolour-wrapped coffin of his father along with other family members.
He then bowed before his father's body just before cremation with chants of "Bharat Mata ke Sapoot Ki Jai" and "Bharat Mata ki Jai" filling the air.
The cremation took place with full military honours, including a wreath laying ceremony and a gun salute.
Punjab Governor Banwarilal Purohit, former Army chief V P Malik and Punjab ministers Chetan Singh Jouramajra and Anmol Gagan Maan as well as senior Army and police officers were present at Bharaunjian and laid wreaths. Lt Gen D P Vats (retd), a BJP leader, was also present.
Purohit and Anmol Maan were seen consoling the family members of Colonel Singh.
Earlier today, Colonel Singh's mother was seen wailing as she waited at the doorsteps for her son's mortal remains. A third-generation soldier, Singh's father who died nine years ago, was an ex-serviceman.
Some of the school teachers of Colonel Singh also turned up at the funeral.
"He was a gem for us. He was a gem for the nation," said a teary-eyed teacher, adding, "He had said he would come in December".
Colonel Singh, a Sena medal awardee, is survived by his two children, wife, who is a government school teacher in Haryana, his brother and mother.
During the fierce gunfight with terrorists, Col Manpreet Singh and Maj Ashish Dhonchak of 19 Rashtriya Rifles, and DSP Humayun Bhat of J&K Police lost their lives on the intervening night of Tuesday and Wednesday.
(With inputs from PTI)
Watch Anantnag Encounter: Six-year-old son's final salute to his father Colonel Manpreet Singh | Mohali