It's ironic that the last time two of India's champion cricketers and spin-bowling allrounders, R Ashwin and Ravindra Jadeja, featured in an overseas Test XI was in the 2021 World Test Championship final vs New Zealand at Ageas Bowl, Southampton from June 18-23.
India lost that Test by eight wickets and their decision to field two spinners in the XI in damp conditions was heavily criticized.
For the record, Ashwin bowled brilliantly, taking 2-18 off 15 overs and 2-17 off 10 overs in the two innings. Jadeja picked one wicket off 7.2 overs in the first innings and went wicketless in the eight overs he bowled in the second innings.

It's WTC finals time again, and India face a similar dilemma as they gear up to meet the Aussies at what Steve Smith calls "spin-friendly, India-like conditions at the Oval." But will it actually be spin-friendly?
The Oval Test is traditionally the last of the English summer, in warmer conditions. India will be playing there from June 7. Interestingly, the Oval has never staged a Test in June. In the last 10 Tests at the venue, pacers have bowled 2413.3 overs, taking 252 scalps at a strike-rate of 57.4, while spin has been used for only 741.4 overs and the 68 sticks have taken 65.4 balls per wicket.
What should India do? Pick both Ashwin and Jadeja? Or play only one of them? In overseas assignments, Jadeja has been preferred over Ashwin when fit and his performances, especially with the bat, since 2020, have justified his inclusion in the side.
Sunil Subramanian, former coach of Ashwin, former Tamil Nadu left-arm-spinner and former manager of the Indian team, acknowledges that it won't be a straight-forward call. "If both are bowling well, you might be tempted to play both. But if the weather forecast is gloomy, then you need three top-class fast bowlers. Only Mohammed Shami and Mohammed Siraj make that cut. You need to fit the rest of the bowling lineup around them," he told TOI.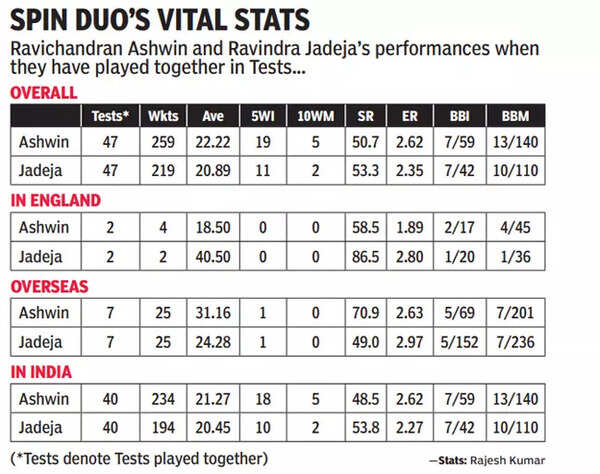 When India last played the WTC final in Southampton, under the captain-coach duo of Virat Kohli and Ravi Shastri, Ashwin paid the price for the underperformance of the batters and of Jasprit Bumrah, who went wicketless in the Test, and was benched for all the five Tests of the series that followed.
This time though, Shastri wants both Ashwin and Jadeja in the XI to make up for the lack of quality in the seam-bowling department in Bumrah's absence. Speaking to ICC Review, Shastri said, "Four fast bowlers, one being an allrounder. That is a good combination in England. It allows Rohit Sharma to control the game. But if you don't have quality in your pace attack, play that second spinner because Ashwin is quality. If the track is hard and dry, you would want two spinners."
Subramanian feels India will have to pick Shardul.
"You need someone to bat well down the order and he has a decent overseas record, having picked seven wickets in Johannesburg vs South Africa (January 2022)."
He also feels the fourth bowling option can be a pacer between leftarm-seamer Jaydev Unadkat or Umesh Yadav.
"Jaydev may not be express, but it can be a different story when the ball moves. If we play him, and if you are playing only one spinner, then playing Ashwin makes sense, as both Starc and Unadkat will create rough for him and the Aussies have five left-handers."
Former wicketkeeper Dinesh Karthik, who was commentating on that 2021 WTC final in Southampton, had felt India blundered by playing two spinners. Subramanian too feels the same.
"Early part of the English summer, the scores are not high as it rains a lot. The role of a spinner in those conditions will only be for 12 or 13 overs a day. Also, since it is a one-off and there won't be penalty points for bowling your overs short, which is possible if you have a four-man pace attack, a 4-1 combo could be tried. But in the nets, if they see only Shami and Siraj are bowling well, then they will be forced to go with Shardul and play both Ashwin and Jadeja."
Former Aussie skipper Ricky Ponting too feels India will play both Ashwin and Jadeja.
"Jadeja can hold that No. 6 batting spot. His batting has improved that much that they can pick him as a batter now who might just bowl a few overs if required. There is no doubt that Ashwin is a more skilled and better Test bowler than what Jadeja is. But if Jadeja can hold down that batting spot and then as the game goes on, getting into the fourth and fifth day, if it does start to turn, then you have got that really high-class second spin-bowling option if required," Ponting said in ICC Review Podcast.
Subramanian felt that in overseas Tests, Ashwin loses out to Jadeja because the Saurashtra allrounder has made more meaningful contributions.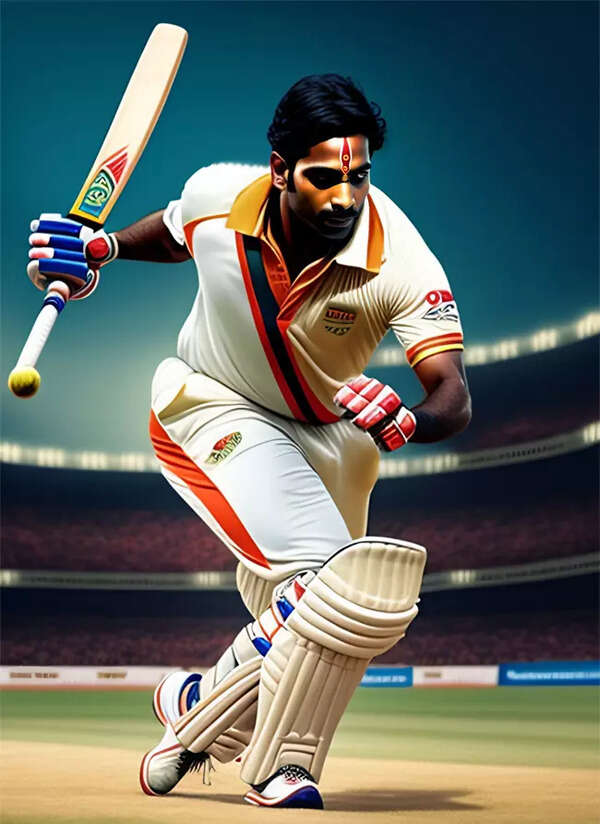 "We have to realise that Jaddu got into the overseas XI because of the space vacated by Ashwin. Ashwin is highly skilled but apart from the last tour of Australia, he hasn't made an impact. In between, Kuldeep came in and got wickets. If it was Australia or South Africa, I'd pick Ashwin because of the bounce. But he hasn't yet bowled a defining spell in England."
Like Ponting, who felt India should have played Hardik Pandya for a one-off game, Subramanian too highlights some errors in selection.
"Once KL Rahul and Shreyas Iyer were ruled unfit, they should have picked Wriddhiman Saha and should have played Hardik. He would have given this team the perfect balance."