"Jai Bajrangbali!" That is Congress' victory cry as it thumps the incumbent Bharatiya Janata Party (BJP) in the Karnataka Assembly elections. As the Grand Old Party crossed the majority mark securing 136 out of the 224 seats, celebrations erupted in its headquarters in Delhi.
Several Congress workers dressed as Lord Hanuman thronged the party offices across the state; some were distributing sweets and beating dhols, dancing and rejoicing the win.
"Bajrangbali BJP ke nahi Congress ke sath hain… Bajrang Bali ne BJP par fine lagaya hai (Lord Bajrangbali is with the Congress. He has levied a fine on the BJP)," said one of the workers celebrating in Hanuman costume in Delhi and taunting the saffron party.
Related Articles
From kingmaker to distant third: How JD(S) suffered a big setback in Karnataka Assembly election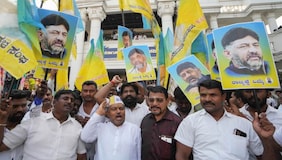 Karnataka Assembly Election Results 2023: The big winners and losers
The diety has figured in speeches, rallies, roadshows and more. Anjanadri Hills in Karnataka is considered the birthplace of Lord Hanuman, but how did he get dragged into state politics? We take a look.
Catch all the live updates from the Karnataka Assembly Election Results here
The Congress manifesto
In its manifesto, Congress promised the banning of right-wing groups like the Bajrang Dal for "spreading hatred amongst communities on grounds of caste or religion".
"We believe that law and Constitution sacrosanct and cannot be violated by individuals and Organisations like Bajrang Dal, PFI or others promoting enmity or hatred, whether among majority or minority communities," the Congress manifesto read. "We will take decisive action as per law including imposing a ban on any such organisations."
A ban on the fringe outfit and equating it with the outlawed Islamic group Popular Front of India (PFI) enraged the BJP and its supporters.
The saffron party brought up Lord Hanuman, saying a ban on Bajrang Dal was an insult to the deity. "Today, Congress released its manifesto, a bundle of lies, in view of Karnataka polls… This is audacious and the height of appeasement politics. This is the Congress attempt to save PFI by insulting Lord Hanuman," BJP national spokesperson Sambit Patra said earlier this month.
Bajrang Dal staged protests against the Congress and burned its manifesto; it was joined by its parent organisation Vishva Hindu Parishad (VHP).
Congress started somewhat second-guessing itself or so it appeared as senior Congress leader M Veerappa Moily seemed almost apologetic about the manifesto. Day after the protest, he said that the state government cannot ban an outfit and the power lies with the Centre.
"We haven't said we'll ban Bajrang Dal. We said organisations like PFI and Bajrang Dal disrupt peace in society. I was a law minister in Karnataka and let me tell you state government can't do it…. Even Bajrang Dal can't be banned by the state government. Our state president DK Shivakumar will give you a detailed clarification about it. There was no such proposal," he said.
However, senior party leaders refrained from explaining.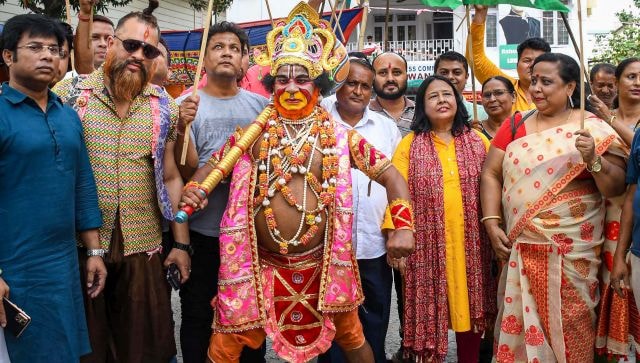 The BJP's Hanuman politics
As Bajrang Dal held Hanuman Chalisa recitals across Karnataka, the BJP jumped onto the bandwagon and played the Hindutva card. The diety became a "chunavi jumala" in the state.
As Prime Minister Narendra Modi campaigned in Karnataka, he started and concluded his speeches with chants of "Jai Bajrangbali". He accused the Congress of aiming to "lock up" Hanuman worshippers after having "first locked up Lord Ram".
At an election rally in Vijayanagara district, Modi spoke about the state's link with Lord Hanuman. "I have come to the land of Lord Hanuman. I am fortunate that I got the opportunity to pay obeisance to his land. But see the misfortune that when I have come to pay my respect to his land, the Congress has decided to lock up Lord Hanuman," he said, hinting at the birthplace of Lord Hanuman, Anjanadri Hills.
BJP's MP from Bengaluru South Tejasvi Surya took the PM's cue. "I am a Bajrangi. I am a Kannadiga, and this is the land of Hanuman. I dare the Congress to ban me," he declared in the social media post.
The saffron party had got its trump card (or so it thought) and it was not going to let it go.
---
Complete coverage of the Karnataka Assembly Elections 2023
Sunil Kanugolu, pollster 'as elusive as Bagheera' who scripted Congress' win

Karnataka Results 2023 | Voters pick Cong over BJP: Why this is no surprise
Karnataka Assembly Election Results 2023: Who is leading, who is trailing?
Karnataka Results: Shivakumar or Siddaramaiah? Who will be Congress' CM pick?
From kingmaker to distant third: How JD(S) suffered a big setback in Karnataka Assembly election
Resort politics in Karnataka. Why Congress is likely to move its MLAs to hotels
---
The BJP adapted "Jai Bajrangbali" as its unofficial slogan in the Karnataka election campaign. Supporters chanted it at rallies and roadshows. At Prime Minister Narendra Modi's roadshow in Bengaluru last Saturday, Lord Hanuman was a common motif – cutouts of the diety dotted the route.
Ahead of voting, on Tuesday, Chief Minister Basavaraj Bommai along with his supporters recited the Hanuman Chalisa.
The BJP did all it can to corner Congress over its controversial manifesto promise. But as results show, it did not work in the ruling party's favour.
A blessing in disguise for Congress 
According to a report in The Indian Express, top Congress leaders agreed that equating Bajrang Dal with PFI was "avoidable". But once the controversy erupted, the party decided not the back down.
In hindsight, it seems to have worked in the party's favour. Right-wing outfits like Bajrang Dal and Sri Ram Sene are a bane for Muslims and the urban population in the state. The proposed ban, though might not be implemented, sent out a message to this section of voters that the party has intent.
"… Karnataka has a large urban population. So in a way, we believe the Bajrang Dal controversy swung in our favour. The Hindutva sentiment was not that perceptible this time. It may have cost us in some seats in the coastal belt, but surely the gains outweighed the losses," a senior leader told the publication.
Muslim voters in the old Mysore bought into the promise and voted for Congress. This vote bank is divided between the Janata Dal (Secular) and Congress, but during the 2023 election, the minority voters put their weight behind Congress, handing the party a gain of 14 seats.
The promise to restore a four per cent Muslim vote worked in favour of Congress after the BJP tried to scrap it. But the Supreme Court stayed the decision, reports News18. Beyond that, one of the main reasons the Muslims in Old Mysore picked the Grand Old Party was its promise to ban the Bajrang Dal.
What at one time seemed like a faux pas has turned into a blessing in disguise. And now  Congress is owning it.
As the party secured seat after seat in Karnataka, senior Congress leader Pawan Khera told India Today that the Karnataka election amounted to a message for the BJP that it should "stick to issues that matter to everyday lives of people… and don't try and divide India".
"Devotees of Lord Hanuman have given a befitting reply to PM Modi," he jibed.
It may not have been divine intervention but Congress has emerged triumphant. And the saffron party has some thinking to do, as 2024 is not too far away.

With inputs from agencies
Read all the Latest News, Trending News, Cricket News, Bollywood News,
India News and Entertainment News here. Follow us on Facebook, Twitter and Instagram.