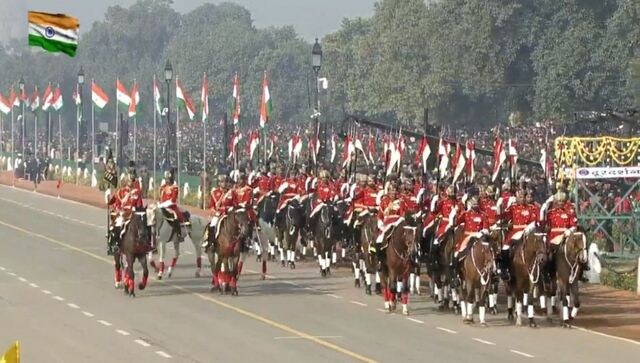 Republic Day is celebrated every year on 26 January to mark the enactment of the Indian Constitution. The day also marks the power of Indian citizens to choose their government democratically, and is observed as a national holiday in the country. Republic Day is commemorated with a lot of enthusiasm across the country. The annual parade is the main attraction of the Republic Day celebration. The parade starts at New Delhi's Rajpath and ends at the India Gate. The Indian President hoists the national flag at Rajpath on this day. The nation's cultural heritage is showcased during the event. The Indian Army, Indian Navy, and Indian Air Force also showcase some death-defying stunts on this day.
Why does India celebrate 26 January as Republic Day?
India had gained independence from British rule on 15 August 1947. However, India remained governed mostly by the colonial Government of India Act of 1935 for its first three years. The Constitution of India was completed by the Constituent Assembly of India on 26 November 1949. The Indian Constitution came into effect on 26 January 1950. The date of 26 January was selected as the official enactment date as a nod to the Purna Swaraj (complete self-rule) declaration of independence by the Indian National Congress on this very date in 1930.
Celebration
On Republic Day, the Indian President announced the Padma Awards to deserving civilians of the country for honouring their contribution to the nation. The Paramvir Chakra, Vir Chakra, and Ashok Chakra are also awarded to the brave soldiers. The live webcast of the Republic Day Parade is also made accessible to millions of people who want to watch the parade on the internet or TV.
Some facts about the Indian Constitution
The Constitution of India is the longest constitution in the world.
The Indian Constitution was not printed or typed out, instead it was handwritten in a flowing italics style by calligrapher Prem Behari Narain Raizada.
It was only after the enforcement of the Indian Constitution that women in the country received the right to vote.
Dr Bhimrao Ambedkar had declared Article 32 of the Indian Constitution, "Right to Constitutional remedies", as the "heart and soul" of the Constitution. Also known as the Father of Indian Constitution, Ambedkar headed the drafting committee of the Constitution.
The Indian Constitution has borrowed provisions from the constitutions of the United Kingdom, France, United States, and the Soviet Union. The fundamental principles of our Constitution are inspired by various other constitutions.
Read all the Latest News, Trending News, Cricket News, Bollywood News,
India News and Entertainment News here. Follow us on Facebook, Twitter and Instagram.