The Supreme Court granted six weeks interim bail to former Delhi minister and Aam Aadmi Party (AAP) leader Satyendar Jain on medical grounds on Friday (26 May). He has been in prison since last May following his arrest by the Enforcement Directorate (ED) in an alleged money laundering case.
During his interim bail period, the top court has directed the AAP leader not to speak to the media, influence witnesses, tamper with evidence or leave Delhi. The apex court will hear the matter next on 10 July.
But what happened to Satyendar Jain that led to this ruling? Let's find out.
Related Articles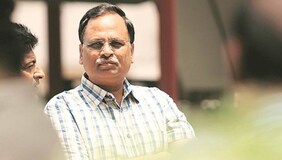 Jailed AAP leader cites 'loneliness' and asks for company, Tihar cop in trouble for obliging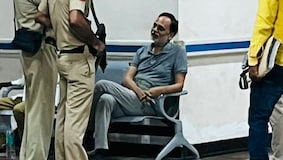 Delhi's ex-health minister Satyendar Jain collapses in Tihar jail bathroom, hospitalised
What is going on?
The interim bail comes a day after Jain was admitted to the ICU of Lok Nayak Jai Prakash Narayan (LNJP) Hospital.
Jain collapsed inside a bathroom in Tihar jail around 6 am on Thursday (25 May).
As per an Indian Express report, the former Delhi health minister was first referred to Deendayal Upadhyay (DDU) Hospital in West Delhi, from where he was later shifted to LNJP in central Delhi.
The AAP-led Delhi government shared a picture showing Jain lying on a bed at Lok Nayak Hospital with oxygen support.
AAP leader Satyendar Jain admitted to the ICU of LNJP hospital in Delhi after he was referred here from Deen Dayal Upadhyay Hospital. Jain is on oxygen support. He was taken to Deen Dayal Hospital earlier today when he felt dizzy and fell in the bathroom of Tihar jail: AAP… pic.twitter.com/iwJ9HP3a3a

— ANI (@ANI) May 25, 2023
A Tihar Jail spokesperson said that Jain fell in the bathroom of the MI room of the hospital of central jail number-7, "where he was kept under observation for general weakness", reported PTI.
He was referred to the DDU as he complained of "pain in the back, left leg and shoulder", the senior jail official added.
A senior doctor at the Delhi government-run LNJP told PTI on condition of anonymity: "Jain has some spinal issues, and in the past too, he has been brought to LNJP Hospital to undergo treatment for it".
Reacting to the news, Delhi chief minister Arvind Kejriwal prayed for Jain's speedy recovery. "The person who was working day and night to provide good treatment and good health to the public, today a dictator is bent on killing that good person… God is watching all, he will do justice to all. I pray to God for Satyendar ji's speedy recovery. May God give them the strength to fight against these adverse circumstances," he wrote in a tweet.
जो इंसान जनता को अच्छा इलाज और अच्छी सेहत देने के लिए दिन-रात काम कर रहा था, आज उस भले इंसान को एक तानाशाह मारने पर तुला है।

उस तानाशाह की एक ही सोच है – सबको ख़त्म कर देने की, वो सिर्फ़ "मैं" में ही जीता है। वो सिर्फ़ खुद को ही देखना चाहता है।

भगवान सब देख रहे हैं, वो सबके… https://t.co/I4UYn9xP9r

— Arvind Kejriwal (@ArvindKejriwal) May 25, 2023
This was the second time in a week that the former minister required medical attention. On Monday, he was taken to the Safdarjung Hospital after he complained of extreme back pain due to the spinal injury he sustained from a fall inside the prison last year, as per Indian Express.
AAP says Jain's doctor has suggested immediate spinal surgery. According to a party official, Jain has "acute lumbar pain, causing vertigo and chronic lower back pain due to a slipped disc".
"Jain's MRI has also shown degeneration in all intervertebral discs, leading doctors to advise urgent spinal/vertebral surgery and proper post-operative care. However, he has been placed as No. 416 on a waiting list by jail authorities, and is expected to be able to undergo surgery only after a further five months," the AAP official was quoted as saying by Indian Express.
ALSO READ: The case against Delhi minister Satyendar Jain and the war of words between AAP and BJP
What happened in Supreme Court?
Senior Advocate Abhishek Manu Singhvi, who appeared for Jain, said his client's medical reports attest that his client needs immediate medical attention.
He told the apex court that he was seeking bail only on medical grounds and not on merits.
"The man has developed muscular atrophy. He has become a skeleton. Has lost 35 kgs," Singhvi told the top court, as per Live Law.
Additional Solicitor General (ASG) SV Raju, who represented the ED, retorted that the AAP leader, who belongs to the Jain community, has lost weight as he was not eating. "As far as weight is considered, he is a Jain and I am told that he is not taking food in jail and he is fasting," LiveLaw quoted Raju as saying.
ASG Raju also argued that LNJP's medical reports could be falsified as Jain has served as Delhi's health minister.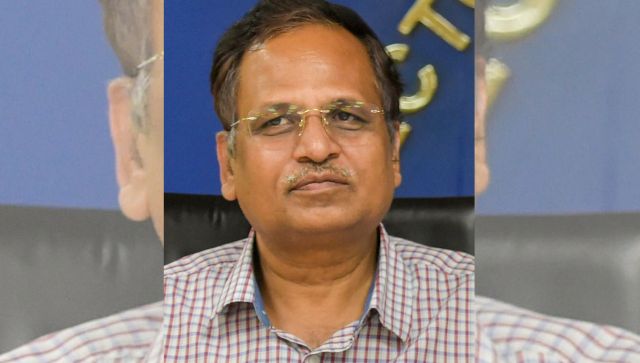 "He was the health minister. He was also the jail minister. So, he knows doctors and officials in jail. All these reports could be fudged and cannot be relied upon. Let him be examined by a panel of doctors from AIIMS (All India Institute of Medical Sciences) or another hospital that is not under the Delhi government," Raju told the vacation bench of Justices JK Maheshwari and PS Narasimha, according to HT.
The ASG further pointed out that Jain had withdrawn a similar bail plea on medical grounds last year when ED called for his examination by a panel of doctors at AIIMS – which is run by the Central government.
ASG Raju also urged the Supreme Court to get Jain examined by an independent medical team at AIIMS during his interim bail. To this, the bench replied, as per HT: "We can consider independent evaluation after going through the reports that he will submit on the next date."
The top court gave interim bail to Jain till 11 July so he can avail treatment in a private hospital of his choice.
Jain has been accused of laundering money to the tune of nearly Rs 16.5 crore over two periods in 2010-12 and 2015-16 through companies allegedly linked to him.
The Central Bureau of Investigation (CBI) had registered a case against the AAP leader in 2017. He was arrested by the ED last year following the CBI case.
Last year, the central agency attached assets worth Rs 4.81 crore belonging to these companies in the alleged money laundering case.
The former Delhi minister has denied all the charges and his party has called the case a "political vendetta" against him by the ruling Bharatiya Janata Party (BJP) at the Centre.
With inputs from agencies
Read all the Latest News, Trending News, Cricket News, Bollywood News,
India News and Entertainment News here. Follow us on Facebook, Twitter and Instagram.