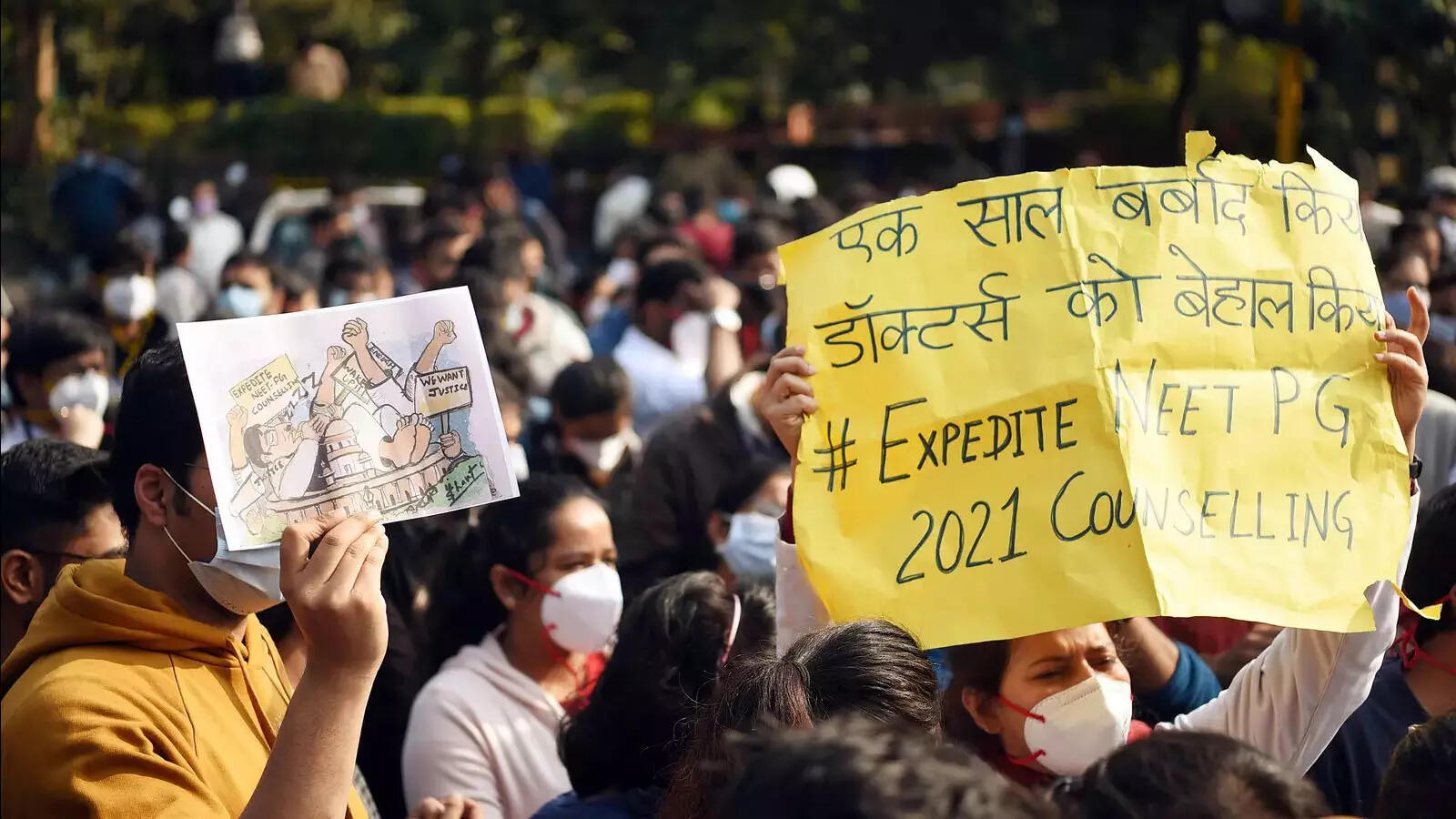 NEW DELHI: It has been nearly a month since tens of thousands of resident doctors across India started their protest over delays in postgraduate admissions, which they say has led to a massive staff shortage at a time when the nation is grappling with rising Covid cases.
OPD services at countless hospitals have been suspended for over three weeks, and as the agitation intensifies, several resident doctors associations (RDAs) have threatened to shut down routine medical services. The AIIMS RDA has also called for a strike on December 29, following alleged brutal action by the police during a protest march by doctors in Delhi on December 27.
Here are the reasons why the doctors are protesting
NEET-PG 2021 delayed
Doctors who have completed their MBBS degree and internship have to appear for the National Eligibility-cum-Entrance Test for postgraduate courses (NEET-PG) to study a specialisation.
This test usually takes place in January. NEET-PG 2021, however, was postponed by the National Board of Examination in view of the Covid-19 situation.
It was delayed twice before finally being conducted in September.
Admissions/counselling yet to start
The counselling and admission process for the students, however, has not started as the Supreme Court is hearing a bunch of pleas regarding newly introduced criteria for the economically weaker sections quota. The next date of hearing is only in January 2022.
Meanwhile, the Centre has decided to constitute a committee to determine the EWS criteria, which will take four weeks to file a report. This will delay the process of counselling further.
Doctors have been demanding that the SC fast-track the hearing and that the Union health ministry expedite the submission of a report on the criterion that limits annual income at Rs 8 lakh to determine EWS quota eligibility.
Severe staff shortage during pandemic
The junior residents, along with those who have completed their PG course and are appointed as senior residents, form the backbone of health services at medical college-associated hospitals.
With those having completed their three years of PG training moving on to jobs as senior residents at the same or other hospitals, the lack of an incoming batch has resulted in major staff shortfall.
Extended work hours
To make up for the shortfall, existing doctors are working 100-hour weeks at the height of the pandemic.
This is why the exhausted doctors are demanding that admissions be conducted at the earliest, especially with another wave of Covid-19 looming.
The delays have also cost roughly 50,000 medical students one year of their education as they are still waiting to join hospitals.