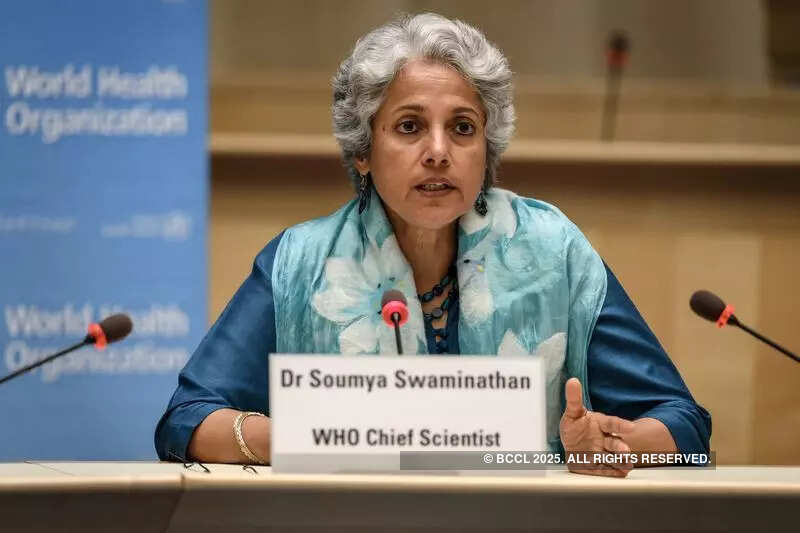 Tamil Nadu should introduce rapid tests to screen partygoers and those participating in public rallies to keep infections low, says WHO chief scientific officer Dr Soumya Swaminathan, who is also a member of the TN expert medical committee for prevention and management of Covid-19. Whether it is Omicron or Delta, vaccination and Covid-appropriate behaviour should be encouraged, she tells Pushpa Narayan in an interview. Excerpts:
Omicron has high transmission rates but is also seen as the variant that evades immunity. Should governments resume restrictions such as night curfew, ban public gatherings and parties?

No. Covid is here to stay, and we must learn to live with it. Asking people to stay indoors or keeping schools and colleges locked aren't ideal approaches any longer. It causes more damage than the pandemic itself. Instead, we must encourage people to vaccinate themselves and follow covid appropriate behaviour. They must wear masks, practise social distancing norms, and follow prescribed prevention strategies. It is good that the government is not making hurried announcements of lockdowns to push back the virus. Governments may however opt for micro-containments measures in hotspots or smaller regions to prevent transmission.
What was your advice to the state government ahead of holidays and festive season?

Tamil Nadu must consider introducing rapid antigen tests as early as possible. The state has a policy to use only RTPCR tests. It has developed infrastructure, both in government and private sector, for the gold standard test. But antigen tests are now being used across the world and many kits are highly sensitive. It will be useful to make spot antigen testing mandatory for all members taking part in large public meetings or indoor events such as New Year parties. While it may not be completely foolproof, the test reduces the number of asymptomatic positive people from being a part of the event. This can cut down the risk of transmission, particularly when there is threat of variants like Omicron. Also, as cases increase the waiting time for results from RTPCR may get longer. This can delay isolation and medical intervention, particularly in hotspots.
Should the state expand its facilities for whole genome sequencing?

Whole genome sequencing is a confirmatory test for the variant. Results for this test can take time. So, we have asked all governments to consider S-gene drop as a proxy indicator for Omicron. Efforts must be taken to isolate infected people fast. But that said, we must understand that community transmission has begun. It may no longer make sense to send samples of every international passenger for whole genome sequencing. Omicron is one of the variants of Covid-19 just like Delta, Beta or Alpha, but it transmits rapidly. In many parts of the world, we have seen it quickly taking over the most dominant variant. To stop the virus, we must improve vaccination and covid appropriate behaviour.