ASEAN Beat

 | 

Diplomacy

 | 

Southeast Asia

A Foreign Ministry spokesperson accused the two nations of "violating the sovereign rights and jurisdictions of Vietnam" in separate recent incidents.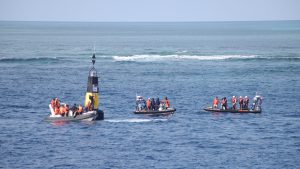 Philippine Coast Guard personnel install a navigational buoy emblazoned with the Philippine flag in areas claimed by Manila in the South China Sea.
Credit: Facebook/Philippine Coast Guard
Vietnam's government has criticized recent activities by China and the Philippines in the disputed waters of the South China Sea, stating that it "resolutely opposes all activities that violate its sovereignty."
Vietnamese Foreign Ministry spokesperson Pham Thu Hang told a press conference in Hanoi yesterday that Beijing and Manila were "violating the sovereign rights and jurisdictions of Vietnam." She added, "Vietnam has and is taking appropriate measures, which comply with international law, to ensure our legitimate rights and interests."
The comments came after Chinese and Vietnamese vessels confronted each other on multiple occasions this week, after a Chinese research ship entered Hanoi's exclusive economic zone (EEZ) to conduct a survey. The incursion followed a Vietnamese announcement that it was expanding its oil drilling operations in Vanguard Bank, a Vietnamese-held feature that is also claimed by China. It also followed news that the Chinese government has opened a hot-pot restaurant on Woody Island in the Paracel Islands, which has angered Vietnamese nationalists. China displaced South Vietnamese soldiers from the Paracels by force in 1974.
Pham also took the opportunity to denounce the Philippines' recent placement of navigational buoys in disputed waters. On May 14, the Philippine Coast Guard announced that it had placed five buoys at locations in the South China Sea, including at Whitsun Reef in the Spratly Islands, which is also claimed by Vietnam. PCG spokesperson Commodore Jay Tarriela said that the installation of the buoys, each of which is adorned with the Philippine flag, "signifies the country's sovereign rights and jurisdiction over the exclusive economic zone (EEZ)."
When asked about the Philippine buoys, she said that Vietnam "strongly opposes all acts violating Vietnam's sovereign rights." She added that her government "has sufficient legal basis and historical evidence to assert our sovereignty over the Paracel and Spratly archipelagos in accordance with international law."
"Vietnam asks all relevant parties to respect Vietnam's sovereignty, international law, and the Declaration on the Conduct of Parties in the South China Sea while making practical and positive contributions to the maintenance of peace and stability in the South China Sea, as well as creating a conducive environment for the negotiations for a Code of Conduct for the South China Sea," she said.
The Vietnamese spokesperson's comments functioned as a reminder of how sensitive these questions of sovereignty remain. They also reflect the fact that the Southeast Asian claimants in the South China Sea – Vietnam, the Philippines, Malaysia, and Brunei – have myriad complex and unresolved maritime and territorial disputes of their own. In addition to Indonesia, a claimant in everything but name, these nations oppose China's maximalist "nine-dash line" claim to vast swathes of the South China Sea, which encloses large swathes of their EEZs. But their outstanding disagreements – represented by overlapping on maps of the South China Sea – with one another are a key factor preventing them from forging a united front against Beijing's activities in the region.
For instance, in December 2019, Malaysia submitted a claim to a U.N. commission extending its continental shelf in its northern waters. The move not only pushed back against Beijing's "nine-dash line," but also directly challenged Vietnam's claims in the area. In April 2021, the two nations signed an agreement to strengthen cooperation in maritime security, marking a step forward in attempts to settle distracting bilateral disputes between Southeast Asian nations.
However, much more remains to be done if the region's claimant states are to resolve these outstanding disputes and create the unity that is needed in order to counterbalance China's significant material advantages.