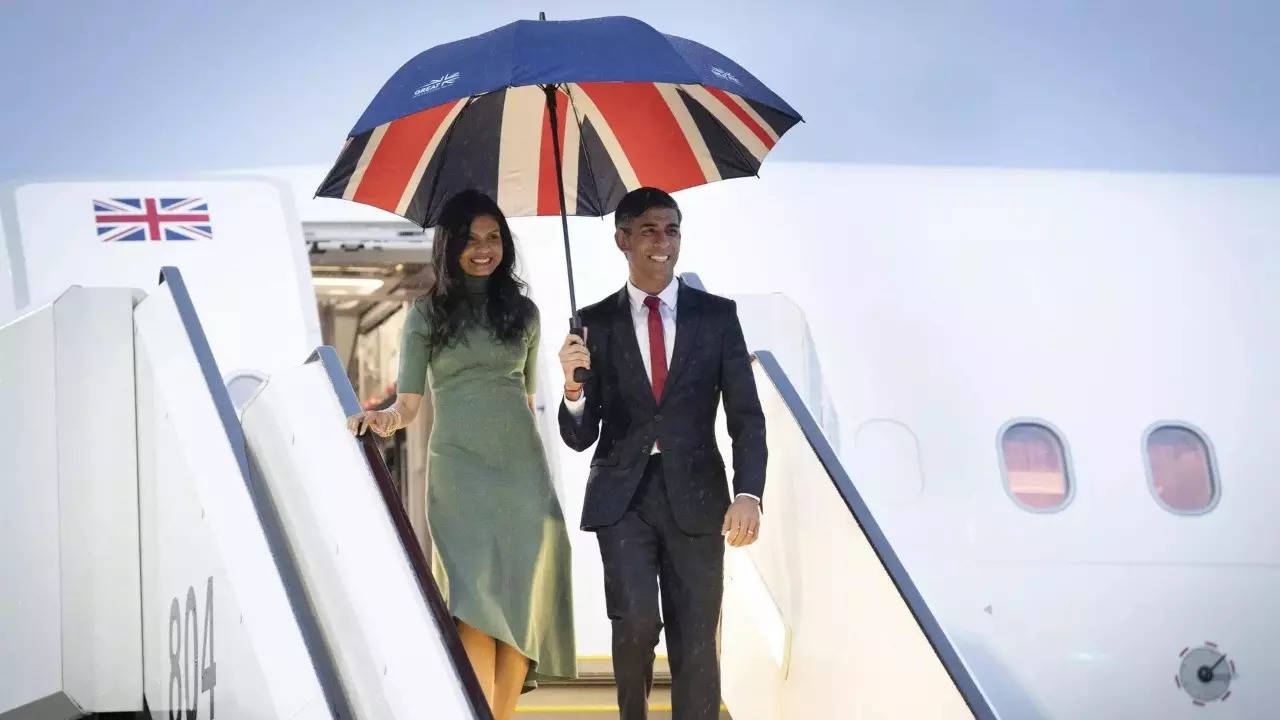 LONDON: British Prime Minister Rishi Sunak and wife Akshata Murty, who made their UK rich list debut last year, lost around GBP 201 million since then as a result of a drop in the value of Murty's shares in Infosys, according to a media report on Friday.
The couple has slipped from 222nd position in 2022 to 275th in this year's tally with an estimated wealth of GBP 529 million, largely attributed to the Indian software firm co-founded by Murty's father Narayana Murthy, claimed "The Sunday Times Rich List" 2023.
"The couple's most valuable asset has long been a shareholding in Infosys, an Indian IT giant set up by Murty's father," the rich list analysis said. "Over the past year, their wealth has fallen by more than half a million pounds a day. When the pair made their debut on the Rich List 12 months ago, this stake was worth about GBP 690 million. Since then Infosys' shares have plummeted owing to lower revenues from its banking, tech and other clients," it noted.
The annual compilation of Britain's wealthiest families is once again topped by the Indian-origin Hinduja family, who saw their wealth increase over the past year to hit GBP 35 billion – the largest fortune ever recorded by the newspaper.
It comes just days after the family patriarch, Srichand P. Hinduja, passed away in London aged 87 and his brothers – Gopichand, Prakash and Ashok – issued a statement expressing the family's grief at his demise.
"For decades a simple mantra ensured harmony within the Hinduja household: 'Everything belongs to everyone and nothing belongs to anyone'," the rich list said. "However, an eight-year courtroom battle between the children of Sri, who died earlier this week aged 87, and their three uncles laid bare tensions at the heart of this billionaire dynasty. The feud began in 2015 when Sri claimed that Gopi, 83, Prakash, 77, and Ashok, 72, tried to wrest ownership of Hinduja Bank from him. Sri had always owned the bank. Its chairman is his eldest daughter, Shanu, and its chief executive is Shanu's eldest son, Karam," it said.
The top 10 of the 2023 "Sunday Times Rich List" includes another set of India-born brothers, David and Simon Reuben, ranked fourth with a fortune estimated at around GBP 24.399 billion.
At No. 6 is NRI tycoon of ArcelorMittal steelworks Lakshmi N. Mittal with GBP 16 billion, down GBP 1 billion from last year, followed by Vedanta Resources' industrialist Anil Agarwal at No. 22 with an estimated GBP 8 billion.
Other Indian-origin billionaires on the 2023 list include textiles entrepreneur Prakash Lohia at No. 33 with an estimated GBP 5.846 billion; retail majors Mohsin and Zuber Issa at No. 40 with GBP 5.05 billion; and pharma chiefs Navin and Varsha Engineer at 61 with GBP 2.8 billion.
Also in the top 100 are leading NRI industrialist Lord Swraj Paul and family, ranked 68th with an estimated GBP 2.6 billion, and Simon, Bobby and Robin Arora at 71 with GBP 2.532 billion.
A new British Indian entry to this year's Rich List is fashion industrialist Sunder Genomal, ranked 78th with a fortune estimated at GBP 2.276 billion, with hoteliers Jasminder Singh and family – regulars on the tally – coming in at 89 with GBP 1.904 billion.
According to "The Sunday Times", its annual list is based on identifiable wealth including land, property, other assets such as art, or significant shares in publicly quoted companies, and excludes bank accounts to which it has no access.
Therefore, it notes, the actual size of the fortunes of the country's wealthiest could be larger than the estimated figures.
This year is the 35th such list the newspaper has released and it registers the first fall in the number of billionaires since the 2007-08 financial crisis at 171 – down six from last year.
King Charles III makes his entry to the list as the new British monarch, with an estimated fortune of GBP 600 million – which surpasses the wealth of his late mother Queen Elizabeth II, who had an estimated GBP 370 million at the time of her death in 2022.