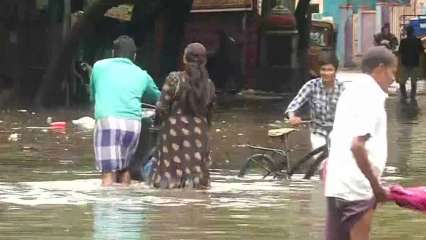 After heavy rains lashed Chennai on Sunday, November 7, city transport came to a halt including trains and buses after the city and its surrounding areas were waterlogged. 
As per the state police, the traffic movement was slow because of waterlogging and people were advised to be cautious and remain in safe spots. People complained that they couldn't find cabs or autorickshaws, while others experienced cancellation from a few cab aggregators.
In an official statement, 36 districts received heavy rainfall, of which the state capital recorded the highest amount of 134.29 mm. Many two-wheelers and autorickshaws were seen stranded. Meanwhile, the Civic and Public Works Department were busy pumping out water and placing sandbags in important locations like the Anna Nagar Peripheral Hospital campus.
Fortunately, there was no disruption in flights, no flight was cancelled while a few only experienced delays. Passengers who could not make it on time due to the rain were allowed to board flights. However, there was enough water on the runway that had to be pumped out. In addition to air, metro train services also worked fine. 
On the other hand, the Basin Bridge yard was flooded that led to disruption in routing trains, to and from the Chennai Central Railway Station. A long-distance train from Tiruvananthapuram was halted at Tirunindravur meanwhile, suburban train services were also affected for some time. 
Reviewing the situation, Tamil Nadu Chief Minister M K Stalin ordered to speed up the process of rescue and relief work in areas that have been flooded during the last 24 hours. CM Stalin also visited Kolathur, Perambur, Purasaiwalkam, Kosappet, Otteri in order to review the situation where he distributed relief materials to people. 
Owing to the heavy rainfall in the state, the government has declared holidays for schools and colleges in Chennai, Tiruvallur, Kancheepuram and Chengalpet districts on November 8 and 9.