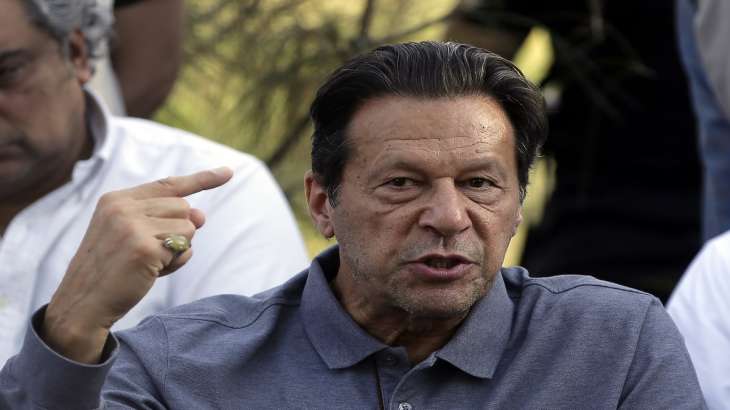 Toshakhana Case: Pakistan Tehreek-e-Insaf (PTI) Chief Imran Khan who is set to appear before court today (March 18) in Toshakhana Case has departed for Islamabad from his Zmanan Park residence in Lahore, Geo News reported. The region has been placed under heavy security in advance of Imran Khan's visit to Islamabad's Judiciary Complex in order to maintain peace and order and prevent anything unpleasant from happening.
On Friday (March 17), the Pakistan government shifted the Toshakhana case hearing venue from the additional sessions court to a comparatively safer Judicial Complex over security concerns of Imran Khan, Pakistan-based Dawn newspaper reported. Last month, the security protocols were broken when Khan visited the courthouse last month because PTI members took down all barricades during their party leader's appearances in several courts.
On that particular occasion, several of the employees vandalised the structure and disturbed the courtroom's decorum.Khan will appear before Additional Session Judge Zafar Iqbal in the case after he issued the former prime minister's non-bailable arrest warrants after he had frequently skipped court dates, alleging "security threats" from his attorney.
On March 14, when the Islamabad police travelled to Lahore to arrest Khan in accordance with the court's instructions, they encountered resistance; as a result, more than 60 police officers from Islamabad and Punjab were hurt, and several PTI workers were also hurt, Geo News reported.
Meanwhile, Imran Khan also received protective bail in nine cases by the two-member bench of the Lahore High Court (LHC) led by Justice Tariq Saleem Sheikh.The protective bail was approved for five cases in Islamabad and three cases in Lahore. Imran Khan secured bail in the cases filed in Lahore till March 27, whereas, the protective bail in five cases in Islamabad was approved till March 24. 
During Friday's hearing, Imran's lawyer Khawaja Haris submitted an undertaking by his client, assuring it that the PTI chief would appear in court on March 18. Khan has been in the crosshairs for buying gifts, including an expensive Graff wristwatch he had received as the premier at a discounted price from the state depository called Toshakhana and selling them for profit.
What is Toshakhana:
Established in 1974, the Toshakhana is a department under the administrative control of the Cabinet Division and stores precious gifts given to rulers, parliamentarians, bureaucrats, and officials by heads of other governments and states and foreign dignitaries. Khan was disqualified by the Election Commission of Pakistan (ECP) in October last year for not sharing details of the sales. The election body later filed a complaint with the district court to punish him, under criminal laws, for selling the gifts he had received as prime minister of the country.
Khan has skipped several hearings in the case. The PTI chief has been resisting arrest in the Toshakhana case, holed up inside his Zaman Park residence in Lahore, surrounded by hundreds of his supporters, who have fought pitched battles with the police and Rangers over the past few days, resulting in injuries to more than 60 people, mostly policemen. The clashes ultimately subsided after the courts intervened on Wednesday, a day after which Khan's supporters placed shipping containers outside the main entrance of his residence and equipped themselves with clubs and slings to protect the former premier from any further police action.
As police laid siege to his Lahore residence, Khan had once again rushed to the IHC with a petition against the arrest orders. The IHC refused to intervene and asked the lawyer to go to the district court and give a commitment that Khan would appear on March 18 when the court had scheduled a hearing of the case. Khan appeared before Lahore High Court on Friday and assured that he was ready to present himself on Saturday before the judge handling a corruption case against him, PTI leader Fawad Chaudhry told media persons on Friday, adding that "an undertaking has also been given to the court".
(With agencies inputs) 
ALSO READ: Pakistan: Imran Khan gets protective bail in 9 cases registered against him in Lahore, Islamabad
ALSO READ: Pakistan court rejects former PM Imran Khan's plea to suspend warrant | DEETS
Latest World News