Pacific Money

 | 

Diplomacy

 | 

Southeast Asia

The three major summits showcased the region's desire to remain aloof from growing strategic tensions between Russia, China, and the West.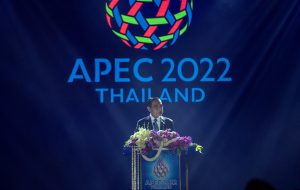 Thai Prime Minister Prayut Chan-o-cha speaks during the gala dinner for APEC leaders, in Bangkok, Thailand, November 17, 2022.
Credit: APEC 2022 Thailand
Southeast Asia played host to three major international summits in November, beginning with the annual Association of Southeast Asian Nations (ASEAN) gathering, this year hosted by Cambodia. President Joe Biden's attendance was much remarked upon but Joshua Kurlantzick, writing for the Council on Foreign Relation, said of the summit: "Biden did not achieve any sort of consensus with ASEAN leaders about pushing back against China's growing maritime assertiveness," and attributed this to ASEAN's unwillingness to "alienate its most important trading partner."
At the end of the summit Cambodia passed the chairmanship onto Indonesia, and President Joko "Jokowi" Widodo wasted no time bringing the focus back to economic matters. The theme of ASEAN under Indonesia's chairmanship will be "ASEAN Matters: Epicentrum of Growth," and Jokowi closed the meeting with a pretty clear message that economic, rather than geopolitical, interests would drive the agenda. As reported by the Straits Times, Jokowi cautioned that ASEAN must "not be a proxy (for) any powers" and that "economic growth has and will always be the story of ASEAN."
From there, Jokowi proceeded straight to Bali where Indonesia hosted this year's annual G-20 Summit. There was a lot of uncertainty going into the summit, including whether Vladimir Putin would attend or not. In the end, he didn't, but the summit has been widely hailed as a success as Joe Biden and Chinese President Xi Jinping re-opened some important lines of dialogue. The summit ended with a statement in which most members agreed to condemn Russia's invasion of Ukraine. Jokowi also lined up a $20 billion financing commitment for Indonesia's clean energy transition.
Indonesia's Foreign Ministry deserves a lot of credit for pulling this off, as just getting big global rivals together in one place without any major dustups is a laudable diplomatic achievement. But it is also in the economic interest of Indonesia for these great powers to get along, or at least minimize the disruption they pose to the global economy. Indonesia needs investment and trade with China, the United States and Russia (state-owned oil and gas company Pertamina is in the middle of developing a multi-billion-dollar oil refinery with Russia's Rosneft, a project considered crucial to Indonesia's near-term energy security). To the extent that Jokowi is willing to play the statesman-mediator, it is not necessarily because he envisions Indonesia becoming a global power broker. It's because mediation is good for the Indonesian economy.
Indonesia is the only Southeast Asian country in the G-20, but I think Jokowi's posture, centered on economic growth and resistant to side-picking, can be widely applied to most countries in the region, to varying degrees. At the close of the APEC Summit in Bangkok last week, the final big regional gathering this month, Singapore Prime Minister Lee Hsien Loong was asked about U.S.-China rivalry and replied: "We move forward with Singapore's interests in mind. We are friendly to all countries, we will retain and defend our important interests, but we do not intend to harm the interests of any country."
What these summits made clear, to me at least, is that as geopolitical tensions mount between rivals like the United States, China, and Russia, Southeast Asian countries are not going to be drawn into picking sides. Instead, the extent of their strategic relationship with dueling great powers will be largely determined by what those powers can offer, especially in the economic realm.
If the U.S. or China want to gain strategic influence in Southeast Asia, they need to offer things that Southeast Asian countries want – such as financing for clean energy transitions, technology and skill transfers, or market access. ASEAN isn't going to band together against China simply because Biden showed up in Cambodia, and Indonesia is not going to freeze out Russia because Western leaders would like it to do so. Instead, they are going to chart a middle path between these tensions using what leverage they have to maximize gains while centering the agenda on economic growth and their own national interests.