It was about 8 pm, on February 19, 2000. Karwar Congress MLA Vasant Asnotikar was busy with the last-minute preparations for the wedding reception of his eldest daughter. While he was standing near the gate of the convention hall, two people came on two-wheelers and shot Asnotikar dead. The police found underworld links to the murder and had to seek the help of an underworld don to arrest the MLA's killers.
Vasant Asnotikar hailed from a rich family in Karnataka's coastal region. In 1994, for the first time, he ran as the Congress candidate for the Karwar Assembly segment and won. He was also president of the port labour union of Karwar and was considered to be a powerful leader of the region. In 1999, just a year before his death, he contested the polls again and managed to register a whopping margin of about 45,000 votes. But little did he know that his leadership of the labour union was putting his life at risk.
The murder
A year after his victory in the Assembly elections, on February 13, 2000, his eldest daughter got married in Mumbai. Later a reception was to be held in Karwar, for which he personally monitored all the preparations.
Around 8 pm on February 19, when Asnotikar was about to leave the convention hall where the reception was scheduled, the assailants pumped four bullets into him, shooting almost at point-black range. Though he was shifted to a nearby hospital, his life could not be saved.
Though the Mumbai underworld did have a strong connection with Karnataka's coastal world, the Asnotikar murder gave the state a rude shock. A retired police officer said, "There were cases of extortion from Mumbai and Dubai, targeting businessmen and politicians of the coastal region, but the killing of a sitting MLA instilled fear among them as well as the public."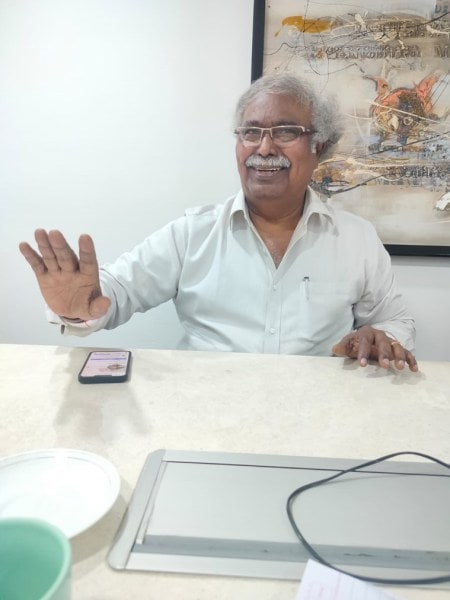 Lava Kumar, then a police inspector with the Central Crime Branch, vividly remembers the case.
The Karwar police were unable to arrest anyone in the case. Then chief minister S M Krishna and home minister Mallikarjun Kharge (now Congress president) decided to hand over the case to the Criminal Investigation Department (CID), a special unit of the state police.
When CID took over the investigation
Lava Kumar, then a police inspector with the Central Crime Branch, vividly remembers the case. "B G Jyothi Prakash Mirji, who was then CID deputy inspector-general, called me up one day and asked me to meet him. Initially he told me to come to the office but later he told me to meet him at the IPS officers' mess. I went there and he asked me about the Asnotikar murder… He told me that the case had been handed over to the CID, and asked me to form a team to nab the accused. We made a small but strong team," he recollected.
"We went to Karwar and took the case file. It was evident that Asnotikar and the prime accused in the case, Dilip Arjun Naik, had had a rivalry over the port labour union and that once police had settled the matter. Naik also had tried to get a Congress ticket for his brother-in-law to contest polls from Karwar, which also had enraged Asnotikar," said Kumar.
"Revolvers or sharpshooters are not something you find in coastal regions. Then the Mumbai underworld was making a lot of noise and we knew that the killers were hired. We went to Mumbai and collected some details about the whereabouts of the suspects," he added.
A retired officer who was part of the investigation said the police had come to know that Naik was hiding in Dubai—information that the police had to verify before they could head to the United Arab Emirates in the don's pursuit.
"I called underworld don Mutthappa Rai, who is from Karnataka and was living in Dubai. He did not initially confirm but after contacting another don, Sharad Shetty—a close associate of Dawood Ibrahim—confirmed that Naik was in Dubai. We left for Dubai and met Rai at his place," the officer said. "We explained to Rai about the murder and told him that the police would pick up Naik and that if the Dubai authorities were to be informed, his life would see a dead end. It was just a psychological game to instil fear in Dilip's mind and it worked."
"But we then had another problem: we could not arrest Dilip Naik as it was totally a different nation and India did not have an extradition treaty with the UAE. We convinced Sharad Shetty and Rai. And Dilip Naik just followed the directions of Rai," said the officer.
As per the plan, Dilip Naik came to Mumbai two days after the police returned to India and they arrested him.
Naik initially said that his brother Amar Naik, who was lodged in Tihar Jail, had killed Asnotikar. "When we went to Amar Naik, he denied involvement in the killing but gave us the killers' names," the officer said.
While Naik was arrested and sent to prison, the police started to hunt for the accused whose names were given by Amar Naik. But what baffled the police was that the accused were being killed in police encounters outside the state.
Lava Kumar said, "Antony alias Tony Ruzario was shot in an encounter in Mumbai. It was totally a different case. There was another accused named Om Prakash Giri alias Pakkya who had absconded to his hometown Jaunpur in Uttar Pradesh. We got the information and immediately left for Jaunpur. To our bad luck, a day before we landed there, he was killed in an encounter. He was notorious."
When a Karnataka officer stunned a Maharashtra inspector
The investigation almost reached a dead end, having not been able to arrest those who executed the killing. But then came a phone call from a Mumbai police officer. "A Maharashtra police officer who was known to be an encounter specialist in the 2000s called me and said there was a person lodged in this specific station prison in some robbery case and that he was the same guy we were searching for," said Kumar.
"The very next day, I went to that police station. I told the inspector that a man I needed in a murder case was locked up in his cell. For a minute, the inspector was perplexed as to how a Karnataka police inspector would know about a person lodged in a Mumbai police station. But I could not reveal the name of the officer who gave me the tip," he said.
Sanjay Kishan Mohite, one of the men who allegedly shot Asnotikar, was lodged in the Mumbai police station. "We completed all the legal formalities and brought him to Karwar. There were about 20 witnesses in the case and all of them identified Sanjay. He also cooperated with the probe because knew that had he gone back to Mumbai, he would have been killed either by police in an encounter or by a rival gang," Kumar added.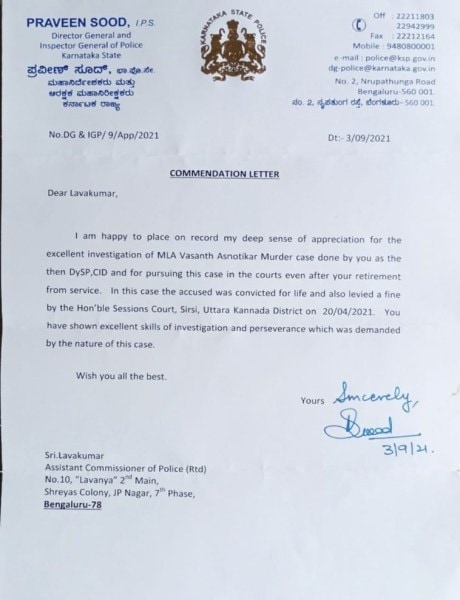 Now, the police had two accused in their custody and they had detailed information about the killing of Asnotikar. "But what we lacked was the weapon used. Weapon recovery and its production in court play a crucial role for the prosecution. So I did not stop hunting for the weapon," said Kumar.
"I contacted an underworld criminal giving some details of the accused involved in the killings and he helped me trace the murder weapon. That was after nearly two years. We took court permission from Maharashtra and the weapon was sent to Karnataka's Forensic Science Laboratory. The investigations established that the bullets had been fired from that weapon. This became a strong piece of evidence in the court," said Kumar.
When derailment fears clouded trial
After the CID completed the investigation and submitted a chargesheet, the court started recording the evidence and hearing arguments on January 2, 2002. But the public prosecutor was not interested in proceeding with the case, even as Lava Kumar was monitoring the developments after his retirement.
"I wrote a letter saying that the PP (public prosecutor) was not handling the case well and he was changed. I was not just an investigating officer but also a witness in the case. I asked the state police to provide me travel expenses to go to Karwar to help the new PP to fight the case. I still remember that Neelamani Raju was the DGP. He told me that they would pay only for semi-luxury bus travel. I was really disappointed. Even after a decade of retirement, I was showing interest in a case that I had investigated, to ensure it would reach a logical end, but the police were not helpful. We had spent crores of rupees for the investigation," he said.
"Getting to know about the matter, then CID DGP Praveen Sood (now CBI director) called me to his office and gave me money from the secret service funds. It really helped us probe the case," Kumar said.
Most Read
1
Deepika Padukone says she did Jawan only for Shah Rukh Khan, King Khan says 'we fooled Deepika'
2
'Selling a false dream': Indian students abroad open up about mental health issues
On April 20, 2021, the first additional district and sessions court of Karwar sentenced Sanjay Mohite to life imprisonment. Dilip Naik, who had come out on bail, was murdered in Karwar when he went for a walk in 2004.
Antony and Om Prakash Giri were killed in encounters with the Maharashtra and Uttar Pradesh police respectively, while other accused Arup Agranayak and Arnold B Rego were acquitted.
Lava Kumar, now 75, who retired from service in 2005, works as vice-president of Vaswani Groups in Bengaluru.