Cast: Vinay Forrt, Divya Prabha, Mathew Thomas, Nilja K. Baby, Abhija Sivakala, Jolly Chirayath, Prathapan K.S., Jitin Puthanchery, Sajitha Madathil
Director: Don Palathara
Language: Malayalam 
In the higher reaches of the mountains of Idukki, in a village thick with verdure and hypocrisy, a man called Sony makes everyone's business his own. This magnificent, densely forested region with its contemplative atmosphere is ideal for a story in which a lot transpires below the surface but an entire community noiselessly conspires to sweep its skeletons under a carpet.
Sony (Vinay Forrt) is the heart of the local populace. It would not be accurate to describe him as a busybody since the people rely on his help. He is always around in good times and in bad – attending weddings and funerals, chipping in with household chores, counselling the youth, drawing them into community service, supporting a bereaved family, volunteering when the parish priest asks – which is all so great that it's hard to pin down the reason why it is so acutely discomfiting right from the start to watch this man roam among them.
When Sony sees a pregnant woman (Divya Prabha) executing a physical task in her courtyard, he rushes over to take over from her. When another woman (Abhija Sivakala) needs to pluck the fruit off a tree on her grounds, she does not hire workers – Sony does the job. If your kid is struggling at school, who do you turn to for tuitions? Answer: Sony. If you suffer a tragedy, who walks an extra mile for you? Sony. Genial, solicitous Sony whose actions go above and beyond the community spirit that is the norm here.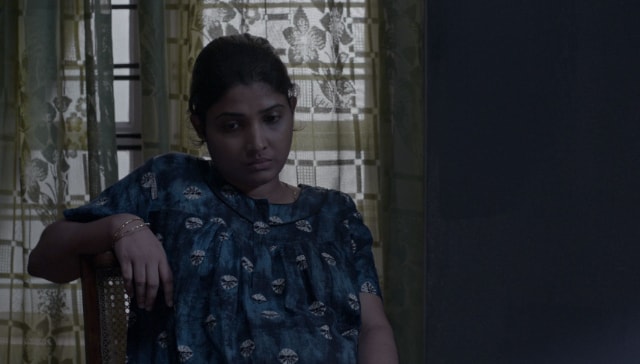 A gnawing suspicion soon arises though. Is Sony helpful because he is genuinely kind-hearted? Or are there other possibilities? Perhaps his concern and consideration are excuses to gain proximity to you. Perhaps he is that guy who strategically earns your trust so that you won't notice when you glimpse questionable conduct, but if you do, you will be bullied into shutting up by those who prefer to look the other way. Family is not, however, about him alone.
Written by Don Palathara and Sherin Catherine, directed and edited by Don, Family in its entirety is a portrait of a repressed, conservative society. The location, blanketed with thick greenery and a resounding quiet, is in itself a metaphor for the silences that blanket uncomfortable truths. The film also engages with the very different reactions to a man and a woman who are deemed to have brought shame on the kutumbam. It is purportedly about one place at a certain time, but it's really about Everyplace Everytime, whenever and wherever in the world folks have colluded to keep the secrets they are ashamed of "in the family".
In the very first scene, an important character tells a boy that a leopard won't attack a person unless threatened. The wild feline in the forest instinctively follows a code that Homo sapiens themselves do not. Family spotlights a very human penchant for attacking to oppress rather than for nourishment or self-defence, and a community's willingness to provide camouflage even if it means endangering its own by letting the predator run free.
Family's writer-director team choose to mirror their characters' mindset and behaviour by leaving most things unsaid and unseen. Renganaath Ravee's sound design and Basil C.J's music exemplify their vision. When the latter's score initially floats in, it takes a minute to distinguish it from the sounds of nature that dominate most of the film.
The poetry in its minimalism and unbelievably perceptive observations make Family a breath-taking experience.
Given one of the most beautiful locations on Earth, DoP Jaleel Badusha mines it for maximum effect even while employing a subdued palette. The exquisite shots emerging from his explorations of the area (in addition to an unexpected scene boasting of some rather impressive CGI) elevate Family to a meditational experience.
The spare narrative caused me some confusion in the opening half as I tried to figure out who is who and related how to whom among the smaller roles. In those moments, I wished the camera had spent just a bit more time with each one and had looked squarely at them – instead of the angles from which they were shot – so that their faces were imprinted on my memory, but even through those passages, my sense of disquiet about the bigger picture remained.
The camera in the film gives off a vibe of being both an aloof bystander and a knowing insider. It rarely moves close to an individual and some of the most horrific acts in the storyline occur off screen, but what happens in the viewer's line of sight consistently serves as a warning bell. Note the vantage point in a scene in which a man is shown in conversation with another. There is a certain type of man every woman has met: the fellow who invades your space without actually touching you, his hands hovering too close to the area around your chest or thighs as he speaks, all the while maintaining a pretence that he is unaware of your unease and hyper-alertness. As a woman, it chilled me to the bone that I was witnessing the exact same scenario on screen here, with one crucial difference: in place of a woman was a boy.
It is clear from Don's filmography that he is fascinated by and immensely knowledgeable about both Christianity and his native Idukki. Christian rituals, customs and imagery are everywhere in Family. The film's  account of local Malayali Christian practices is as educational as it is entertaining. Of particular interest is a pre-wedding function that features an older man on stage play-acting dressing up the young husband-to-be. At one such event I recently attended in Kerala, the groom's uncle was such a lively, funny guy who kept us, his audience, in splits, that the moroseness of the guests at the ceremony in Family seems hilarious in contrast.
In his most prominent film roles so far, Vinay Forrt has played characters whose shortcomings were tempered by a layer of innocence bordering on naiveté. Vimal Sir in Premam, Sreenivasan Masha in Thamaasha and David Christudas in Malik were all flawed, not terrible. In Kismath, on the other hand, his character aimed an aggressive nastiness at the hapless leads. Vinay's challenge in Family is to steer clear of both these spaces. Sony masks his worst side in a package of affability and thoughtfulness, although no one can be sure that that is what he does. Vinay is pitch perfect in giving Sony a barely discernible unsettling presence without being in-your-face repulsive. This is a deeply involved actor acing his most difficult role yet.
Divya Prabha is just emerging from a year in which she won all-round acclaim playing the beleaguered Reshmi in Ariyippu (Declaration) that was premiered at Locarno. She joins an ensemble cast of wonderfully naturalistic artistes to play the conflicted and hesitant Rani who is yet brave enough to articulate a prickly question that no one has asked so far in Family.
Don Palathara has built his career on making films on his own terms, giving mainstream clichés a wide berth yet not fitting entirely into the middle-of-the-road nature of the new Malayalam New Wave. His Santhoshathinte Onnam Rahasyam a.k.a. The Joyful Mystery has been his most high-profile work among Indian film-goers so far. In terms of cinematic idiom, Family more closely resembles his fable-like 1956, Madhyathiruvithamkoor (1956, Central Travancore).
Along with his co-writer, he gives this film a lived-in feel, an air of: we have been here, met these people and know what they hide in their closeted minds. The director is present in this village, making mental notes, enabling viewers to drink it all in, not as outsiders staring at a screen but as co-travellers standing beside him and seeing through his eyes. He is not looking in on alien beings to tell an exotic tale in Family. He is not othering the minority community whose story he chronicles, he is normalising them, using the specifics of their culture and conservatism to drive home a universal point.
Family does not follow the revved-up beats conventionally demanded by commercial cinema, it follows the rhythms of life. And it's a masterpiece.
Rating: 4.5 (out of 5 stars)
Family had its world premiere at the International Film Festival Rotterdam this week.

Anna M.M. Vetticad is an award-winning journalist and author of The Adventures of an Intrepid Film Critic. She specialises in the intersection of cinema with feminist and other socio-political concerns. Twitter: @annavetticad, Instagram: @annammvetticad, Facebook: AnnaMMVetticadOfficial
Read all the Latest News, Trending News, Cricket News, Bollywood News,
India News and Entertainment News here. Follow us on Facebook, Twitter and Instagram.