Prime Minister Narendra Modi, who turned 73 on Sunday, has captivated everyone's attention with his fashion choices ever since he took oath in 2014. His sartorial sense has evolved over the years but continues to grab the spotlight.
On his birthday, let's take a trip down memory lane and check out some of his most memorable looks.

On Independence Day this year, PM Modi wore a special multicoloured Rajasthani Bandhani print turban, in keeping with his trend of sporting special headgear. He paired it with an off-white kurta and churidar for the celebrations at the historic Red Fort.
A huge advocate for sustainable fashion, he was seen wearing a sleeveless jacket made of recycled materials during the annual summit of the G7 advanced economies in May this year. PM Modi donned a 'Chandhan' shade sleeveless sadri jacket, presented to him by EcoLine Clothing, over his signature white kurta and pyjamas.
Went to the Peace Memorial Museum in Hiroshima and the Hiroshima Peace Memorial Park this morning. pic.twitter.com/H3NlkcFxF0

— Narendra Modi (@narendramodi) May 21, 2023
Do you remember his Mongolia visit in May 2015? At the time, PM Modi opted for the Mongolian traditional attire along with a hat. This look surely had everyone's attention!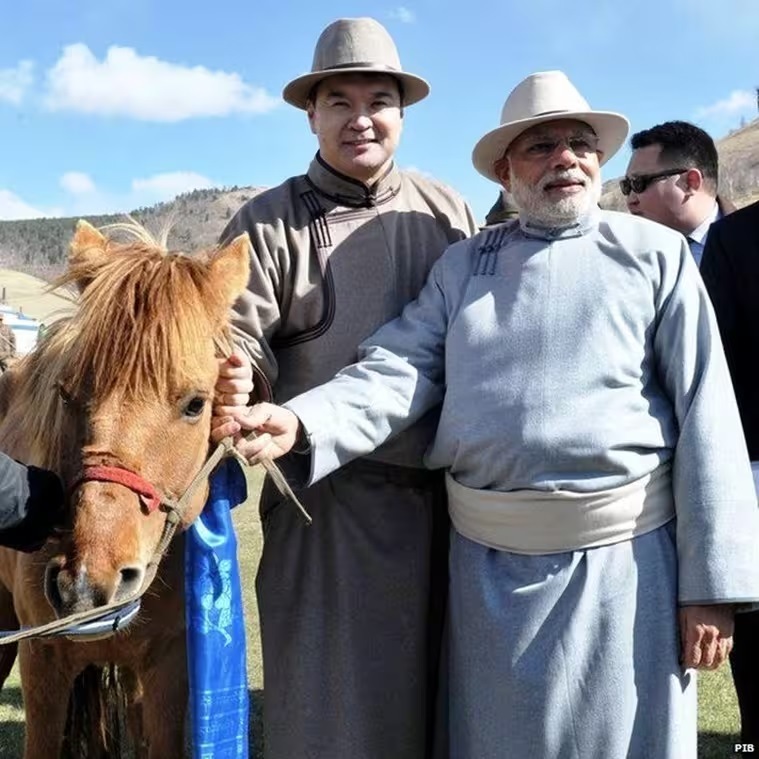 PM Modi in Mongolia (File photo)
Similarly, during his visit to Leh, he was seen wearing the traditional costume of the region.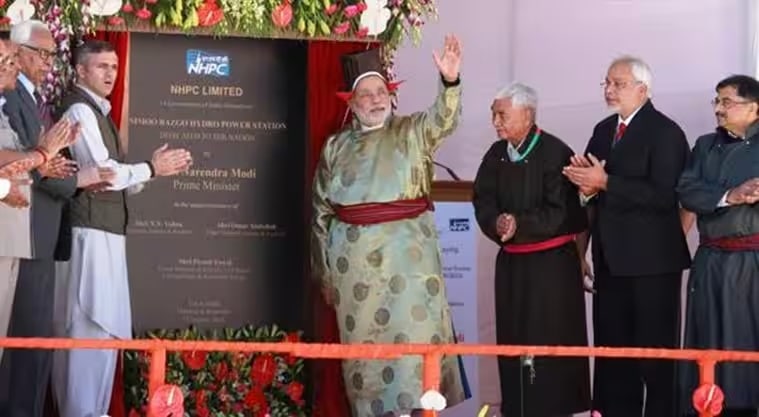 PM Modi in Leh (Source: Narendra Modi/Twitter)
During the COVID-19 pandemic, when the Health Ministry and other experts were urging citizens to wear homemade masks, Prime Minister Narendra Modi set an example by wrapping a red-and-white Manipuri gamchha around his mouth and nose. The "Modi gamchha mask", as it came to be known, soon became viral on social media.
Most Read
1
Ridhi Dogra says it's 'unfortunate to play' Shah Rukh Khan's mother in Jawan: 'He told me many times…'
2
"Selling a false dream": Indian students abroad open up about mental health issues
Narendra Modi wearing the traditional Manipuri gamchha, known as Meitei Lengyan. (Source: narendramodi/Twitter)
During his visit to the Kedarnath temple in October last year, he was seen wearing a traditional white-coloured 'chola dora' which was, reportedly, gifted to him by the Chamba women of Himachal Pradesh.
Prime Minister Narendra Modi during his visit to the Kedarnath temple in Rudraprayag district (Source: PTI)
During the inauguration of the Atal Tunnel, he wore the Himachali Kullu Patti woollen topi or cap traditionally worn by men in the state. The grey topi featured intricate Himachali embroidery in white, orange and maroon tones.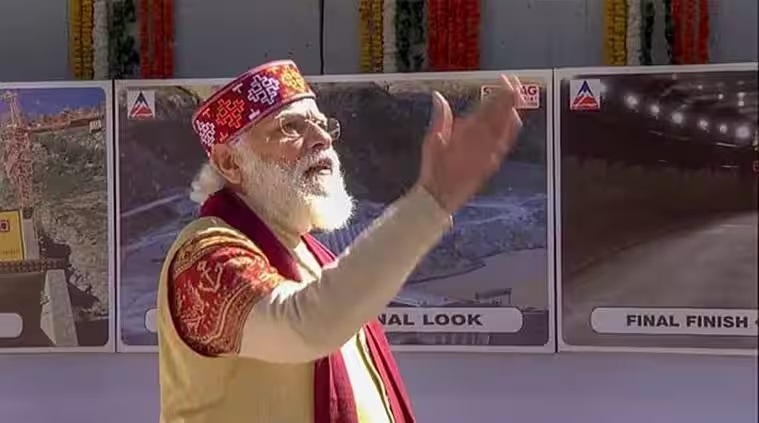 PM Modi wore a traditional Kullu topi (Source: PTI)
📣 For more lifestyle news, follow us on Instagram | Twitter | Facebook and don't miss out on the latest updates!