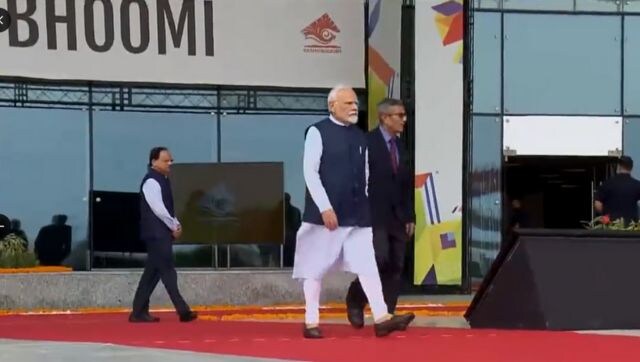 Prime Minister Narendra Modi launched the expansion of the Delhi Airport Metro Express line from Dwarka Sector 21 to the new 'YashoBhoomi Dwarka Sector 25' metro station on Sunday.
He rode the Delhi Metro after the opening.
Passenger service on the new stretch will begin today at 3 p.m.
Prime Minister Narendra Modi will also officially launch Phase 1 of the India International Convention and Expo Centre (IICC) in Dwarka, known as Yashobhoomi.
The inauguration of a new metro station in Dwarka Sector 25 would improve urban connections in the sub-city and make it easier for people to go to the IICC.
Meanwhile, the nearly 2-kilometre-long 'Yashobhoomi line' of the Delhi Metro will connect Dwarka Sector 21 and India International Convention Centre.
Visuals showed PM Modi interacting with the passengers inside the Metro, who also took selfies and wished him a happy birthday.
"With the addition of this section, the total length of the Airport Express Line from New Delhi to Yashobhoomi Dwarka Sector-25 will become 24.9 km," the DMRC said in a statement.
The Delhi Metro will also boost the operational speed of Metro trains on the Airport Express Line from 90 to 120 km/hr beginning today, decreasing travel time.
The whole travel time from New Delhi to YashoBhoomi Dwarka Sector 25 is around 21 minutes.
Today, the Delhi Traffic Police imposed many vehicular restrictions in West Delhi, Dwarka, and Gurgaon. The NH-48, the Punjabi Bagh region, and the UER-II, Peeragarhi, and Meera Bagh Road sectors will all see traffic delays.
According to the police, traffic on the stretch from NH-48 to Normal Dham Nala (UER-II) would be disrupted throughout the day.
"Commuters are also advised to avoid UER-II (NH-48 to Normal Dham Nala)," an advisory said.
Since there will be restrictions in UER-II and Dwarka areas, the police said Dhulsiras Chowk, Dwarka Sector 23 will be open but travel to/from the airport will be affected.
YashoBhoomi Centre, built over a sprawling area of more than 70,000 square metres, includes convention rooms and a main auditorium. It also has a grand ballroom that can accommodate over 10,000 delegates.