The Pentagon has said it is tracking a Chinese spy balloon flying over the United States but had decided against shooting it down for safety reasons.
Defence officials said the balloon has been watched for a couple days since it entered US airspace, flying at high altitude. It has been monitored by several methods including manned aircraft, and has most recently been tracked crossing over Montana, where the US has some of its silo-based nuclear missiles. As a precaution, flights out of Billings Logan airport were suspended on Wednesday.
"The balloon is currently traveling at an altitude well above commercial air traffic and does not present a military or physical threat to people on the ground," the Pentagon said in a statement.
"Instances of this kind of balloon activity have been observed previously over the past several years. Once the balloon was detected, the US government acted immediately to protect against the collection of sensitive information."
The incident comes just ahead of a visit to China by Antony Blinken, expected this weekend, when it is believed the US secretary of state will meet Xi Jinping. The trip has not been formally announced, but both Beijing and Washington have been talking about his imminent arrival.
A senior US defence official said the US has "engaged" Chinese officials through multiple channels and communicated the seriousness of the matter.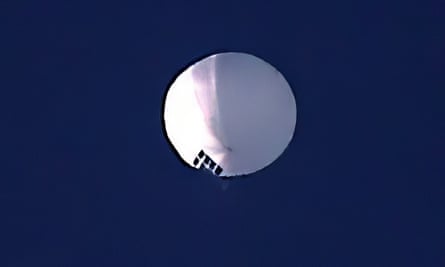 Pentagon officials said there was "high confidence" that it was Chinese, and that Joe Biden was briefed on the situation. The president asked for military options, but it was decided that there was too great a danger of debris harming people on the ground were it to be shot down.
Another factor in the decision was that, although it was flying over sensitive nuclear sites in Montana, it did not appear to be gathering any intelligence that could not be collected from satellites, so it was judged to be of little benefit to the Chinese.
Montana is home to one of the nation's three nuclear missile silo fields at Malmstrom Air Force Base. All air traffic was halted at Montana's Billings Logan international airport from 1.30pm to 330pm on Wednesday, as the military readied fighter jets and provided options to the White House.
Montana Governor Greg Gianforte said he was briefed on Wednesday about the situation after the state's National Guard was notified of an ongoing military operation taking place in its airspace, according to a statement from the governor and spokesperson Brooke Stroyke.
The object first flew over Alaska's Aleutian Islands and through Canada before appearing over the city of Billings, Montana, on Wednesday, officials said.
Military experts say that use of high-altitude balloons is likely to increase over the coming years. They are much cheaper than spy satellites, are hard to spot by radar and difficult to shoot down, sometimes lingering for days after they have been punctured. They can "steer" by changing altitudes, using computers to calculate how to use winds going in different directions at different layers of the atmosphere. As well as surveillance, they could also carry bombs, in times of conflict.
In 2019, the US military used up to 25 experimental solar-powered high-altitude balloons to conduct wide-area surveillance tests across six midwestern states. The balloons were equipped with hi-tech radars designed to simultaneously track many individual vehicles day or night, through any kind of weather, and were intended to be used to monitor drug trafficking and potential homeland security threats.
Tensions with China are particularly high on numerous issues, ranging from Taiwan and the South China Sea to human rights in China's western Xinjiang region and the clampdown on democracy activists in Hong Kong. Not least on the list of irritants are China's tacit support for Russia's invasion of Ukraine, its refusal to rein in North Korea's expanding ballistic missile program and ongoing disputes over trade and technology.
Some Montana residents reported seeing an unusual object in the sky during the airport shutdown, but it's not clear that what they were seeing was the balloon.
From an office window in Billings, Chase Doak said he saw a "big white circle in the sky" that he said was too small to be the moon.
He took some photos, then ran home to get a camera with a stronger lens and took more photos and video. He could see it for about 45 minutes and it appeared stationary, but Doak said the video suggested it was slowly moving.
"I thought maybe it was a legitimate UFO," he said. "So I wanted to make sure I documented it and took as many photos as I could."