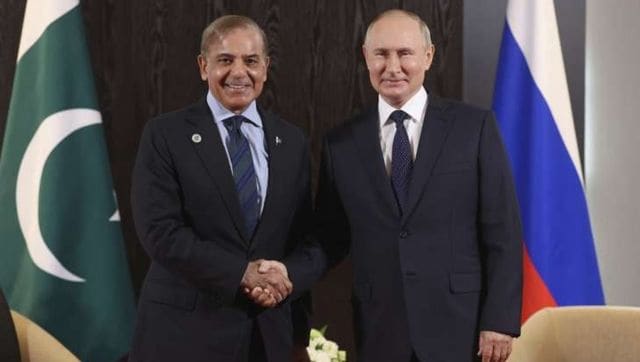 Islamabad: A few weeks ago, cash-strapped Pakistan backstabbed Russia by reportedly sending a consignment of arms and ammunition to Ukraine. Now, the Shehbaz Sharif-led country is all set to welcome a delegation from Moscow to discuss oil import which can help Islamabad save dollars and tackle skyrocketing fuel prices.
A high-level delegation from Russia, comprising 80 members, will be in Pakistan to attend the 8th session of the Inter-Governmental Commission (IGC) on trade and cooperation scheduled from January 18-20. The delegation will be led by Russia's minister for energy, The Express Tribune reported.
Key focus of bilateral talks
During the Pakistan visit, the Russian delegation will hold talks on oil and liquefied natural gas (LNG) trade deal for a long-term basis and will discuss the Pakistan Stream Gas Pipeline (PSGP) project.
Moreover, discussions will be held on trade and investments, especially in agriculture, energy, education, IT, and finance, reports said.
Interestingly, if Pakistan, which is going through a severe economic crisis and food shortage, is able to secure the deals at a discount of 30 per cent, then the country would be able to save over two billion dollars annually.
Not just that, the agreement on import of oil at a cheap price will also help Pakistan save money and tame its soaring fuel prices.
In 2022, a Pakistani delegation led by its petroleum minister Musadik Malik visited Russia to talk about the agreement for the import of oil at a cheap price.
In December, Malik announced that Russia had agreed to provide crude oil at discounted prices to Pakistan. "An inter-governmental delegation led by the Russian energy minister will visit Pakistan next month (January) and we will try to firm up all the details I have shared with you so we can sign the agreement to buy crude oil, petrol and diesel at a discounted rate," Malik had said.
Russia-Ukraine War
A few weeks ago, it was report that Pakistan is gearing up to send another consignment of arms and ammunition to help Volodymyr Zelenskyy-led Ukraine in the ongoing war against Russia.
A report by the Indian Defence Research Wing (IDRW) stated earlier that the Pakistan Ordnance Factories (POF) will send 159 containers of 155mm artillery shells, M4A2 propelling bag charges, M82 primers, and PDM fuses to Kyiv. This was supposed to be shipped to Ukraine via Poland.
For the unversed, Pakistan and Ukraine have shared deep military and industrial ties in the past. The two nations enjoy a close relationship in the defence sector ever since Ukraine gained independence by breaking away from the erstwhile Soviet Union in 1991.
Pakistan Economic Crisis
Months after unprecedented floods ravaged Pakistan, the nation currently grapples with a severe economic crisis and a resultant shortage of food items.
Earlier this month, donors from across the world committed over USD 9 billion to help Pakistan recover from the devastating floods. Besides private donors and international financial institutions, officials from around 40 countries gathered in Geneva as Islamabad sought funds to cover around half of a recovery bill amounting to USD 16.3 billion.
The Islamic Development Bank (USD 4.2 billion), the World Bank (USD 2 billion), Saudi Arabia (USD1 billion), as well as the European Union and China were among the major donors.
(With inputs from agencies)
Read all the Latest News, Trending News, Cricket News, Bollywood News,
India News and Entertainment News here. Follow us on Facebook, Twitter and Instagram.