Actors Ke Huy Quan and Jamie Lee Curtis have won the Best Actor in a Supporting Role Award and Best Actress in a Supporting Role Award, respectively, for their performances in the genre-bending Everything Everywhere All at Once.
Quan, the Vietnamese-born actor who as a child appeared in Indiana Jones and the Temple of Doom, played Waymond in the film. Quan, 51, made his big-screen debut as Harrison Ford's sidekick, Short Round, in the 1984 film, and later appeared in the film The Goonies and the situation comedy Head of the Class.
 With the win, he has just become the second performer of Asian descent to win Best Supporting Actor at the Academy Awards. "Dreams are something you have to believe in," Quan said. "I almost gave up on mine. To all of you out there, please keep your dreams alive," he said in his acceptance speech.
Quan has said he felt "so very lucky to have been chosen" for the "Indiana Jones" role, though he began to wonder "if that was it."
"For so many years, I was afraid I had nothing more to offer, that no matter what I did, I would never surpass what I achieved as a kid," Quan said. "Thankfully, more than 30 years later, two guys thought of me. They remembered that kid. And they gave me an opportunity to try again.
"On stage at the Oscars, Quan tearfully acknowledged his 84-year-old mother watching at home, hefting the Oscar and declaring, "Mom, I just won an Oscar!"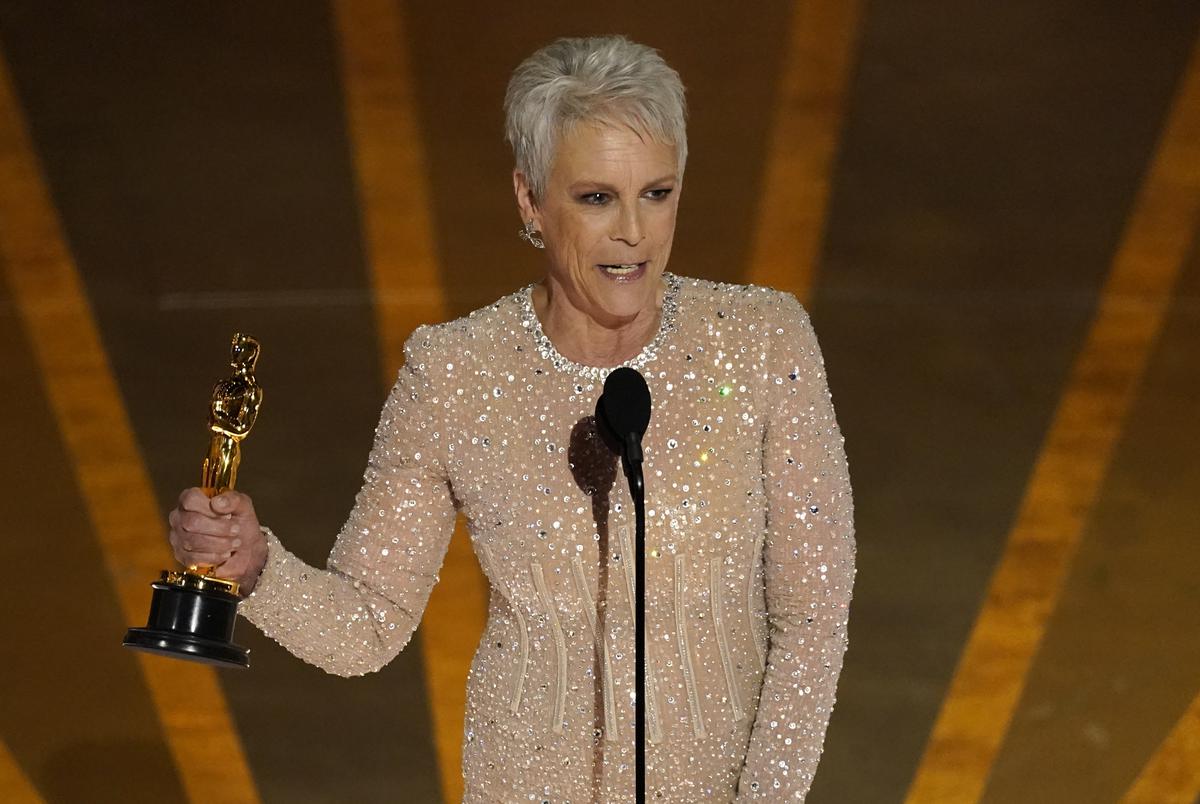 It was the first Academy Award for the 64-year-old Curtis, in her first ever Oscar nomination over a 45-year career in film that kicked off with horror movie Halloween. She prevailed over other front-runners Angela Bassett and Kerry Condon.
"I know it looks like I am standing here by myself, but I am not. I am hundreds of people," Curtis said in her acceptance speech, thanking everyone who worked on the film.
The daughter of famous Hollywood actors Janet Leigh and Tony Curtis, Curtis has jokingly called herself "nepo baby" but is known in Hollywood for her lack of pretension. "My mother and my father were both nominated for Oscars in different categories. I just won an Oscar," Curtis said while crying.
She also thanked all the people who supported the films that she made over the years ."We just won an Oscar together," she said.