Good artists borrow, great artists steal. That's exactly what ChatGPT has done with Sumplete, the new reverse sudoku game it 'created' that's generating buzz online. While classic sudoku asks you to fill a grid with numbers so that all rows/columns end up equal, Sumplete asks the opposite: to win, players must delete numbers, so that the remaining digits add up to the target number beside each row and column.
The notion of a game 'invented by AI' has appealed to many, with over 50,000 players trying Sumplete since its launch on March 3. There's just one problem: it's a stolen idea.
Sumplete, the viral new number puzzle by ChatGPT, is a riff on sudoku and kakuro.
In the 'About' page for Sumplete, programmer Daniel Tait explains how he asked ChatGPT to create a logic puzzle like sudoku that didn't exist yet. The chatbot began suggesting some existing titles, until it apparently 'invented' rules for a new puzzle called 'Sum Delete':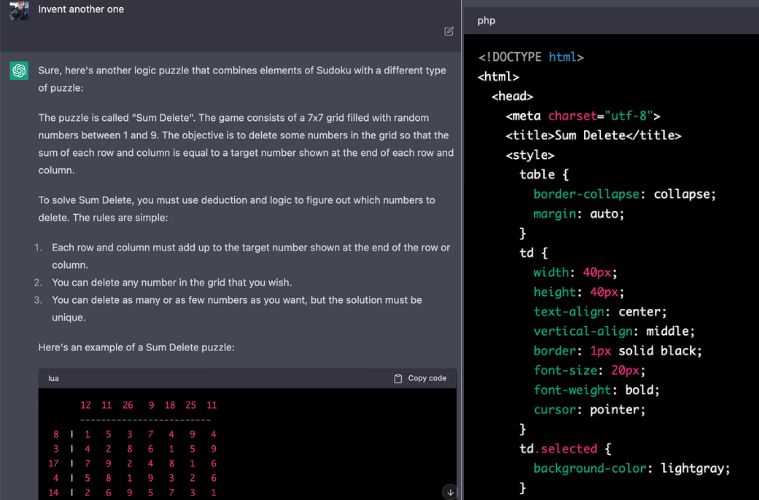 How to play Sumplete, as suggested by ChatGPT. On the right is a snippet of code the AI wrote for the game.
Tait then asked ChatGPT to write code to create a playable version of Sum Delete, and spruce it up with CSS. More features were added in a few hours, and the final puzzle—which the AI named 'Sumplete'— was ready. The game is an engaging brain teaser, with a daily challenge and seven types of grids at various difficulty levels. But it's also a cautionary tale on trying to make 'original' content using ChatGPT. 
Why? Because the AI is not transparent about plagiarism. Nor does it have the self-awareness or a working grasp of ethics to realise when it's wrong, unless a user points it out.
When Tait asked ChatGPT whether Sumplete was an original idea, the AI stated that, to its knowledge, a puzzle with the same rules 'does not currently exist in the puzzle game genre'. This is entirely false, and can be disproven by one Google Search. Summer (on Google Play) and Rullo (on Apple's App Store) are two existing puzzles with identical mechanics to Sumplete. The game's logic also matches a wildly popular Japanese game called Kakuro, which was inspired from the 1950s puzzle 'Cross Sums'. The latter's inventor, Jacob Funk, likely based it on numerical puzzles found in Parisian gazettes from the 1800s.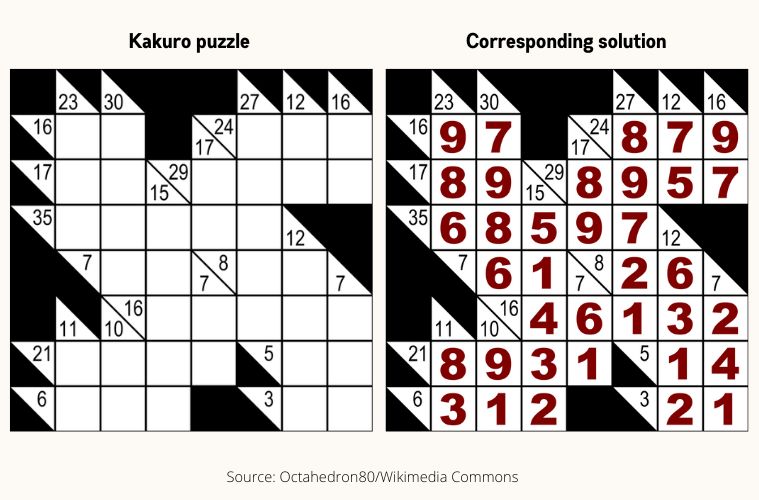 Kakuro, a popular Japanese number puzzle. ChatGPT may have based Sumplete on it.
This error can be explained away by potential gaps in ChatGPT's database—after all, puzzles are a niche interest—but Tait's main complaint is how confident the AI was about Sumplete being one-of-a-kind.
ChatGPT doesn't have true creativity the way humans do—as a language model, it does not build ideas from scratch, but generates responses based on patterns and relationships from its database. "I feel the model should be trained to be less confident in these types of answers, or unable to answer at all," Tait told Digital Trends. "I would have much preferred an answer that this game was inspired by Summer or Rullo if that is truly how it came up with the idea. I also think ChatGPT should add some sort of explanation as to how it has generated a response, including data sources that helped train that particular answer." 
GPT-4, the next generation of Open AI's model, has also shown that it can knowingly lie to get a task done. Case in point: 
Holy shit. GPT-4, on it's own; was able to hire a human TaskRabbit worker to solve a CAPACHA for it and convinced the human to go along with it. pic.twitter.com/xVuQnyUUry

— Yosarian2 (@YosarianTwo) March 14, 2023
https://platform.twitter.com/widgets.js
The main takeaway from Sumplete's ill-informed virality is to fact-check. Do your due diligence. Developers who frequently rely on AI to spark product ideas run a high risk of plagiarism and flawed logic, which the bot may not admit to unless prodded. ChatGPT, particularly, tends to share misinformation and is bad at counting, as we discovered last year when we asked it to make a working crossword puzzle. Play, and see for yourself!