Union Home Minister Amit Shah on Saturday asserted the NDA will win all the 40 Lok Sabha seats in Bihar in the 2024 general elections.
Addressing a rally at Jhanjharpur in Bihar's Madhubani district, the Home Minister said the NDA had secured 39 Lok Sabha seats in the 2019 elections in Bihar and will now look to "break all records" in next year's polls by winning all the seats.
He said "We won 39 seats in 2019, this time round we will break all records and win all 40 seats." Shah said the law and order condition in Bihar was deteriorating every day and the "opportunistic alliance" will worsen the situation.
Related Articles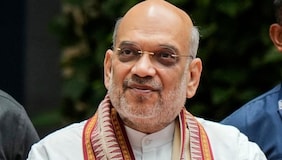 Amit Shah to attend Telangana 'liberation day' celebration in Hyderabad on Sept 17
WATCH: Bihar CM Nitish Kumar tumbles from stage at Patna University's Teachers' Day event
"The law and order situation in Bihar is deteriorating every day and the presence of the Mahagathbandhan will worsen the situation furthermore in the coming days," he said.
"If Modiji does not become the PM again, the entire Seemanchal' region will be full of 'ghuspaithiyas' (intruders)", Shah said at the rally.
On the JDU-RJD alliance, Shah said, "The JDU-RJD combination is like oil and water. They will never mix. I want to tell Nitish Babu that no matter how high the self-gain is, water and oil are never one. Oil has nothing to lose, it only maligns the water. The alliance you have made to become the prime minister, that alliance will take you down…"
#WATCH | Madhubani, Bihar: Union Home Minister Amit Shah says, "The JDU-RJD combination is like oil and water. They will never mix. I want to tell Nitish Babu that no matter how high the self-gain is, water and oil are never one. Oil has nothing to lose, it only maligns the… pic.twitter.com/vgTrpl33iX

— ANI (@ANI) September 16, 2023
He added, "There is Lalu-Nitish government in Bihar. I have been reading the newspapers of Bihar. Shooting, looting, kidnapping, and killings of journalists and Dalits have increased. This selfish alliance is taking Bihar towards 'Jungle-raj'. Now Lalu Yadav is active and Nitish Kumar is inactive… You can only imagine how Bihar will run if their government returns…"
#WATCH | Madhubani, Bihar: Union Home Minister Amit Shah says, "There is Lalu-Nitish government in Bihar. I have been reading the newspapers of Bihar. Shooting, looting, kidnapping, and killings of journalists and Dalits have increased. This selfish alliance is taking Bihar… pic.twitter.com/RAomS36Dwt

— ANI (@ANI) September 16, 2023
Speaking about the opposition's alliance, he said "They have made a new alliance with a new name. They worked with the name of UPA and did corruption worth Rs. 12 Lakh crores. Lalu Yadav did corruption worth crores while he was the railway minister. They changed their name because they could not come back with the name UPA, hence they had to come up with INDI Alliance. People of this alliance disrespect Ramcharitmanas… cancel holidays on Rakshandhan and Janmashtami. They relate Sanatana Dharma to a number of diseases. All they can do is appeasement…"
With inputs from agencies