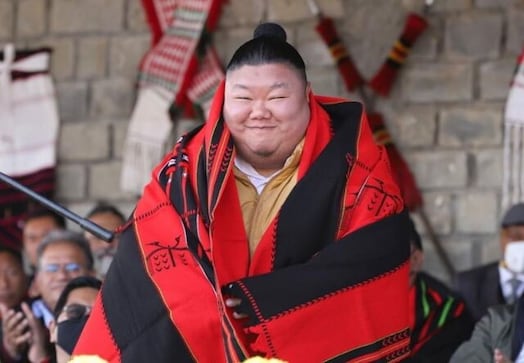 Known for his amazing sense of humour and witty Twitter posts, Nagaland's Tourism and Higher Education Minister Temjen Imna Along is quite a popular face on the internet. From sharing interesting happenings and promoting his state to cracking sarcastic jokes about real-life events and also making fun of himself, the minister has always impressed his followers with his amazing thought process. He has time and again proved that he is indeed a master at engaging followers. This time too, Imna Along took to Twitter and shared a post, giving a 'hilarious tip' for losing weight. His tweet went viral in no time, leaving social media users in splits.
Sharing the picture of a pizza that has a cycle running over it, the minister added an interesting caption that reads, "Always abide by what your doctor says…" The photo shows a cheese-loaded pizza with a cycle cutting across it along with this text – "Doctor: Ride a bicycle to cut the carbs."
Check:
We can clearly understand the minister's hint as he doesn't intend to give up on tasty food for the sake of losing weight and we can't help but agree to it!
In reaction to his tweet, users also posted several comments. A user wrote, "Lets exchange body figures sirji", while another said, "Picture that will get me through the day with a smile. Thanks for posting."
"Always you make our day… i watch your video on YouTube…. God bless you sir," a user commented, while one hilariously stated, "Good that he didn't say……more and more CRUNCHES to cut carbs."
Thank God aap health Minister nhi bney

— आकांक्षा (@akankshabangwal) May 19, 2023
This is not the first time when the state minister has posted such a tweet. On several instances in the past, Along shared hilarious posts, leaving his followers entertained and laughing all over it. He often also shared videos of local delicacies from Nagaland, expressing his love for food.
Read all the Latest News, Trending News, Cricket News, Bollywood News,
India News and Entertainment News here. Follow us on Facebook, Twitter and Instagram.