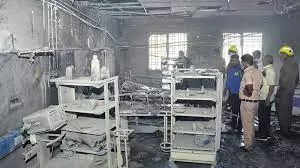 NASHIK: Ahmednagar police on Tuesday arrested a medical officer, Dr Vishika Shinde, and three staff nurses — Sapna Pathare, Asma Sheikh and Chhana Anant — in connection with the fire in the ICU of the Ahmednagar civil hospital which killed 11 Covid patients on November 6.
Ahmednagar superintendent of police Manoj Patil told TOI that cases have been registered against all four under sections 304 (punishment for culpable homicide not amounting to murder) and 304-A (causing death by negligence) of the IPC. They will be produced in court on Wednesday.
On Monday, the state government had suspended Dr Shinde along with district civil surgeon Dr Sunil Pokharna, another medical officer, Dr Suresh Dakhe, and nurse Pathare. It had also terminated the services of Sheikh and Anant.
"Police investigation has found that the four arrested were assigned to be at work at the ICU on Saturday morning but none of them were present when the fire broke out. There was a delay of about 10 minutes in the response time after the fire broke out. We feel more lives could have been saved had the fire been detected in time," Patil said.
The police had carried out an investigation related to the deaths in the blaze. It had examined footage from the CCTVs installed in the ICU.
"Dr Shinde was supposed to be on duty at the ICU from 9am onwards on that day. But she did not visit the ICU even once before the fire broke out at around 10:30am," Patil said.
Asked whether there could be more arrests in the case, Patil said police investigations were still on.
Meanwhile, nurses at the civil hospital staged a demonstration on the premises on Tuesday morning protesting against the action against their three colleagues.
The Maharashtra nurses' association has written to chief minister Uddhav Thackeray demanding that the action against the three nurses be withdrawn. They claimed that the three nurses were the first to sound an alert after the fire broke out and that they helped in taking patients out from the ICU.