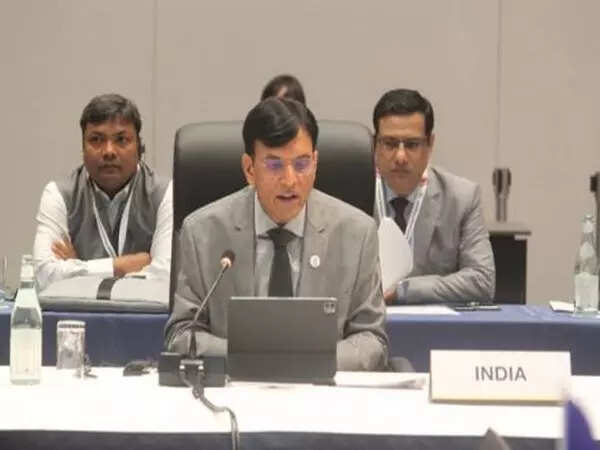 New Delhi: Union minister of health and family welfare, Dr Mansukh Mandaviya addressed the G7 Ministerial meeting on Health Innovation in Nagasaki, Japan on Sunday.
The meeting was held to discuss the priorities, implementation and utilisation of health innovations like digital health towards ensuring Universal Health Coverage.
Health Ministers of the G7 countries and invited "Outreach 4" countries of India, Indonesia, Vietnam and Thailand participated in the meeting.
Speaking on the occasion, Dr Mandaviya said, "Use of technology and Digital Health Tools are an enabler and equalizer which can facilitate strengthened health service delivery and aid in the achievement of Universal Health Coverage. The COVID-19 pandemic has catalysed the use of technology in health service delivery and also highlighted the need to focus on an enabling framework to bridge the digital divide across the countries specifically amongst low-and-middle-income countries."
Highlighting India's achievements in Digital Health, the Union Health Minister said, "India's COVID-19 vaccine delivery platform, Co-WIN has monitored the administration of over 2.2 billion vaccine doses across the length and breadth of the country and monitored not only cold chain management but also facilitated citizens and vaccinators in administration of the vaccines besides providing a QR code based digital vaccine certificate".
"Similarly, eSanjeevani, a National telemedicine platform, launched during the pandemic has already coordinated more than 115 million, free of cost, consultations to the citizens, making it the world's biggest telemedicine platform", he added.
Emphasizing the need to embrace the advantages offered by new and evolving tools, Dr Mandaviya highlighted that artificial intelligence, smart wearables and big data analytics can aid precision medicine, personalised healthcare, genomics, and Clinical Decision Support Systems, ensuring the right treatment to the right person at the right time.
He also underlined the importance of ensuring the availability of these technological tools and stated, "India has already taken a policy decision to provide all such digital tools free of cost to the world as Digital Public Goods."
Dr Mandaviya also stated that India's G20 Presidency has brought digital health as a specific priority and has proposed the convergence mechanisms of all digital initiatives across the world through the formation of the Global Initiative on Digital Health housed at World Health Organisation HQ.
He stated that this initiative with a network-of-network approach will be crucial in bridging the global digital divide and urged the support of G7 countries for the proposed initiative in this regard.