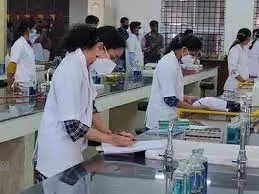 Kolhapur: The Rajarshi Chhatrapati Shahu Maharaj Government Medical College (RCSM GMC) in Kolhapur has approved four seats in super-specialty cardiovascular and thoracic surgery and three in cardiology medicine.
With this, the RCSM GMC has become the third government hospital in the state where super-specialty training will be imparted to postgraduate doctors. The other two hospitals are J J Medical College and Hospital in Mumbai and Nagpur's GMC.
Students will get admissions into the super-speciality courses from the 2023–24 academic year based on the recently held all-India entrance test for the super-speciality course admissions.
"Currently, the medical college has 14 MD (doctor of medicine) courses and four MS (master of surgery) courses in various faculties. Most of the MD and MS courses will have a capacity of 45 seats. Additionally, the medical college has MBBS courses with an intake capacity of 150 students. All seats are filled through all-India entrance tests and the subsequent centralized admission process rounds," Akshay Bafna, the assistant professor of the department of cardiology at RCSM GMC Kolhapur, said.
"A doctor from G B Pant Medical College was tasked with the work to inspect the cardiac department. Currently, we carry out 100-150 cardiac procedures, sometimes even rare ones. We have a 25-bed facility ready. All the expertise and logistical requirements are available with us, which made it easy for the National Medical Commission to approve the seats," Bafna added.
Pradip Dixit, the RCSM GMC dean, said, "We have had a cardiac department functioning for the past 20 years. Now, we will have postgraduate courses on cardiac surgery and cardiology medicine. Students will be allowed to render their services at the attached Chhatrapati Pramila Raje Civil Hospital. With this, critical heart operations such as open-heart surgeries and other procedures that require surgical expertise can be performed. These will immensely help critical patients from poor backgrounds who cannot afford such surgeries in private hospitals."