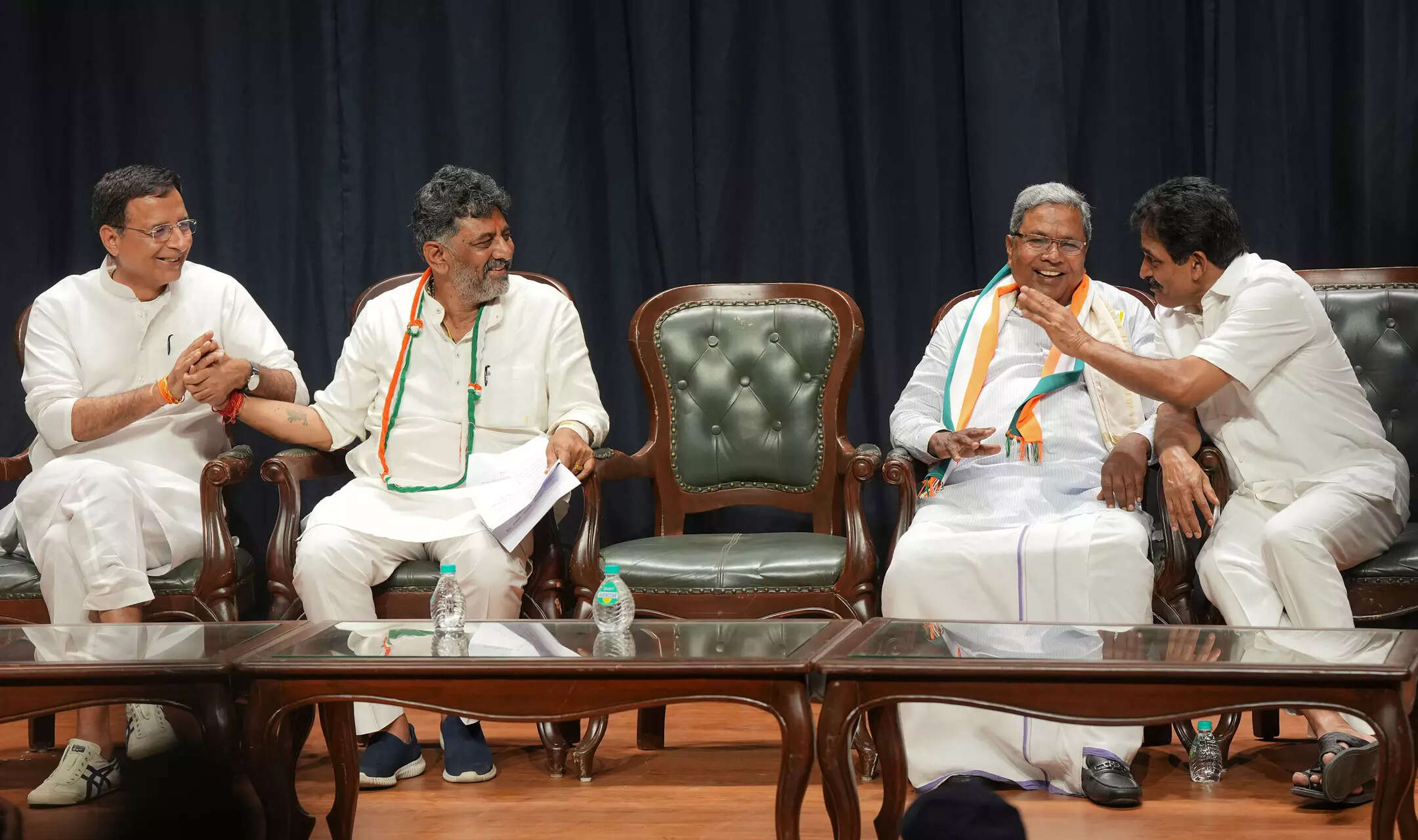 BENGALURU/NEW DELHI: CM aspirant and Karnataka Congress chief DK Shivakumar complicated the leadership's objective to ensure smooth selection of the new CM of Karnataka by categorically declaring he would not compromise on his demand for the top job, and that he will meet the party high command in Delhi on Tuesday to press his claim.
In an exclusive interview with TOI, Shivakumar said he wouldn't agree even to a power-sharing formula if it were mooted by the high command.
He rubbished reports that Siddaramaiah, former CM, leader of opposition in the outgoing assembly and the rival claimant for the coveted job, had got a higher number of votes when central observers elicited MLAs' opinion through a secret ballot on Sunday night after the legislature party meeting in Bengaluru. "How did they (Siddaramaiah camp) know they had a higher number of votes even before the observers submitted a report to AICC president Mallikarjun Kharge on the opinion of the MLAs, which they collected through a secret ballot?" he sought to know. There was much speculation that Siddaramaiah had secured 60% of the votes and DKS 40% without any official confirmation.
Shivakumar's brother and Lok Sabha MP DK Suresh met Congress chief Kharge on Monday evening.
In the afternoon, the KPCC chief was quoted by media as wishing Siddaramaiah "all the best" when told about the latter's claim that had the majority of the MLAs with him. This along with the cancellation of the Delhi trip – after he initially said he would not travel on his birthday and then reversed that stand – made it look as if he had thrown in the towel.
Later, he said he would take whichever flight was available in the evening. At night, while he cited health reasons to not travel, sources said he was unhappy about the party high command's decision to go by the views of the state CLP. "I've a stomach infection, and I've a fever. Today is my birthday. So, I have decided not to go," he said. Late Monday night, though, he changed his mind, again.
The other CM aspirant, seen as the front-runner, who made less noise on the issue, quietly left for Delhi in the afternoon on a special flight to meet with Kharge and other senior leaders.
Amid the flip-flop on visiting Delhi, Shivakumar stressed his claim to mediapersons, saying he he had stood with the party through thick and thin and that even when many party legislators had ditched the party, he worked hard and rebuilt it from scratch. "I don't have the strength to speak about other people's numbers; my strength is 135+1 (the party has won 135 seats in Karnataka and one independent has become an associate member)," he said
Shivakumar will fly to Delhi on Tuesday so that he can meet Sonia Gandhi and Priyanka Gandhi on their return from Shimla, sources said. He wanted to meet them in person to persuade them, they said, his principal argument being Siddaramaiah had already enjoyed a five-year tenure as CM between 2013 and 2018 and it was time the leadership gave him due recognition for his role as PCC chief in the party's grand comeback.
Congress insiders said at the CLP meeting on Sunday, some legislators shared their opinion on their CM preference with the central observers in person while others who were hesitant to share their views face-to-face were given the option of doing so in writing. Veteran Sushil Kumar Shinde, AICC general secretary Jitendra Singh and Deepak Babaria and AICC managers KC Venugopal and Randeep Surjewala collected the views of MLAs through secret ballot. "It was a kind of secret ballot in which one could choose between Shivakumar, Siddaramaiah, or a third leader, or leave it to the decision of the high command. About 35 MLAs refused to give their opinion and left it to the high command," said an MLA-elect on condition of anonymity.
Siddaramaiah is understood to have insisted on getting the opinion of all MLAs before the party high command decided on the new CLP leader, who will subsequently head the government as CM. Shivakumar, in contrast, wanted the party leadership to take a call based on who delivered for it.
A decision on the vexed issue is likely on Tuesday. Siddaramaiah is seen as the favourite for the job in view of his support among legislators, his past experience and also his popularity. Sources said that while Shivakumar has sympathy in the organisation for not breaking under "BJP pressure" when he was jailed for alleged money laundering and his role in doggedly steering the party during the crisis, he may have to be contented this time with a "suitable reward" that the party is finalising, adding that no decision will be taken without Shivakumar being on board.
Shivakumar's posturing suggested that the leadership is tilted towards Siddaramaiah, and he is driving a hard bargain given that he was the second strand of the joint leadership that the party presented to the electorate in the just concluded elections. The fight presents the leadership with the tough task of finding the right reward for the losing candidate. There has been a speculation of a split term which Shivakumar has rejected. The alternative could be deputy chief ministership with a heavy portfolio like home department that conveys an enhanced status.
DKS recounted his "sacrifices" for the party, even invoking the agency raids he and his kin and friends faced for sheltering the MLAs during the tightly fought Rajya Sabha elections in Gujarat of late party leader Ahmed Patel in 2017. Once again, he underlined that Sonia Gandhi had reposed faith in him by giving him the reins of the state unit during a serious crisis in mid-2020, and he had promised to "deliver Karnataka" which "I have done".
There was much speculation that Siddaramaiah had gotten 60% of the votes and DKS 40% without any official confirmation.
Watch DK Shivakumar trailing in ballot votes, 80 MLAs back Siddaramaiah: Sources