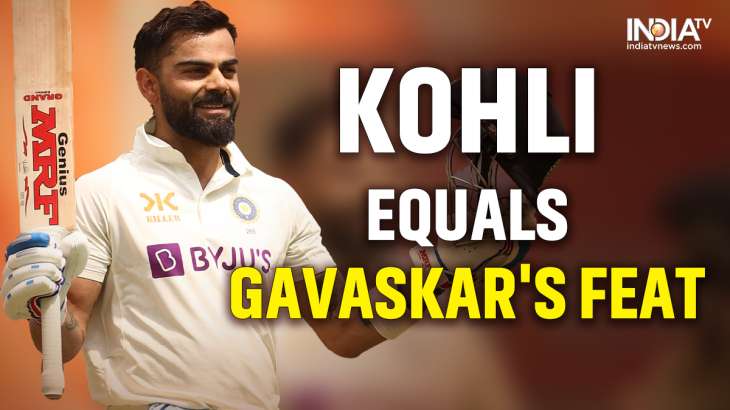 IND vs AUS: Former Indian captain Virat Kohli ended a much-awaited wait for a hundred in test cricket when he smashed his 28th test ton in the 4th match against Australia. Kohli looked rock solid in his performance and displayed a high level of patience and skill at the Narendra Modi Stadium in Ahmedabad to bring up another hundred in International cricket. He also equalled a big feat of Indian legend Sunil Gavaskar, while registering some unique stats on his way to the ton.
In the 4th test against Australia, Kohli displayed a sedate knock to make a hundred after 41 test innings. He levelled the great Sunil Gavaskar's feat of most hundreds vs Australia in Test cricket. Kohli smashed his 8th Test ton against Australia, which brought him to parity along with Gavaskar. In the list of most test tons by an Indian against Australia, Kohli now stands on joint-second along with the 1983 World Cup winner. He is just behind the great Sachin Tendulkar in this tally. The master blaster has 11 test tons to his name against Australia in test cricket.
Most test tons for India against Australia:
Sachin Tendulkar- 11 tons in 11 matches

Virat Kohli- 8 tons in 7 matches

Sunil Gavaskar- 8 tons in 8 matches

VVS Laxman- 6 tons in 6 matches

Cheteshwar Pujara- 5 tons in 5 matches
All numbers behind Kohli's 28th test ton
41 innings between the 27th and 28th test ton- The Indian batter had to wait for more than three years to raise his bat after getting a test hundred. He got into three figures in the longest format last time in a match against Bangladesh in November 2019. The former captain had to wait for 41 test innings to bring up his 28th test ton. 
Second slowest test hundred- This is Kohli's second-ever slowest hundred in test cricket. He made a hundred in 241 balls in the ongoing match. Kohli's slowest hundred in the format is in 289 balls, the test match against England in Nagpur in 2012.
Most International 100s against an opponent- Kohli has smashed his 16th International ton against the Aussies. His 16 tons against Australia is the fourth most in the list of most International tons against an opponent. Tendulkar has the most tons against an opponent in all-three formats- 20 against Australia, followed by Sir Don Bradman's 19 against England. Tendulkar has also made 17 tons against Sri Lanka, while Kohli now has 16 against Australia. He also has 15 tons across formats against Sri Lanka.
Latest Cricket News