(Written By Ashish Satyam)
Driving his e-rickshaw on the roads of Ghaziabad, Raja Babu Sharma, a specially-abled state-level cricketer, is trying to make ends meet after the Uttar Pradesh Disabled Cricket Association was disbanded during the Covid pandemic due to the lack of sponsors. Raja, an exceptionally brilliant cricketer, lost a leg in a train accident when he was just seven. In an exclusive conversation with ABP Live, Raja opened up about his struggles, his life, and his immense love for cricket. 
Raja shared how his family has supported him since the accident that changed his life. "Wo kehte hai na kisiko banane mei parivar ka bahut bara haath hota hai (family plays a big role in someone's growth)," he said.  Raja dedicates his life and entire career to his mother who believed in him, and who taught him to see life beyond his disability. 
"When I was going through a tough time, when I was young, my mother took care of me. When everyone pitied me because I had lost a leg, mother would say her son had only lost a leg but he was alive and that was more important."  
Hailing from Kalpi Gram in Chaunk village (Uttar Pradesh), Raja started playing gully cricket after his train accident and went on to make his place in the Kanpur team. At this time, he was playing regular cricket. Owing to his exceptionally good shots, he became famous and local newspapers started to write about him. In 2011, the Kanpur Cricket Association organised the Kanpur South Premiere League. He appeared for the trials and performed well. But ICC rules did not allow him a runner, and hence he could not play. The organisers, however, made him the brand ambassador of the tournament.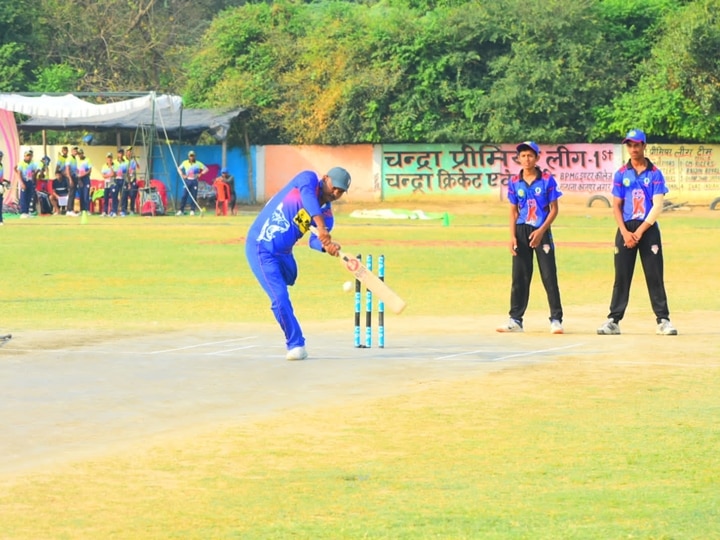 Raja did not know much about cricket for the specially abled because he had been playing regular cricket until then. Things started to look up for him after he met Amit Sharma of Meerut, who was the president of Uttar Pradesh Disabled Cricket Association, in 2013. Raja made it to the team and eventually became its captain. 
A Dream Shattered
Talking about his achievements after he started playing cricket for the specially-abled, Raja recalled: "On December 3, 2015, I got awarded by the Government of Uttar Pradesh for doing well in disabled cricket in Lucknow. I even got the best cricketer award in Ahmedabad. In 2017, the former chief minister of Bihar, Jitan Ram Manjhi, awarded me too." 
However, even this opportunity did not last long. After playing special cricket for nearly six years, the team was disbanded due to the lack of sponsors. With no help coming his way for him to continue playing cricket, Raja ended up opening a Dhaba. Many other players like him joined him there. 
In 2018, after reading a newspaper article on the cricketer, a Noida-based businessman, SP Chowdhary, gifted him an e-rickshaw, which is now the main source of his income through which he is able to support his wife and two children. 
Back To Cricket
Fondly called 'Prannath' by his friends and fellow players, because he would slay bowlers with his batting skills, Raja now plays wheelchair cricket and opens for the Madhya Pradesh wheelchair cricket team. The team is quite strong and has won the prestigious Madhavrao Scindia tournament several times. He is currently working hard for an upcoming tournament. 
Talking about his performance, Raja said: "My performance was outstanding as I smashed almost 120-130 sixes in the 15-20 matches I played. I batted at a wholesome strike rate of almost 225. Recently, in a match at TNM Academy where Madhya Pradesh played Uttarakhand, I scored 72 runs off just 21 balls."
In Noida, Raja played with a team called MCD XI. "Varun Sharma and Prashant sir are there and they have always supported me personally and on a professional front as well. They have allowed me to play at their 'Play zone' cricket ground for free. I have played with them for almost three years and till now, they never made me feel that I am different from them."
His cricketing career, however, brings home much money, said Raja, who drives his e-rickshaw around the Delhi-NCR to run his family. He said some people recognise him on the streets because of the fame he had achieved and believe he is a rich man.
"They think I must have got a lot of money from the government. but the reality is far removed from their imagination. Honestly, my financial condition is so weak that I don't even have a proper bat. My e-rickshaw needs some repairs but I can't afford it at the moment," he said.  
The 31-year-old still hopes he would be able to turn around his situation through his courage and determination towards the game. 
For the first time, BCCI has recognised people playing disabled cricket and has formed a separate board for them, called the DCCI (Differently-Abled Cricket Council of India) with Dr. Mahantesh GK as its president. They have started a registration process to collect data about people like Raja and to streamline the entire process.