It's hard to define the essence of Dubai. This melting pot of different cultures and races has more than its fair share of skyscrapers, ports, and beaches, enough to satiate the needs of sun worshippers and business magnates alike.
With its vibrant nightlife, this magnificent city has a lot to offer. And it's not surprising that it is on most bucket lists as a cherished travel destination.
While Dubai fascinates and intrigues you, a tight budget deters you from booking your tickets. But, hey. It need not be expensive.
Let's walk you through a Dubai travel itinerary that will help you plan your Dubai tour with a Budget itinerary.
Airline bookings
Dubai itinerary on a tight budget? Well, you can start with airline websites such as Etihad or Emirates, as they offer discount schemes regularly. You can also book your tickets in advance from low-cost services such as Spice jet, Indigo, or Flydubai.
Here's something that might pique your interest. When you book your airfare from one of UAE's airlines, you may get discounts at spas, dining outlets, and malls, thus saving you a bundle on extra costs.
Where to stay
When you are on a shoestring budget, you want to spend less but still, want your trip to be memorable. Let's check out some exciting hotels that don't cost a bomb and still promise an exciting stay in Dubai.
1. Zain East Hotel
The arm of the old city, Deira, has a lot to offer and is a must-visit on your Dubai family trip itinerary. A cultural hub, you will find fascinating souks in Deira selling gold, local food, and spices. As Zain East Hotel is situated near Deira, you get to experience the magic of souks and get to see dhows in the pristine waters. At Rs. 2000 a pop, this hotel is a steal.
2. The Leela Hotel
Also located in Deira, the Leela offers the luxury of a swimming pool, hot tub, parking, and Wi-Fi. What's more, your pets are welcome too!
The Leela has comfortable rooms and suites, dining rooms, a rooftop pool, and a gym.
3. Millennium Central Downtown
This hotel is right for you if you don't mind stretching your budget strings a tad. You get to absorb the vibrancy and the excitement of the city from your location, as it is situated in Downtown Dubai. Best  to plan your Dubai tour with a Budget itinerary.
Apart from the umpteen low-budget hotels, you can also check into apartments and ABNB outlets for a cheaper stay.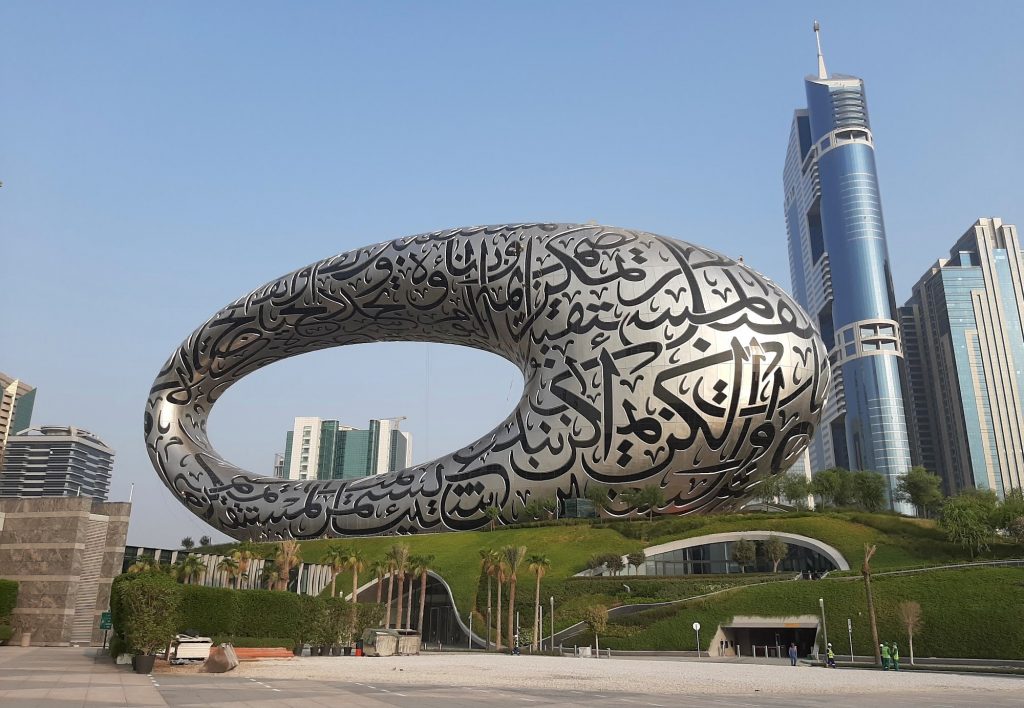 Dubai, a cauldron of excitement
Dubai doesn't come cheap. And iconic places like the Palm Jumeirah and the Dubai Miracle Garden can put you back a bit with the exorbitant entry fees.
However, if you have set your heart on it, the entry fee to Palm Jumeirah is around 280 Dirhams, which roughly comes to about Rs. 5700/-. At AED 55 or Rs. 1112.94, per head, Dubai Miracle Gardens are easier on the pocket.
Everything good isn't necessarily expensive. Here are a few interesting places to visit while you plan your Dubai tour with a Budget itinerary.
1. Dubai Mall, one of the biggest the world has seen
The incredible size of this mall is mind-boggling. At 12 million sq. feet, it stretches the imagination more than a little. It has umpteen retail outlets, department stores, and food outlets.
And, that's not all. The Dubai Aquarium, the light and water show, and the dinosaur skeleton from the late Jurassic Period make your visit more exciting.
2. The charm of Dubai Souks
A trip without shopping lacks charm. And a souk is so much better than the clinical exactness. There is the spice souk, the perfume souk, the gold souk, and the textile souk. The best part? Haggling your way to unbelievable deals!
3. Dubai Beaches
Miles of snowy-white beaches with sand so fine, it trickles out of a tight fist. That is the essence of a Dubai beach. The azure blue of the Persian Gulf against the white of the sand is magical.
4. A selfie at Burj Khalifa
Your trip to Dubai would be incomplete without visiting the majestic Burj Khalifa. With its 160 stories, this structure towers over the landscape in all its majesty. The plus point? Boasting rights on Instagram with your selfie!
5. Dubai desert safari
A trip to Dubai without a desert safari is hardly worth it. While it's not free, desert tours such as Thrillophilia charge around Rs.1710/- per head. The safari includes an exhilarating ride over the sand dunes, soaking in Bedouin culture and relaxing by the bonfire to watch the deft moves of the belly dancer. What's more, you get to enjoy a barbeque dinner too!
6. Dolphin show
This 45-minute bottlenose dolphin show adds an exciting twist to your Dubai vacation. Dolphins and fur seals do their bit as they juggle, dance, and paint at the 180-degree amphitheatre. Check out our Dubai Tour packages.
Things you should know before you plan your trip
The currency of Dubai isDirhams.
Advance booking on flights and hotel bookings is advised as Dubai is a popular tourist destination.
Be respectful during the holy month of Ramadan.
Avoid going crazy with your snapshots. Ask permission before you click pictures.
FAQs
Q. What sort of clothes should I pack for my trip to Dubai?
A. Dress in modest clothes. While western wear is allowed, tight and short garments are frowned upon. Going shirtless is a strict no-no.
Q. What are the best months to plan a trip to Dubai?
A. The best time to travel to Dubai is between October and April. At the best times, Dubai is hot, and it can get hotter. The period between October and April is the winter season. The word winter is an oxymoron, as it is pretty steamy in these months.
Q. What is the form of communication in Dubai?
A. The native language in Dubai is Arabic. English is the second language and is widely spoken in Dubai.