If India has to vote for their favourite world leader, it will probably be United Kingdom prime minister Rishi Sunak. He is often referred to as India's "damad", son-in-law. The British leader is of Indian origin; he is married to Akshata Murty, the daughter of Infosys co-founder, Narayana Murthy, and he is a Hindu. Sunak wears his religion on his sleeve. You can't miss the sacred threads on his hands under the dapper suits. And now he has grabbed headlines with his visit to Delhi's Akshardham Temple amid the hectic schedule at the G20 Summit.
We take a look at the times when the British premier and his wife embraced their Indian roots.
G20 with Firstpost: Catch all the complete coverage here
Related Articles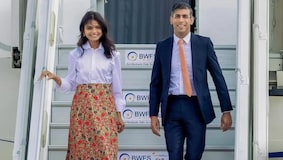 G20 Summit 2023: UK PM Rishi Sunak had a 'quiet' dinner with wifey Akshata Murty at THIS hotel in New Delhi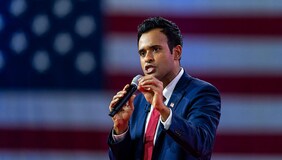 Why some Americans love to hate Vivek Ramaswamy
Inside Rishi Sunak, Akshata's Akshardham Temple visit
Rishi Sunak and Akshata Murty started Sunday with a visit to Delhi's Akshardham Temple, taking a break from the busy G20 Summit schedule. This is Sunak's first official visit to India since he became Britain's PM.
Security was tightened around the temple, as Sunak and his envoy arrived at 6.45 am. They were greeted by senior leaders from the mandir, who relayed a special message on behalf of Mahant Swami Maharaj, spiritual leader of the temple, reports News18.
The couple performed an aarti and abhishek (ritual pouring of water) on the idol of Nilkanth Varni Maharaj. They offered prayers for world peace, progress and harmony, according to an official release.
The priests at the temple put a tikka on Sunak's forehead and pictures show him wearing a garland. Sunak and Murty spent an hour praying and taking darshan despite the rains.
The couple were given an overview of Swaminarayan Akshardham, a 100-acre spiritual and cultural complex that portrays the traditions and ancient architecture of India and promotes the timeless Hindu spiritual messages of faith, devotion and harmony, the News18 report says.
Talking about the temple, the UK leader said, "We were amazed and awed by the beauty of this temple and its universal message of peace, harmony, and becoming a better human being. This is not only a place of worship, but a landmark that also portrays India's values, culture and contributions to the world."
"We see today in Britain these very same values and culture through the positive contributions the British Indian community makes to our country," he added.
After the temple visit, Sunak headed to Rajghat to join other world leaders in paying tribute to Mahatma Gandhi.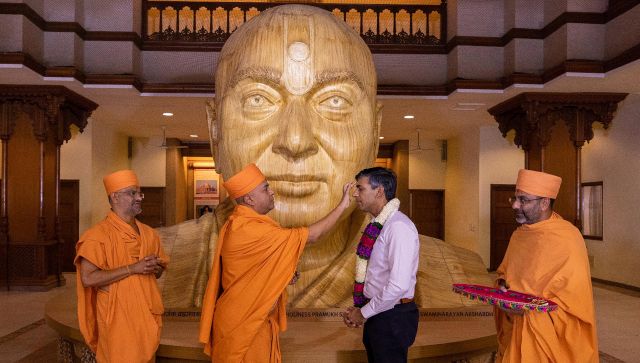 Taking pride in Hindu roots, celebrating Raksha Bandhan
During his India visit, apart from the temple, Sunak said that he and his wife plan to visit some of their favourite Delhi restaurants that they once frequented.
He also spoke about celebrating Raksha Bandhan. "We just had Raksha Bandhan, so from my sister and my cousin, I have all my Rakhis," Sunak told news agency ANI.
On Saturday, PM Modi met with Sunak on the sidelines of the G20 Summit and discussed ways to deepen trade linkages and boost investment.
The UK PM shared a picture of his meeting with PM Modi on X, formerly Twitter and wrote, "Two nations, one ambition. An ambition rooted in our shared values, the connection between our people and of course, our passion for cricket."
🇬🇧🇮🇳

Two nations, one ambition.

An ambition rooted in our shared values, the connection between our people and – of course – our passion for cricket. pic.twitter.com/1W4wkiYCjY

— Rishi Sunak (@RishiSunak) September 9, 2023
Ahead of the G20 Summit, Sunak said in an interview that he was proud of his Indian roots.
"I am hugely proud of my Indian roots and my connections to India. As you know, my wife is Indian and being a proud Hindu means I will always have a connection to India and the people of India," he said.
He also added that the response from the people of India to his appointment as the prime minister was "overwhelming and humbling".
When asked during the interview with news agency Press Trust of India, what he discussed with his Indian in-laws at the dinner table, he revealed it was neither politics nor the challenges of running Britain.
"The most political we tend to get is in our discussion of cricket. I've agreed that my daughters can support India when it comes to cricket, as long as they support England when it comes to football," he said.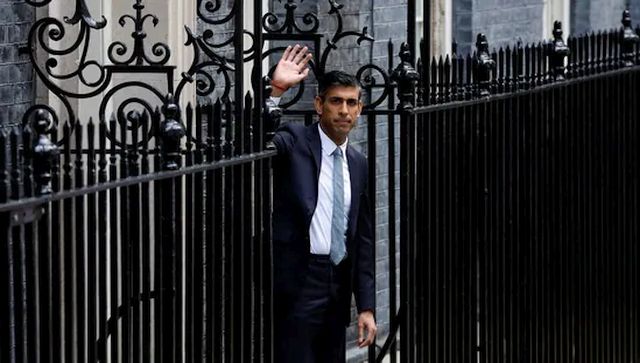 Embracing the 'Indian damaad' tag
Speaking to reporters in a huddle on his flight to New Delhi, the 43-year-old British-Indian leader said he was excited to be back in India, "a country that is very near and dear to me".
He said that his visit to New Delhi for the G20 Leaders' Summit is "obviously special" as he joked about being referred to as the "son-in-law of India".
"I saw somewhere that I was referred to as India's son-in-law, which I hope was meant affectionately," he told reporters travelling with him.
Akshata Murty's fashion choices
During her visit to the temple, Akshata wore a traditional Indian kurta and dupatta with pants.
At the dinner hosted by President Murmu on Saturday evening, she displayed her liking for fusion, wearing a bright, multi-coloured skirt and blouse that boasted ethnic motifs. Earlier that day, she wore a chic, summery, cool lilac marble dress. He chose the outfit designed by Indian-origin, UK-based designer Manimekala Fuller in an attempt to blend her Indian and British connections.
Manimekala, who is from Delhi, shared an image of Murty on social media. "I'm so proud not only to see Akshata in a Manimekala dress, but also that she's wearing it in India, our motherland. And in Delhi – where I lived for a while. I'm half-Indian, half-British and I am based in the UK but regularly visit India," the designer wrote.
While visiting students and staff at the British Council on Friday, Murty wore an outfit created by the Indian label Dawn. She wore a bright, multi-coloured shirt and skirt.
Her flair for fusion was visible when she arrived in India. She deplaned along with Sunak in a traditional floor-length skirt teamed with a crisp white pleated shirt, a doff to her Indian roots. The skirt featured brocade accents and multi-hued floral patterns all over the expanse.
When in the UK
Sunak and Murty are not very different when back home in the UK.
During his first speech at 10 Downing Street in October last year, the British PM was seen wearing the sacred Hindu thread "Kalawa". The cotton red thread roll is used for all religious purposes by Hindus. It is used as an offering of cloth to the deity and is part of any integral puja.
In August last year, he said his Hindu faith guides him in every aspect of his life and gives him the courage to do the best as the Prime Minister of Britain. He was at the Ram Katha being conducted by spiritual leader Morari Bapu at Jesus College, University of Cambridge, and highlighted the significance of the event coinciding with India's Independence Day.
"Bapu, I am here today not as a Prime Minister, but as a Hindu," said Sunak, as he addressed a gathering. "For me, faith is very personal. It guides me in every aspect of my life. Being Prime Minister is a great honour, but it is not an easy job. There are difficult decisions to make, hard choices to confront and our faith gives me courage, strength, and resilience to do the best that I can for our country," he said.
In 2020, Sunak first lit Diwali diyas outside No 11 Downing Street as the first British Indian Chancellor.
With inputs from agencies