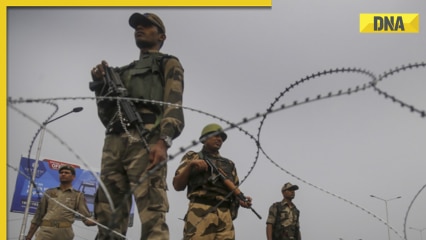 In a major encounter between the Indian Army and terrorists, an Army dog played hero by saving the life of her handler but dying in the process.
An Army dog played hero in the middle of a dangerous encounter in Jammu and Kashmir's Rajouri, where the Indian Army and terrorists clashed, leading to one Army jawan being martyred and a terrorist getting killed.
Officers from the Army and the Jammu and Kashmir Police were injured after an encounter broke out between security forces and terrorists in the Kokernag area in Jammu and Kashmir's Anantnag's district, police said.
Taking to their official handle on social media platform 'X', the Jammu and Kashmir Police posted, "An encounter has started in Kokernag area of Anantnag. Officers from te Army and JKP (Jammu and Kashmir Police) injured. Details shall follow."
Meanwhile, one more terrorist was gunned down on Wednesday in Jammu and Kashmir's Rajouri district in the ongoing exchange firefight between the security forces and terrorists that began a day ago, officials said.
"Second terrorist has been gunned down in the ongoing encounter in Narla area of Rajouri," Mukesh Singh, Additional Director General of Police (ADGP), Jammu said.
Earlier, on Tuesday, a top police official said one terrorist was gunned down while a soldier also lost his life in the encounter, which broke out in the Narla area. Three security personnel, including a Special Police Officer (SPO), also sustained injuries in the exchange of fire.
"One terrorist neutralised; One Army jawan lost his life, three others including one police SPO injured in the ensuing encounter in Rajouri district," Mukesh Singh, additional director general of police (ADGP), Jammu said in a statement on Tuesday.
A six-year-old dog (female labrador) from the Army's canine unit also laid down her life shielding her handler during the encounter.