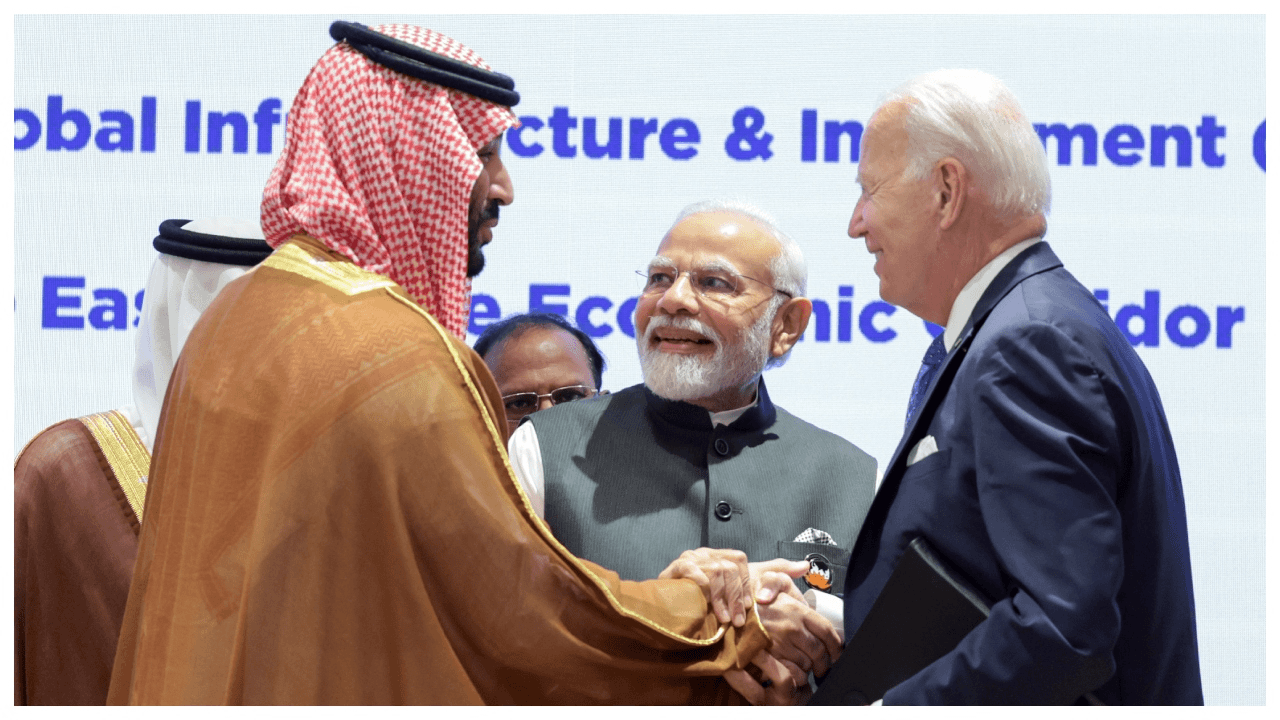 NEW DELHI: India, along with the US, EU, Saudi Arabia and UAE, clinched a deal Saturday to set up the India-Middle East-Europe Economic Corridor (IMEE EC) that will provide faster and cheaper sea and rail transit option to west Asia and Europe and is seen as a counter to China's One Belt One Road (OBOR) initiative.
Announcing the "historic partnership", for which a memorandum of understanding was signed on the sidelines of the G20 Summit, PM Modi said in times to come, this would become an "effective medium for economic integration of India, west Asia and Europe".
Praising PM Modi for helping clinch a deal to set up a trade corridor linking India with west Asia and Europe, US President Joe Biden said the proposed partnership was in sync with the current G20's theme of One Earth, One Future.
"This is a real big deal. I want to thank the PM (Modi). One Earth, One Family, One Future – that's the focus of this G20 Summit. And in many ways, it's also the focus of this partnership that we're talking about today. Building sustainable, resilient infrastructure, making quality infrastructure investments and creating a better future… As we work to address infrastructure gaps across low-middle-income countries, we need to maximise the intensity of our investments," US President Joe Biden said.
Analysts were quick to term the proposed agreement as a "new spice route", referring to the ancient trade corridor between the Indian subcontinent and Europe.
The project will comprise two corridors – East-West, connecting India to West Asia, and the Northern corridor from West Asia to Europe. The idea is to link IMEE EC to southeast Asia, and leverage some of the building blocks on trade. While India already has a trade agreement with Asean and the UAE, it is exploring separate treaties with the EU, the UK and the Gulf Cooperation Council that includes Saudi Arabia and Kuwait, among other countries in the region.
While the details are yet to be worked out, the project could entail Dubai port being the primary link between India and the UAE. The port is expected to be the starting point for the rail link, connecting the UAE to Saudi Arabia, Turkey, Israel and Europe.
Besides, it is expected to act a catalyst for further investment, including from cash-rich companies and funds in Saudi Arabia and the UAE.
The rail and shipping corridor is part of the Partnership for Global Infrastructure Investment (PGII), a collaborative effort by G7 countries to fund infrastructure projects in low- and middle-income nations. PGII is considered as the bloc's counter to the OBOR, which has imposed a heavy debt burden on countries from Mongolia and Pakistan to Kenya and Zambia.
US Secretary of State Antony Blinken tweets, "Today, US President and PM Narendra Modi co-hosted leaders at the G20 Summit Delhi to boost investments in high-quality infrastructure through the Partnership for Global Infrastructure and Investment (PGI). US PGI is committed to mobilizing $200 billion for developing countries by 2027."
"While expanding connectivity, it is important to ensue that connectivity initiatives are consultative, transparent and participatory with respect for sovereignty and territorial integrity of all countries. Principles of financial responsibility and economic viability to avoid creation of unsustainable debt burden to recipients and conforming to ecological and environmental standards must be followed," a government official said.
Officials said the deal will reduce shipping time and cost, making trade cheaper and faster.
"Our main focus is to improve connectivity among regions, and we believe connectivity among various countries is not only for increasing trade but also trust. While promoting any connectivity initiative, it's important to follow fundamental principles such as international norms, rules and following the laws, respecting the sovereignty of every country and integrity of all regions, promoting financial viability instead of increasing burden of debt and following all environment rules," the PM said.