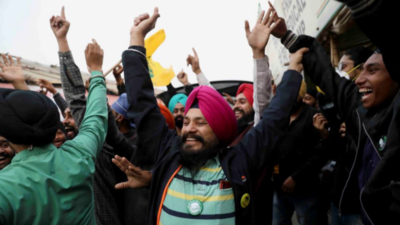 Farmers celebrate repeal of the controversial farm laws, at the Singhu border (Reuters)
NEW DELHI: What could have been the Centre's rationale in scrapping the three farm laws now, after playing hardball for over a year?
PM Modi's announcement on Friday morning struck a soft note, that many are calling hitherto uncharacteristic of the BJP.
"Today is Prakash Parv, not the time to blame anyone. I would request all my protesting farmer friends- return home to your fields and families and make a new beginning. Whatever I did, I did for farmers and whatever I am doing, I am doing for the country," the Prime Minister said in his televised address.
The PM repeatedly said that the intentions behind the farm laws were honest and sincere, while admitting failure to convince a section of the farmers.
Many in the opposition are reading politics behind the timing and also the tone and tenor of the Prime Minister's announcement. The ruling bloc on the other hand has been trying to sell it as Modi's sensitive and humane approach towards the country's farmers.
Why did the govt relent now?
* With Punjab scheduled to go to polls next year, political activity in the state is already on a high gear. PM Modi's announcement on the morning of Gurupurab will reach out to Sikhs, who form a significant segment of farmers protesting at Delhi's borders.
* This, coupled with opening of the Kartarpur corridor and PM Modi's visit to gurdwaras is likely to create favourable vibes for the BJP in the poll-bound states of Punjab and UP.
* By scrapping the laws, the government has evaded a stalemate, while also negating chances of opposition using farm dissent as a rallying point till the 2024 Lok Sabha polls, or another Lakhimpur-like flashpoint.
* Promise to set up a committee to strengthen MSP is being seen as a counter to possible attempts to shift focus of stir after the repeal of laws.
* There is also a security consideration, as reports had emerged of pro-Khalistan groups funding the protests and the Pakistani spy agency ISI's covert involvement in using them to foment trouble in Punjab.
FacebookTwitterLinkedinEMail