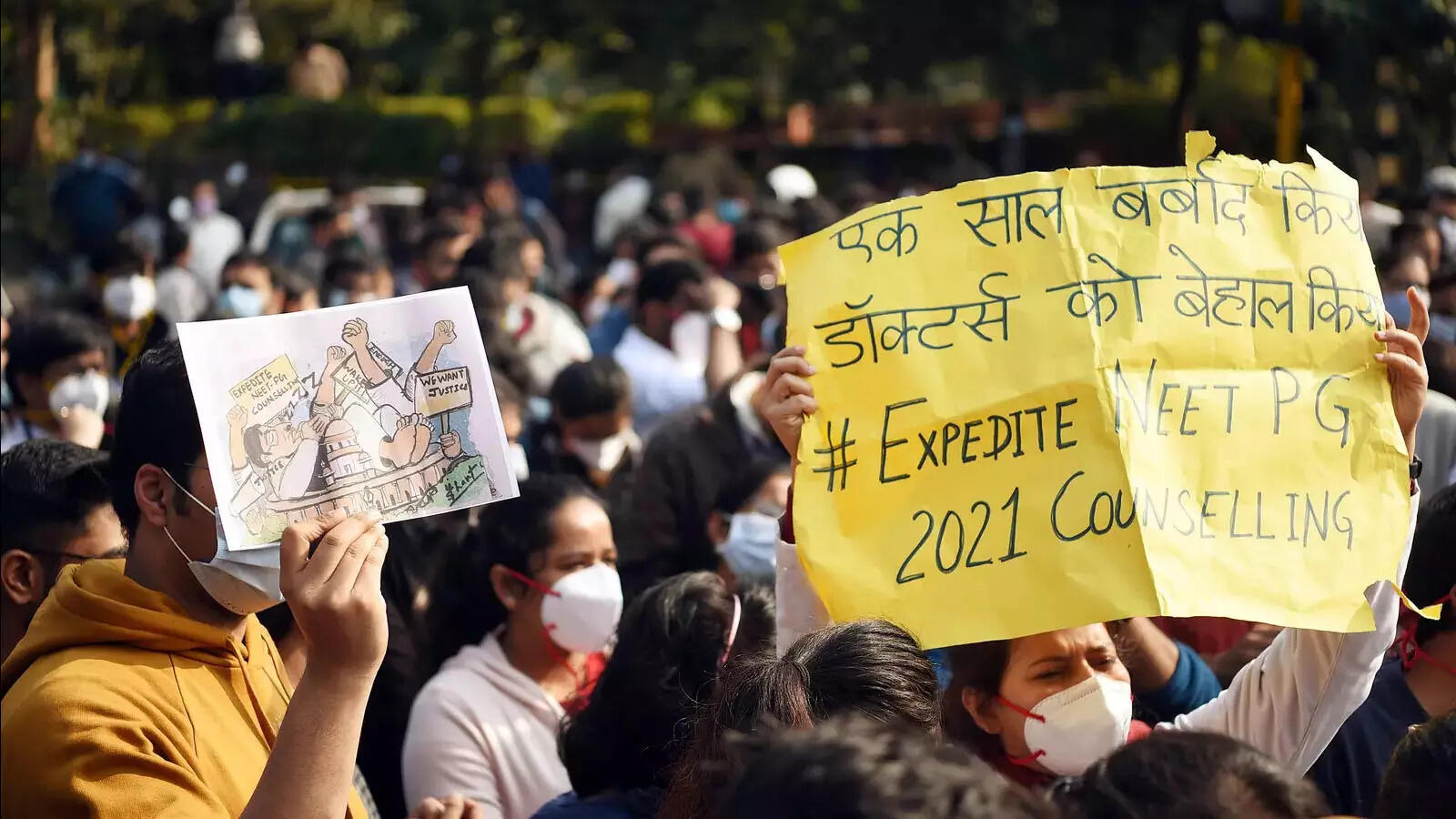 NEW DELHI: The residents in Safdarjung Hospital decided to continue with their protest over the delay in NEET-PG counselling on Wednesday and also demanded an apology from Delhi Police for the "brutal" handling of the doctors' march to the Supreme Court on Monday.
In a statement on Wednesday, the Federation of Resident Doctors' Association (FORDA) said, "Today was the 13th day of the agitation called by FORDA to expedite the NEET-PG counselling 2021. Following a meeting with FORDA representatives at Nirman Bhavan yesterday, the Union health minister addressed the media about the matter concerned."
The statement went on, "An FIR was filed by police against resident doctors after the brutal incident of violence during the peaceful march to the Supreme Court of India on December 27. Since our demands of expediting NEET-PG counselling and withdrawal of FIR have not been met by the authorities concerned, we have decided to continue with the agitation."
FORDA claimed that the peacefully protesting doctors were thrashed, dragged and detained by Delhi Police personnel. But the cops denied these allegations and claimed that protestors were not manhandled.
Delhi Police also registered an FIR at the IP Estate police station for rioting, obstructing policemen in discharging their duty, damaging public property and disobedience of orders promulgated by a public servant.
FORDA president Dr Manish told TOI that none of the residents' demands had been met so far. "We have neither received an apology from police nor has the FIR registered against doctors been quashed."
The cops have informed the protesters about gatherings being prohibited under the Covid yellow alert. Police deployment at Safdarjung Hospital was increased on Tuesday. "There was no public gathering on Wednesday though we are continuing our protest," a doctor said, adding that FORDA had received support from across India. The resident doctors' association at Rajiv Gandhi Super Specialty Hospital issued a statement saying its members were withdrawing services to protest the alleged police action against the doctors. Resident doctors at Hindu Rao and NR Central hospitals have also joined the protest.
Meanwhile, sources confirmed that the central district police have prepared the report about the December 27 melee at the ITO junction and have sent it to the headquarters. Sources said the report included the timeline of the incident. The police brass also held a meeting to discuss the situation. Around 12 resident doctors were detained by Delhi Police when they were marching to the Supreme Court that day.