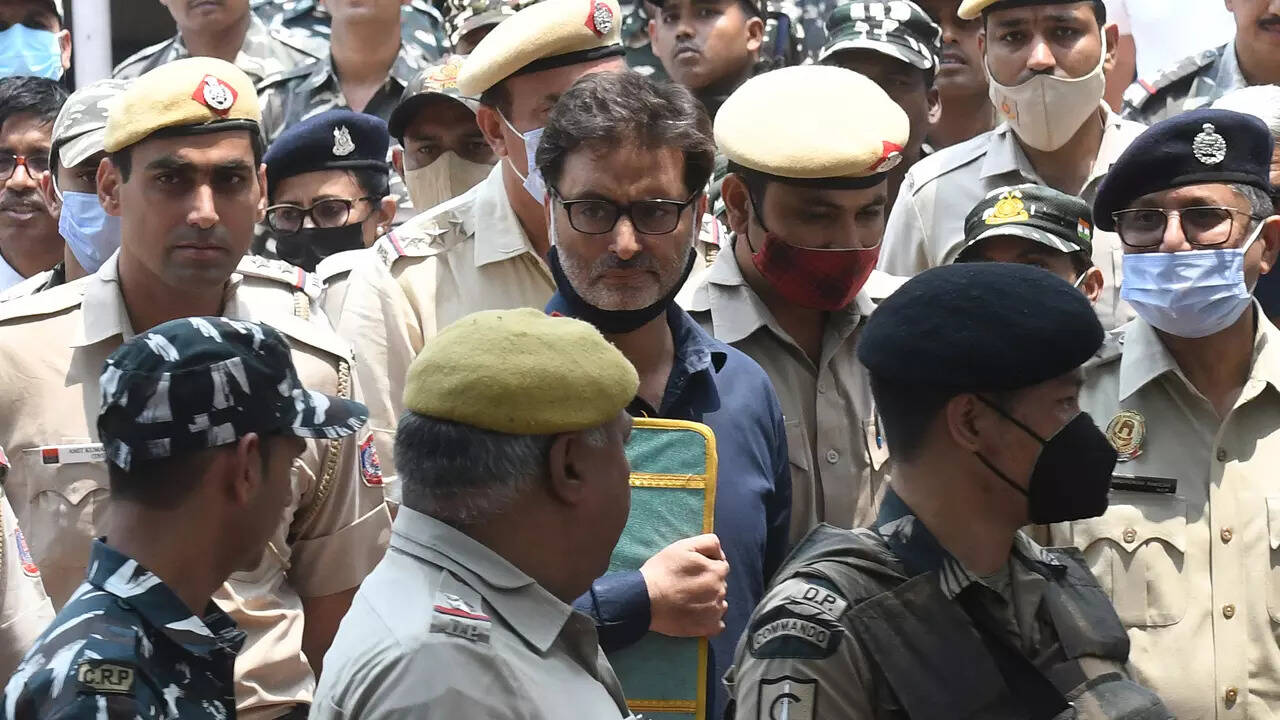 NEW DELHI
: The Delhi high court sought on Monday the stand of jailed separatist leader Yasin Malik, serving a life term, on a plea by the National Investigation Agency (NIA) seeking the death penalty for him in a terror funding case on the grounds that it is the "rarest of rare" cases.
A bench of Justices Siddharth Mridul and Talwant Singh also issued warrants for the Jammu Kashmir Liberation Front chief to be produced before it on August 9.
Solicitor-general Tushar Mehta, who appeared on behalf of the anti-terror agency, argued that Malik indulged in terrorist and secessionist activities and should be awarded the death penalty. Mehta even compared Malik to Osama bin Laden but the bench disagreed, pointing out that Bin Laden never faced trial.
During arguments, Mehta stated that Malik committed the "sensational" killing of four IAF officers and even kidnapped the daughter of then home minister Mufti Muhammad Sayeed, which led to the release of four dreaded criminals who masterminded the 26/11 attack in Mumbai in 2008. He said the NIA is seeking capital punishment as a terrorist cannot be awarded a life sentence just because he has pleaded guilty and chosen not to go through trial.
"If this is not 'rarest of rare' when someone is continuously, by armed rebellion, killing Army people and propagating one region of the nation as separate, there can never be a rarest case. This is the rarest of rare cases (for awarding a death penalty)… If this is not, what could be," he further said.
"Any terrorist can come here, do terrorist activities, plead guilty, and court says since he has pleaded guilty I give him only a life term and not capital punishment," Mehta said.
However the court said Malik only exercised his "constitutional right".
But the senior law officer contended that even Osama bin Laden would have been permitted to plead guilty in India, and that "possibly the USA was right" in its dealing with the al-Qaida founder.
The court responded that there could be no comparison between Malik and Bin Laden as the latter never faced trial and it would not comment on matters affecting foreign relations.
It also asked the National Investigation Agency (NIA) to bring its attention to the law commission report on the death penalty of Malik in its submissions in the matter and summoned the trial court records.
"In view of the ground that Yasin Malik, sole respondent in this appeal, has inter alia pleaded guilty to a charge under IPC Section 121 (waging war against the government of India), which provides for an alternate death sentence, we issue notice to him… to be served through the jail superintendent," the court also ordered.