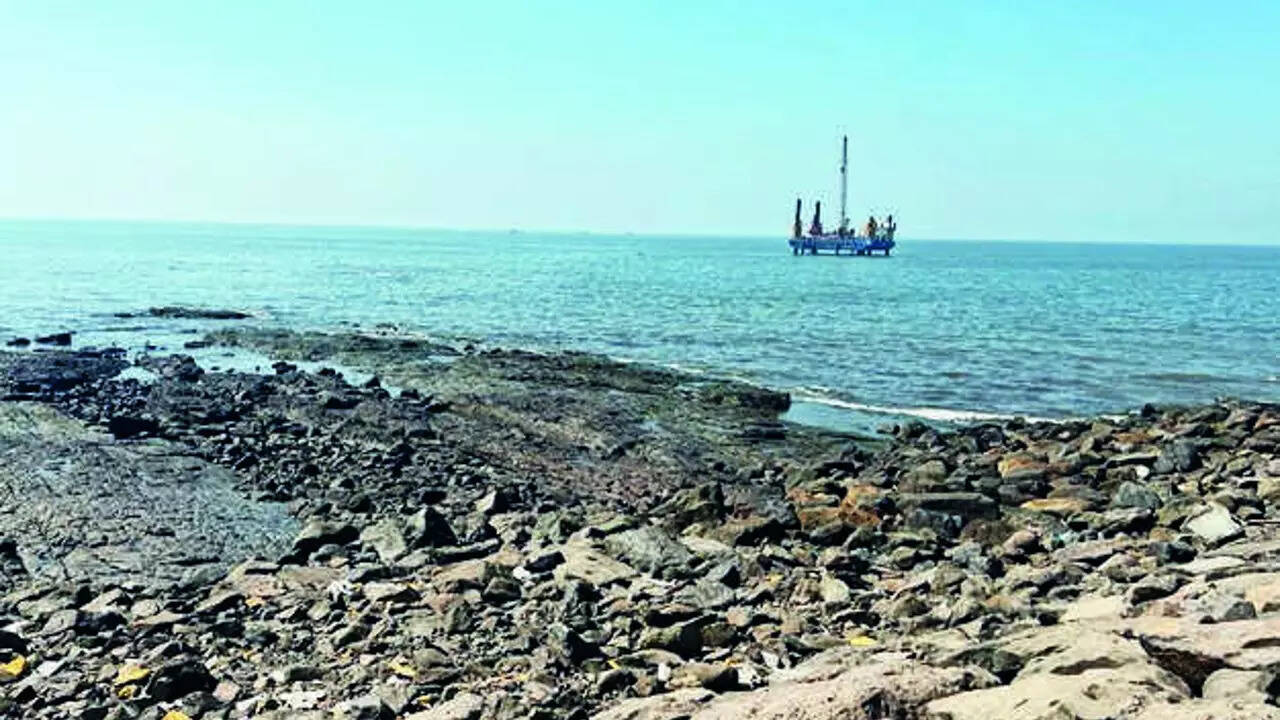 MUMBAI: A day after Mithu Singh, prime accused in the 2021 Bandstand murder of Swadichcha Sane from Palghar, admitted to killing her and dragging her body for two nautical miles into the sea by putting a life jacket on it to dump it, the city crime branch along with the help of Indian Navy and private divers launched a hunt to find it.
Meanwhile, police said Singh has given a vague reply on the motive behind the murder but they suspect sexual assault could be the sole reason. Police suspect Sane visited Singh's Chinese stall, ate and also took a selfie with him and later went towards the sea. Singh told the police he went behind her thinking that she was likely to commit suicide and hence he counselled her and than he left. But in another CCTV footage, Singh is seen again returning to the rocks near the sea with a life jacket.
Ten expert divers from the Indian Navy, ONGC as well as private divers were seen searching the sea opposite the Taj Land Ends up to two nautical miles on Friday. The divers dived deep inside the water for nearly two hours in the morning and evening during low tide. Police said they started the search after they brought Singh to identify the spot on Thursday.
On Friday, police collected evidence from Singh's home, including an electric stove, a printer and a life jacket.
During interrogation, Singh told the police in 2016 three people had drowned at the spot and only two bodies were retrieved due to the "marshy land inside the water". Police said Singh who was brought up in the adjoining Ganesh Nagar slums knows the sea very well and is a good swimmer. He told the police that after killing Sane on the rocks, he arranged for a life jacket which he put on her body and dragged it for two nautical miles towards the marshy land where he dumped it.
"He also said that he regularly went back for a few days to check if the body had floated away but it had not. Gradually, he calmed down and was reassured that no one would find the body and therefore he was very confident in the narco-analysis test," said a police officer.
Three to four witnesses, though, had seen him after 3am at the spot. Till now, Singh had been maintaining that after Sane asked him to leave saying her friend was to arrive, which was around 2.30am, he returned home. But the witnesses had seen him with the life jacket, said the police. Besides, when one of the witnesses found Sane's identity card, Singh got it by asking her sister-in-law for it. During questioning, Singh said he tore off the ID card as it was someone else's and not Sane's.
When the crime branch grilled him, he failed to justify why he went back with the life jacket towards the sea.
Singh's assistant Jabbar Ansari's role too is not clear as he was not part of the crime. Police, though, suspect that he knew that Singh had killed and dumped Sane's body and yet he misled the cops.
Police will be producing Singh and Ansari in court on Saturday seeking their further remand. Police said they have already added Indian Penal Code sections for murder and destruction of evidence in the case.
On November 29, 2021, Sane left home at 5.30am but did not reach her college. Her friend Sadaf called up her family and inquired about her whereabouts. Sadaf also learnt that Sane was not seen in the girl's hostel. Her family immediately launched a search for her and her brother Sanskar lodged a missing complaint with the Boisar police station. The crime branch conducted an investigation from all possible angles, including technical aspects such as WhatsApp messages, call records, Instagram, Telegram, and her email account, but did not find anything suspicious.
During the technical study of her call detail reports, her last location was found to be in Bandstand, Bandra. As her last location was in the jurisdiction of Bandstand, Bandra police took over the investigations and added IPC sections 363 and 364 of kidnapping and kidnapping for ransom in the case.