She wears jade earrings and a midnight blue jacket, embroidered in gold to its mandarin collar. She sits very still, staring straight back at you from her watchful closeup. You could pick her out of a crowd, this shrewd woman with the incisive look and stringently combed hair – except that she no longer exists. For this is not now.
Nor is this a photograph, as it might at first seem, skimming a face from life in some Chinese city. In fact this is an ancestral portrait from Guanghzu province, painted in ink on paper at some unknown date in the 19th century. In the past, such images were posthumous, the faces chosen from albums of generic types, accessorised with personal ornaments and displayed in family shrines. But this one is so hyperreal in its exactitude of face, clothes and pose as to be clearly based on a photograph: Chinese art in the age of the camera.
Lady Li, and her husband, Lu Xifu, are only two among many staggering images in China's Hidden Century at the British Museum. This show is a revelation from first to last. It has an empress's magnificent multicoloured robes, based on the design of a Japanese kimono, on loan from the Metropolitan Museum in New York. It has a scarlet coat patterned with modern steamships all around the hem. There are portraits of Indian traders in Beijing, Chinese businessmen dressed in Parisian suits and a baby's bib stitched with the face of a fancy European clock.
The "long" 19th century, as it is known, stretches from the accession of the sixth Qing emperor in 1796 to the abdication in 1912 of the 11th and last, a boy aged five, bringing an end to 2,000 years of dynastic rule. Not that anyone would have measured time by such western methods, as Julia Lovell observes in the superlative catalogue. It is also known as the "hidden century", because this era was once thought so violent, dark and shameful – famines, invasions, the horrors of two opium wars, dynastic disintegration – that cultural histories have skated right over it.
This is the first time the objects as well as the art of that century have been the subject of a show, the result of intensive research undertaken by more than 100 scholars. This is living history – near and far. It is the wing of a kingfisher that once flew across a stream stitched into a cap in 1800, and a colossal painted scroll in which hundreds of Qing soldiers charge across bridged gorges to defeat the enemy in Taiping. It is a pair of imperial vases so gigantic they dwarfed the emperor, and the humble handprint with which an illiterate worker once signed a contract.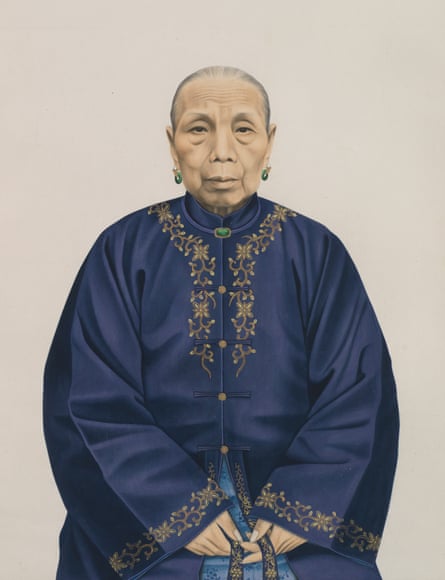 Qing – meaning "bright" – was the name assumed by the Manchu warriors who defeated the incumbent Ming dynasty in 1644. They believed the extent of their growing empire would be universal. The show opens brilliantly, with the All Under Heaven Complete Map of the Everlasting Unified Qing Empire running like a great ocean across eight inky blue scrolls. Europe is scarcely visible as a scattering of pale dots on the far left. The exquisite dictionary next to it is open at a page showing numerous words, in many dialects, to describe a scrap of pastry made with sweetened rice. But this empire, infinite and minute, will soon be threatened by the west.
A shocking lithograph shows a British opium factory in India stacking 300,000 cakes of opium ready to flood the Chinese market in 1851: part of the largest narcotics operation in history. And this comes after the first opium war, when the Chinese emperor complained that addiction was poisoning his empire and Britain unleashed its guns. China was required to hand over Hong Kong in the notorious Treaty of Nanjing. The very object itself, with its blood-red seals, is on view.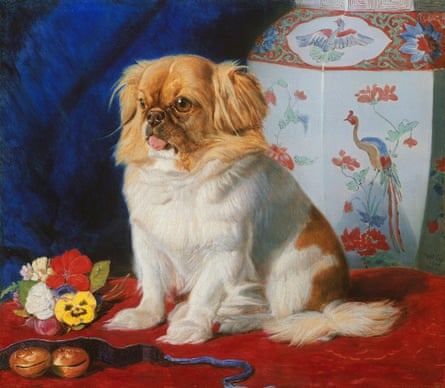 And so too is a shattered fragment of the old Summer Palace in Beijing, destroyed by French and British soldiers in 1860. Beside it hangs a nauseatingly sentimental portrait of a little dog called Looty, note the pun, brought all the way back from the devastation for Queen Victoria, and one of the first pekingese dogs to enter this country. A fetching yellow pansy lies next to its teeny paws, as an index of size.
Such objects are positioned to slow the mind down, helpfully, in a show of more than 300 exhibits. So is the staging, an unfolding sequence of darkened theatres connected by glowing screens, voices murmuring from intermittent speakers in both English and Chinese. Some rooms are hung with traditional Chinese watercolours of misty landscapes and bright insects; others with startling early photographs: the boy emperor scarcely visible on his shadowy throne; a barefoot Chinese peasant trafficked to work the fields of Peru in 1881.
The gallery devoted to the elite soldiers known as Bannermen is properly frightening. Their massive costumes loom out of darkness, armoured carapaces that look equally fierce in contemporary photographs. Nobody could fail to notice the terrible contrast with the fisherman's cape woven of straws of gleaned from windmill palm, no protection at all against rainstorm and tide.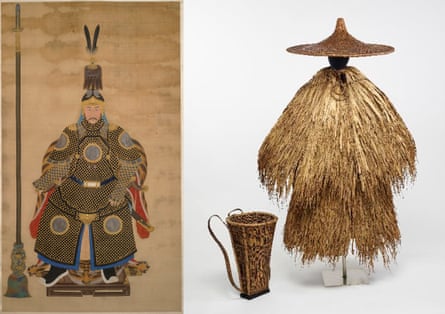 It feels a miracle that such an object still exists at all. And so it goes, all through the show. You stand in front of doll-sized silk shoes worn by a woman picking her way through Beijing on bound feet around the time of Waterloo and wonder how they survived; how it is that you can look at a rice-paper advertisement for an itinerant dentist far out in the provinces.
The last empress, the manipulative and murderous Dowager Cixi, changed gowns 10 times a day; one gallery is stuffed with imperial costumes. But that is just deadening convention. What makes this show so unusual, and so enthralling, is the exact opposite: the chance to see another version of history altogether, to have some sense of the billions of lives lived all over the everlasting empire of those inky blue scrolls.