New Delhi: Staring at default to the tune of $51 billion in foreign debt, Sri Lanka on Wednesday urged its citizens abroad to send money home to help pay for desperately needed food and fuel.
Central bank's new governor Nandalal Weerasinghe on Wednesday said he needed Sri Lankans abroad to "support the country at this crucial juncture by donating much needed foreign exchange".
ALSO READ: World Bank Lowers India's FY23 GDP Growth Forecast To 8 Per Cent From 8.7 Per Cent
The request for funds comes after the government announced suspending repayments on all external debt, which will free up money to replenish scant supplies of petrol, pharmaceuticals and other necessities.
Weerasinghe also informed the public of setting up bank accounts for the purpose of donations in the United States, Britain and Germany and promised Sri Lankan expatriates the money would be spent where it was most needed.
In his appeal posted on the website of the Central Bank of Sri Lanka, the governor wrote, "Although the authorities are taking measures to address the above situation of the country, including taking steps to actively manage its debt obligations, finding immediate financial assistance from other nations and progressing at the discussions with the International Monetary Fund for a comprehensive programme, the positive impacts of such measures will benefit the people only in the medium to long term." 
"Therefore, urgent measures are needed to enhance the foreign reserve position of the country to meet its day-to-day essential imports including food, fuel and medicine," he added.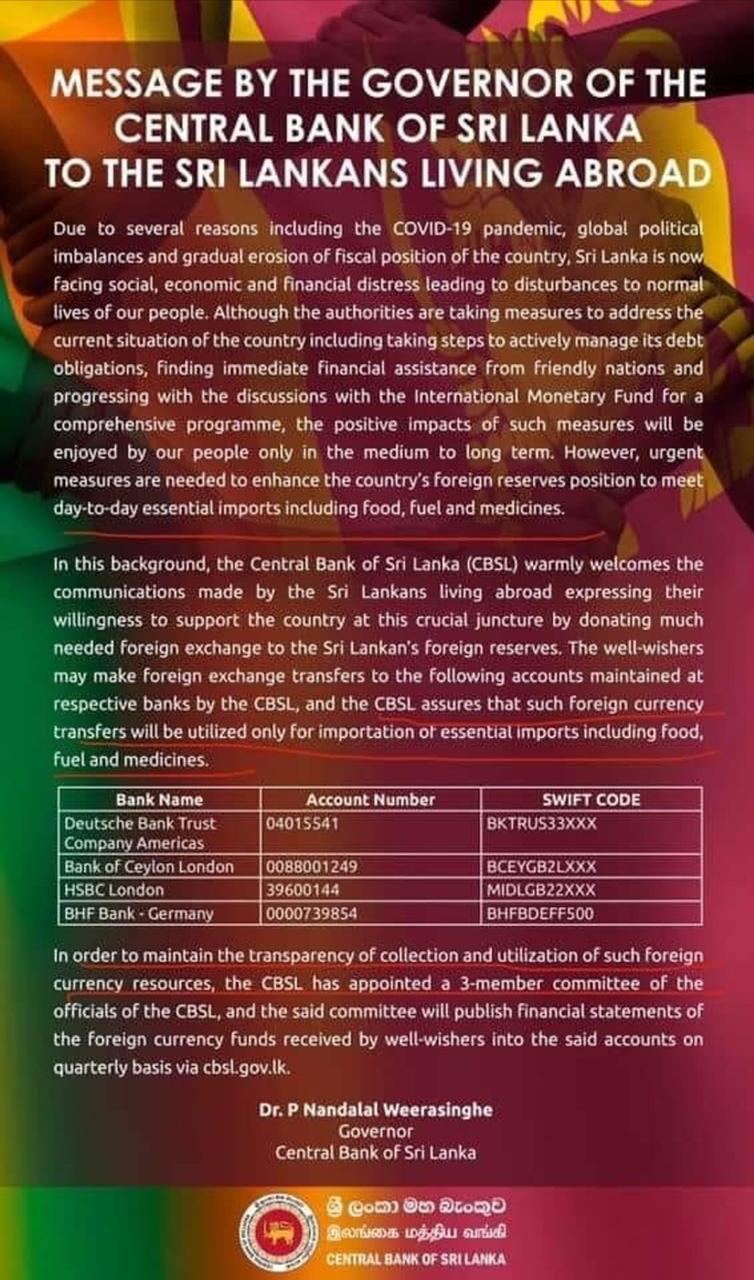 The bank "assures that such foreign currency transfers will be utilised only for the importation of essentials, including food, fuel and medicines", Weerasinghe said in a statement.
The default will save Sri Lanka about $200 million in interest payments falling due on Monday, he said, adding that the money would be diverted to pay for essential imports, as per the AFP report.
On its part, India is willing to commit up to another $2 billion in financial assistance to the neighbouring island nation while also supporting food and fuel, according to Reuters, as New Delhi tries to regain ground lost to China in recent years.
It has implemented a wide import ban to save dwindling foreign currency reserves and use them to service the debts it has now defaulted on.
But the resulting shortages have stoked public resentment, with day-long lines forming across the island for petrol and kerosene, the latter used for cooking stoves in poorer households.
At least eight people have died while waiting in fuel queues since last month.