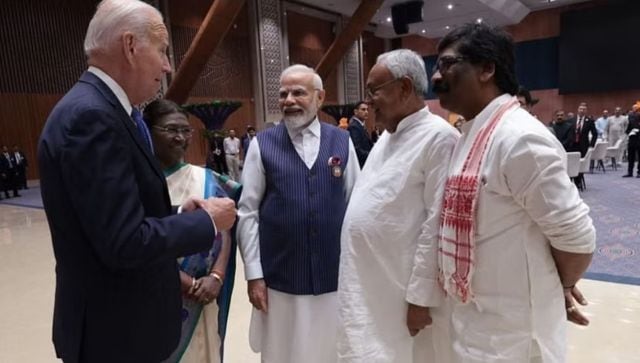 Senior Bharatiya Janata Party (BJP) leader Sanjay Jaiswal on Wednesday asserted that too much should not be read into exchanges between Prime Minister Narendra Modi and Bihar Chief Minister Nitish Kumar on the sidelines of the G20 meet in Delhi.
Jaiswal, who headed the Bihar unit of the BJP till a few months ago, ruled out the possibility of a thaw in relations with the JD(U) of Kumar, claiming that the chief minister had "become a liability" when the two parties were in alliance.
Jaiswal, who is now a member of the BJP national executive, said this in reply to queries from journalists at Jhanjharpur, in north Bihar district of Madhubani, where he was inspecting preparations for the upcoming tour of Union Home Minister Amit Shah.
Related Articles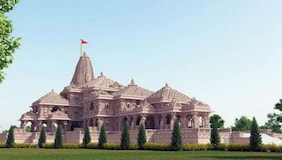 Nitish Kumar's Mandir Politics: To counter Ram Mandir in Ayodhya, Bihar to develop Sita temple at Sitamarhi
WATCH: Bihar CM Nitish Kumar tumbles from stage at Patna University's Teachers' Day event
Shah, who will be on a day-long visit of Jhanjharpur on September 16, is likely to address a public meeting besides attending a function of the Sashastra Seema Bal.
Jaiswal, who was asked about apprehensions of realignment expressed by former chief minister Jitan Ram Manjhi, who recently joined the NDA after being snubbed by Nitish Kumar, said: "What happened in Delhi was just a common courtesy. Much should not be read into these things."
"We are determined to form a full majority government of the BJP in Bihar when assembly polls are held in 2025. No question of ever going back to Nitish Kumar who had become a liability for us," he said.
"He has lost the trust of the people. How else can you explain that in the last assembly polls which we fought in alliance and contested an almost equal number of seats, we returned with a tally of 74 while the JD(U) could not win even 50," asked Jaiswal.
The JD(U) in turn, has accused the BJP of having conspired to reduce its tally in the assembly elections with the help of Chirag Paswan, another NDA ally.
Paswan, who then headed the undivided Lok Janshakti Party, had fielded candidates in all seats contested by the JD(U). Many of the LJP candidates were BJP rebels who got expelled at that time but are now back in the party.
Meanwhile, at a press conference held inside the JD(U) state headquarters in the Bihar capital, party's chief spokesman and MLC Neeraj Kumar charged the Centre with having "played a joke on the people of Bihar" by displaying an image of only the ruins of the ancient Nalanda Mahavihara, a world heritage site, at the G20 meet.
"A modern Nalanda International University has come up just a few kilometres away, for which countries across the world had agreed to provide assistance. Was PM Modi feeling ashamed in making a mention of this project?" asked Neeraj Kumar.
The JD(U) MLC also accused the BJP-RSS of paving hurdles in the way of the project "which caused China to withdraw its assistance and set up a university inspired from Nalanda on its own soil".
"The biased attitude of the BJP is evident from the fact that Nobel Laureate Amartya Sen, a strident critic of their ideology, was made to resign as the Chancellor of the University and he was replaced by a much less fancied academic," alleged Kumar.
"Another renowned faculty member from abroad had to resign after defamatory tweets by RSS ideologue Ram Madhav. Moreover, how ridiculous is the fact that it is called Nalanda International University but no courses are offered in Buddhism," said the JD(U) leader.
"I wonder if the Centre proposes to offer degrees, at the university, in integral humanism (ideology propounded by late RSS ideologue Deen Dayal Upadhyay) and entire political science (allusion to a degree allegedly held by PM Modi). Bihar is undergoing a phase of renaissance (punarjagaran). The ruling BJP at the Centre cannot stomach that," alleged the JD(U) leader.
He also rued that no mention was made of the fact that the UN had declared the Bihar chief minister a "climate leader" because of efforts made in the state towards environment conservation.