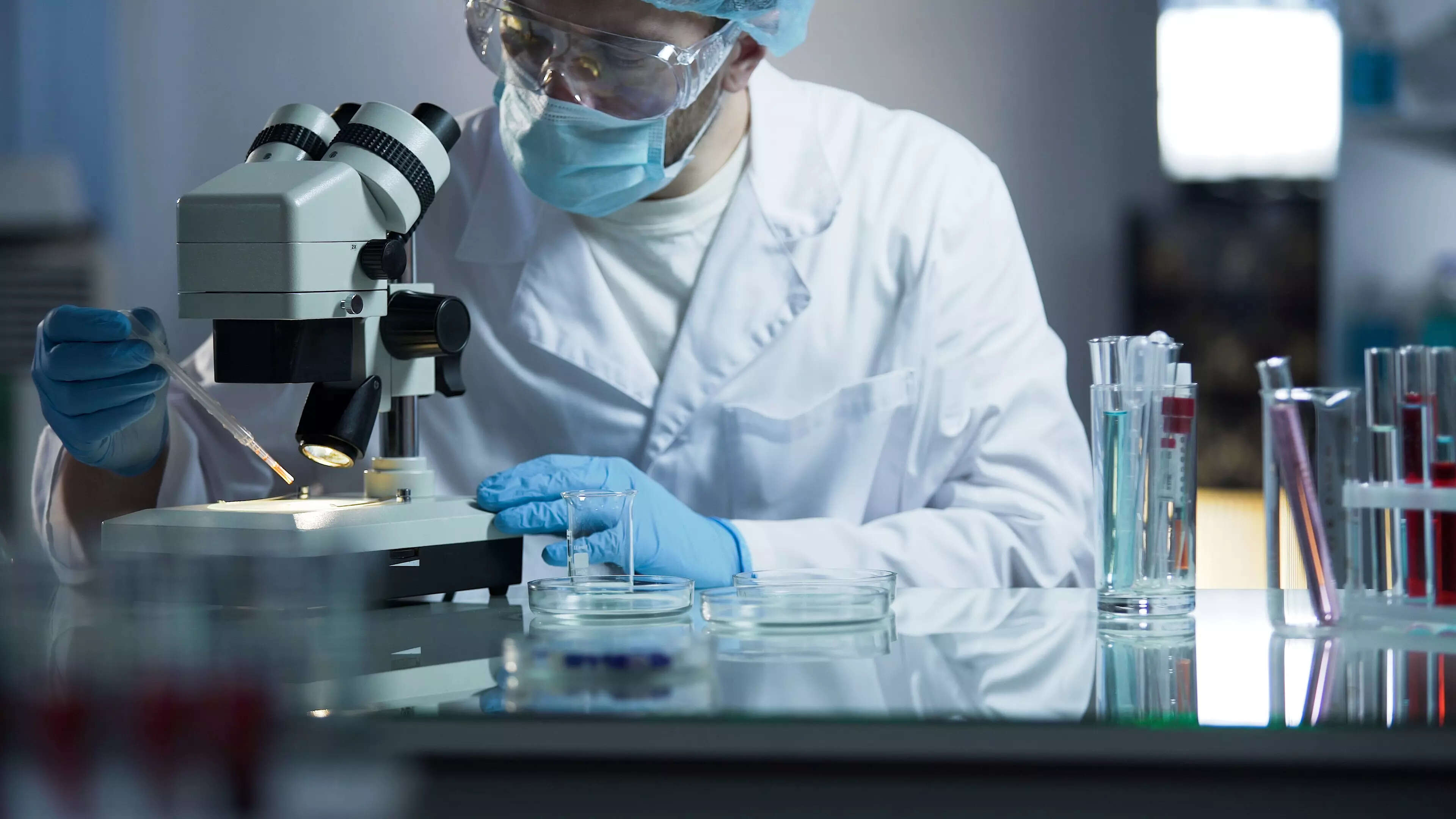 Mumbai: Biotechnology can play a huge role in addressing India's drug-resistant tuberculosis (DR TB) burden. Biotechnology can be used to manufacture existing drugs more easily and at lower costs – an approach that can lead to the discovery of newer, safer drugs for TB and with the potential of lowering the costs of TB treatment.
Modern biotechnology has varied applications, especially when it comes to high-burden settings like India, where the current treatment regimen for TB takes a toll on the physical, social, economic, and mental state of an individual affected by this disease.
One of the major focus areas of The Department of Biotechnology's campaign Dare2eraD TB is the Indian Tuberculosis Genomic Surveillance Consortium (InTGS), which has been established on the lines of the Indian SARS-CoV-2 Genomic Consortia (INSACOG) – a platform which is focused on whole genome sequencing (WGS). WGS helps to understand the biological characteristics of any microorganism, including the effect of its mutations on transmission, treatment, and disease severity, and analyse the genomic data of the organism.
WGS has been gaining traction as an important molecular tool for TB surveillance and the effective use of the WGS technology would allow rapid identification of the origin and drug-resistant strains of the TB bacteria. This would in turn facilitate improved treatment strategies for better control of TB transmission to reduce disease burden.
Newer safe and effective TB treatment regimens

Advancements in TB research have uncovered a multitude of potential drug candidates and combination therapies that show promise in improving treatment outcomes. The WHO recently announced landmark changes in the treatment of drug-resistant tuberculosis. The guidelines included a new recommendation on the use of a novel all-oral 6-month regimen composed of bedaquiline, pretomanid, linezolid and moxifloxacin (BPaLM) in people suffering from multidrug-resistant or rifampicin-resistant tuberculosis (MDR/RR-TB) or MDR/RR-TB with additional resistance to fluoroquinolones (pre-XDR-TB). The newly recommended BPaLM regimen offers better outcomes, remarkably shortens the duration of treatment, and thus significantly improves the quality of life for people with MDR/RR-TB.
Commenting on how bedaquiline is now used as a core component of newer regimens, such as the six-month all-oral BPaL regimen, consisting of bedaquiline, pretomanid and linezolid, and the BPalM regimen, which is BPaL plus moxifloxacin, for the treatment of multidrug-resistant TB or rifampicin-resistant TB with additional resistance to fluoroquinolones. Sarthak Ranade, Managing Director, Janssen India, said, "Recently, the World Health Organisation updated its consolidated guidelines on the treatment of drug-resistant TB to recommend the use of these two regimens, which could improve the quality of life of patients with drug-resistant TB and drastically shorten treatment time."Dr Anil Koul, Vice President, Discovery and Partnerships, Global Public Health R&D, Johnson & Johnson shared, "We could also see evolution toward a Pan-TB regimen, able to treat all forms of TB without the need for a background susceptibility test for resistance, as well as long-acting injectables and a single pill of fixed-dose combination, the holy grail of TB drug innovation."
"The Department of Biotechnology, Government of India has played a pivotal role in its contribution towards TB science and has been supporting basic and applied research on TB for the past three decades. The Department focuses on disease biology, drug discovery, and vaccine development," added, Dr Sarabjit Chadha, Regional Technical Director, SE Asia, and India, FIND.
Additionally, ongoing clinical trials are exploring the efficacy of newer drugs, such as sutezolid and pretomanid, which hold the potential to further augment treatment options and combat drug resistance.
Recognising the importance of patient adherence and engagement in TB treatment, newer regimens are being designed with a patient-centred approach. This entails reducing pill burdens, minimising side effects, and enhancing convenience through simplified dosing schedules. Moreover, innovative strategies like digital health interventions, mobile applications, and community-based support systems are being leveraged to empower patients and improve treatment adherence.
Potential of biotechnology in addressing burden of DR, MDR and XDR TB

Biotechnology is changing R&D for public health, whether through mRNA vaccine technologies or cell and gene therapies. However, its application to TB will take some time to make it to patients. Much of the pipeline for TB is still small molecule-based, with several Phase 3 molecules in the pipeline.
Dr Koul stated, "Various new technologies, like PROTACs (also called molecular glues or proteolysis-targeting chimaeras, which are bifunctional chemical molecules), are being explored at the discovery level. PROTACs work by initiating the degradation and eventual death of bacteria, so they may work well on drug-resistant forms of TB and any drug target of choice."
The evolution of artificial intelligence (AI) and machine learning (ML) is helping with the design of new chemical and biological molecules as well as helping to understand the heterogeneity of TB bacterial populations. These technologies are allowing for a better study of drug-resistant bacteria populations and how different antibiotics can be used to kill these drug-resistant bacteria.
Adding further, Dr Koul said, "Overall, advances in technology, such as the evolution of imaging technology, data sciences and molecular epidemiology, will surely help us with improving diagnosis, identifying patient populations for recruitments in our clinical studies and identifying emerging patterns of TB resistance globally."
Dr Chadha expressed, "India has also learned the lessons from the pandemic and one of the ways the country is capitalising on these lessons is by becoming atmanirbhar (self-reliant), where the idea is to build and sustain a resilient healthcare system along with innovative service delivery. Owing to this scenario, and as India invests more and more in research and development, a future where we as a nation can combat and address DR-TB is not very far."
Biotechnology-based approaches boosting TB vaccine development

The research community is advancing several new vaccine candidates, some of which apply mRNA vaccine technology with novel adjuvants spurred on by the COVID-19 pandemic and the rapid development of mRNA vaccines. In 2004, a study in mice showed for the first time the protective effect of RNA vaccination against TB, and in 2022, a new mRNA clinical trial for TB was launched, one of several mRNA candidates in this space.
"These technologies, from mRNA vaccines to PROTRACs are the result of decades of investments in biotechnology research and have the potential to be effectively utilised for TB. However, TB drug and vaccine development will require increased funding and sustained investment from a wide variety of partners," observed Dr Koul.
The currently available BCG vaccine provides very limited protection against TB infection and disease. "Biotechnology can play a critical role in the development of new TB vaccines. For example, recombinant DNA technology has helped identify several major antigens of M tuberculosis which have shown promise as new candidate vaccines and/or diagnostic reagents against TB. Moreover, advances in biotechnology have helped the identification of proper adjuvant and delivery systems that can potentially improve the immunogenicity of TB vaccines," voiced Dr Chadha.
Dr Koul concluded, "Importantly, while an mRNA vaccine for TB is theoretically feasible, we will still face challenges in developing robust vaccine-production supply chains for low- and middle-income countries and access frameworks that can reach all patients across different geographies where the need is greatest – what Johnson & Johnson calls the 'lab-to-last-mile' approach. That's why we've been working for over two decades to advance TB research and deploy unique approaches to reach communities with our medicine at the last mile of health, and we're committed to pushing forward to help achieve a world free of TB."
TB remains a major global health concern, and a safe and effective vaccine would be essential in reducing the burden of this infectious disease. Traditional vaccine development methods have faced challenges in generating a vaccine that provides long-lasting and broad protection against TB. Biotechnology has enabled scientists to employ innovative approaches in the quest for an effective TB vaccine. Recombinant DNA technology, protein subunit vaccines, viral vectors, and whole-cell inactivated vaccines are among the biotechnological strategies being explored.
Through innovative approaches, such as genetic modifications, novel vaccine candidates, and advanced delivery systems, scientists are inching closer to the development of a safe and effective TB vaccine. The availability of a TB vaccine would significantly impact global health by reducing the incidence, mortality, and transmission of this infectious disease. Continued research, collaboration, and investment in biotechnology are crucial to furthering the understanding of TB immunology and ultimately realising the goal of a TB vaccine that can protect individuals worldwide.