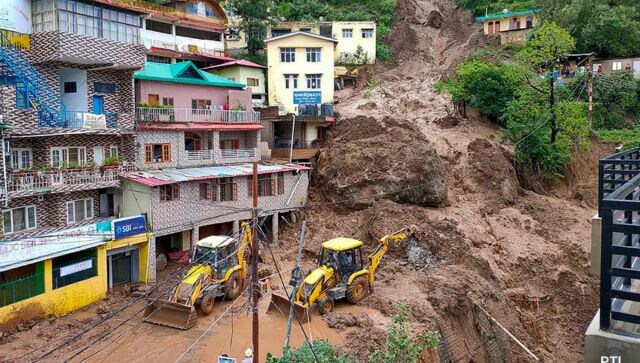 Bihar Chief Minister Nitish Kumar on Wednesday contributed Rs 5 crore for relief and rehabilitation work in Himachal Pradesh — a state that witnessed damage to properties and loss of lives due to rain-induced flash floods and landslides during this year's monsoon season.
Nitish Kumar has contributed from the Chief Minister's Relief Fund.
In a letter to Himachal Pradesh Chief Minister Sukhvinder Singh Sukhu on Wednesday, Nitish Kumar said, "I am deeply distressed and saddened by the tragic loss of lives and large-scale damage done to the properties because of continuous rains during the current monsoon season in Himachal Pradesh. I convey heartfelt condolence to all the victims and their families. I am sending a contribution of Rs 5 crore from the Chief Minister's Relief Fund for the relief and rehabilitation works in the affected areas."
Related Articles
WATCH: Bihar CM Nitish Kumar tumbles from stage at Patna University's Teachers' Day event
'Gundaraj going on in Bihar': RCP Singh on attack on his relative
He also expressed hope that people would recover soon from the losses under the "able guidance and leadership" of the Himachal Pradesh chief minister.
Sukhvinder Singh Sukhu has recently urged Prime Minister Narendra Modi to declare the calamity in Himachal Pradesh as a national disaster.
Flash floods and landslides triggered by heavy rain had caused damage in Kullu, Mandi, Shimla and Solan districts in July and August.
Since the onset of monsoon on June 24 till September 12, Himachal Pradesh has suffered losses of Rs 8,679 crore. About 270 people have died in rain-related incidents, according to the state emergency operation centre.
As many as 165 landslides and 72 flash floods were reported during the monsoon season. Out of the 111 deaths in landslides, 94 were reported in Kullu, Mandi, Shimla and Solan districts, while 18 out of 19 deaths due to flash floods were also witnessed in these districts.
Sukhvinder Singh Sukhu has pegged the losses at Rs 12,000 crore.