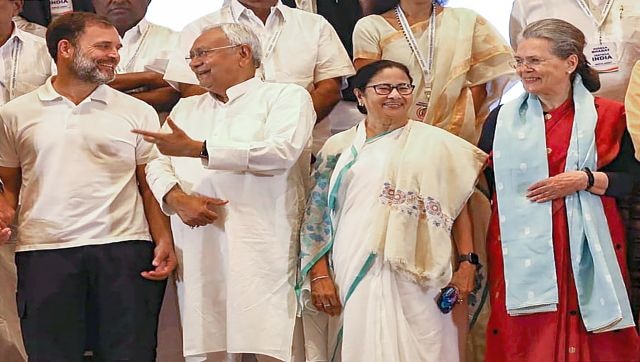 Pointing out that the ruling BJP at the Centre was planning to bring forward the Lok Sabha elections, Bihar Chief Minister, Nitish Kumar on Monday said, "Humlog har samay taiyyar hai." (We are always prepared).
The JD(U) leader, who had snapped ties with BJP a year ago and has played an instrumental role in bringing various opposition parties together to form the INDIA bloc, also asserted that the multi-party alliance was 'intact', dispelling speculations of internal rift.
"I have been saying that the NDA government at the Centre is planning to hold early Lok Sabha polls. Humlog har samay tayyar hai (We are always ready) … Let them hold it early," Nitish Kumar told reporters in Patna.
Related Articles
WATCH: Bihar CM Nitish Kumar tumbles from stage at Patna University's Teachers' Day event
BJP, JD(U) lock horns barely days after PM Modi-Nitish Kumar bonhomie at G20 meet
The Chief Minister made the remark in reply to questions from journalists who sought his views on the possibility of the Lok Sabha polls being brought forward by the Center.
Nitish Kumar said, "We all are united and intact. We have been working for the people and will continue to serve people. We have done a lot of developmental work in Bihar. From constructing good roads, bridges, electricity, and drinking water facilities to several other infrastructural projects, we have done a lot of work in the state. The electorate will make the final decision (Janta faisla legi)."
Bihar Deputy Chief Minister Tejashwi Prasad Yadav, who was present there, also told reporters, "We are intact and will unitedly fight the coming elections".
Kumar, who has maintained that the media was shackled under the current dispensation, also said that a change in regime would herald 'mukti' (liberation) for the journalist fraternity.
"Let the government at the Center change, you (Journalists) people will get 'mukti'. Right now the media is being controlled by the government at the Centre. I am in support of journalists. When everyone gets full freedom, journalists will write what they like," he said.
When asked about the Centers decision to convene a special session of parliament, Kumar, whose JD(U) has 16 MPs in the Lok Sabha, said, "The agenda of the session is not clear…Our members are there, they will strongly raise crucial issues."