A year ago, Penny Wong claimed the Coalition had "dropped the ball" in the Pacific.
Now, as she marks one year as foreign affairs minister, Wong says Australia's relationships across the region were in an even worse state than she initially believed.
"The previous government did diminish Australia's influence in the region – and the extent of that was greater than I had anticipated," Wong says in an interview.
That's something she has been trying to rectify through extensive travel across the Pacific and south-east Asia, intended to make a "clear statement of our priorities in the region".
In her year in office, Australia's tense relationship with China has thawed. But relations with Beijing remain a central focus, especially as fears grow about a potential conflict over Taiwan and China's ambitions in the region.
Reflecting on Beijing's push for security agreements with Pacific countries, Wong says: "China's ambitions are not going to change and it will do what great powers do, which is use every tool at their disposal to advance their interests in our region.
"Australia's interests lie in the region. And Australia's interests lie in ensuring that the regional architecture and regional institutions are protected. And our engagement is predicated on that foundation."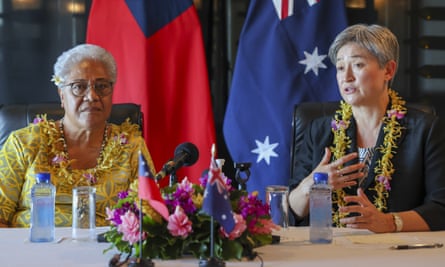 An 'investment in regional security'
A lot of media coverage focuses on the contest for influence between the US, Australia and New Zealand on one side and China on the other – undeniably a major factor in the government's push to keep the mantle as a "partner of choice".
The trigger for Wong saying the Coalition had dropped the ball was China signing a security agreement with Solomon Islands which was widely seen as leading the way for a Chinese military and police presence in the country. Shortly after Australia's 2022 election, China attempted but was rebuffed in seeking a sweeping security and economic deal with 10 Pacific countries.
But Wong says it is wrong to view everything Australia does in the region through that geostrategic lens. She points to last week's budget package of $1.9bn over five years as being a result of listening to the Pacific's priorities. The plan includes the expansion of the Pacific Australia labour mobility scheme, an increase in diplomatic staff in the region, disaster relief and expansion of maritime security ties and criminal justice cooperation.
Pacific island countries have repeatedly said they don't want to be reduced to pawns in a geopolitical chess game. They also view the climate crisis as their top security threat – a point that Wong has acknowledged, even as leaders in the region call for curbs on coal and gas. Wong has used the Albanese government's new 2030 emission reduction targets – now enshrined in legislation and stronger than the Morrison government's commitments – as a bridge to signal to the Pacific that Australia is listening. Labor believes Tony Abbott's cuts to foreign aid and an incident in Canberra in which senior Coalition ministers were caught joking about "water lapping at your door" in the Pacific didn't help Australia's standing.
"The reason we invest is not only that we are part of the Pacific family, not only that it is the right thing to do, but it is recognising that Australians are more secure in a region that is stable," Wong says. "So this is an investment in regional stability, which in turn makes us more secure."
The rocky relationship with China
At the same time as it seeks to boost its regional influence, the Australian government has been seeking to "stabilise" the rocky relationship with China, its top trading partner. Wong travelled to Beijing in December to mark the 50th anniversary of the Whitlam government opening diplomatic relations with the People's Republic of China and the trade minister, Don Farrell, flew there late last week, without gaining any apparent concessions.
Wong raised human rights and the plight of detained Australians Cheng Lei and Yang Hengjun during her meeting with her then counterpart, Wang Yi. She won't reveal what reaction she received from Wang, but promises that the Australian government "will continue to call for them to be reunited with their families".
"This is an issue that we have elevated in terms of the bilateral relationship. It's something the prime minister has raised and I have raised and we will continue to raise."
The government has yet to confirm plans for China's new foreign minister, Qin Gang, to visit Australia in the coming months, but Wong is firm in the belief that dialogue is important: "Engagement enables us to speak, even where there is disagreement, to pursue our national interests".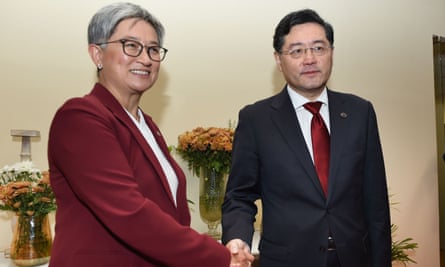 But she also warns that the relationship won't be going back to what it was 15 years ago when economic ties with China could be neatly compartmentalised from security and broader strategic issues.
"We understand that there are areas where we cooperate; we also understand there are areas where we will disagree. And the new normal, to sort of put it in the vernacular, is really both countries making decisions to manage those differences wisely."
'The riskiest of flashpoints in our region'
One issue on which this government has changed tack from the previous Morrison government is to not publicly speculate about Australian involvement in a potential future war over Taiwan, the self-governed democracy of 24 million people that China views as a wayward province and hasn't ruled out taking by force.
Wong admits that Taiwan is "the riskiest of flashpoints in our region" and says that is why it "has to be handled responsibly".
But while the former defence minister, Peter Dutton, said it would be "inconceivable" that Australia would not join a US-led defence of Taiwan, Guardian Australia understands that Wong conveyed a message to senior officials at the Department of Foreign Affairs and Trade after the election that they should not view a war over Taiwan as an inevitable outcome.
The minister doesn't deny that she expressed that message to her department, but says she "worked quite hard on the Taiwan section" of her recent National Press Club address.
"The point I was making in the speech, and I have made this publicly and privately, is that when it comes to Taiwan, the scenario which most enables continued peace is the status quo. And maintaining that status quo will require work and it will require both deterrence and reassurance.
"And what we ought not do is to talk up the inevitability of conflict. Rather, we should be working out what we should be saying and doing publicly and privately to provide that deterrence and reassurance."
Australia recognises 'our own agency'
Asked whether the government faces a problem persuading the Labor rank-and-file over the Aukus nuclear-powered submarine plan and other big strategic calls, Wong studiously avoids getting into a fresh war of words with former prime minister Paul Keating.
But her message is unmissable: the times "differ from those which Australia has lived in over the decades since world war two". She says it is good for the country to have a discussion about how to navigate those "very different circumstances".
She pushes back strongly at claims Australia acts as a US proxy in the region.
"We are a US ally and we're clear about that. What I would say, though, is that Australia recognises our own agency and our own sovereignty. And we also recognise the role we have to play."
One of Wong's most regular refrains has been to urge China and the US to put in place "guardrails" to responsibly manage their tensions. Wong notes the US role in the region is changing – and the outcome Australia is trying to avoid is "one power dominating such that the choices that countries like Australia and others can make are constrained".
After Wong flies from Laos to the Philippines on Tuesday, she will have visited every member of the Pacific Island Forum and every member of the Association of Southeast Asian Nations (Asean) except for military-ruled Myanmar in her first year in office.
Despite her concerns about the erosion of Australia's standing over the past decade, Wong says "the openness to engage with us has been really heartwarming", adding that her travel was to make "a clear statement of our priorities".
Wong initially says she "would anticipate a different intensity of travel over the next year" – but then she stops to look at her diary.
The minister lets out a nervous laugh. "I'm not sure it's much less to be honest."