Amidst heavy police deployment and Section 144 of CrPC prohibiting the assembly of people, Telugu Desam Party (TDP) workers held demonstrations in different parts of YSRCP-ruled Andhra Pradesh as a state-wide bandh called by the TDP to protest the arrest of party chief N Chandrababu Naidu kicked in on Monday.
The administration and police, anticipating trouble however, responded with an unprecedented crackdown on the TDP workers and have prevented their protests from snowballing as a number of party leaders were taken into preventive custody. The police rounded up protesters across the state and took them to police stations, citing preventive detention. All 21 TDP MLAs have been put under house arrest with large police contingents stationed outside their houses to prevent them from leaving home.
Former Andhra Pradesh chief minister Chandrababu Naidu was arrested by the state CID from Nandyal early on Saturday in connection with the multi-crore AP State Skill Development Corporation scam allegedly involving his government's tenure during 2014-19.
Related Articles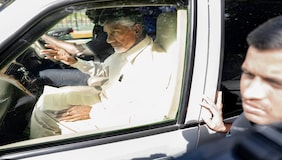 Explained: How Chandrababu Naidu's arrest will impact polls in Andhra Pradesh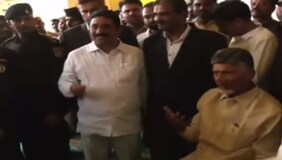 Former Andhra Pradesh chief minister Chandrababu Naidu arrested in corruption case: Report
An Anti-Corruption Bureau (ACB) court in Vijayawada sent Naidu to 14 days of judicial custody on Sunday evening. He was shifted to Rajahmundry Central Jail, 200 km from Vijayawada, after the court order.
The TDP chief's arrest has heated up Andhra politics barely months before the Assembly polls and Lok Sabha elections, with the party calling it "political vendetta" unleashed by the Andhra government led by YSRCP boss and Chief Minister YS Jagan Mohan Reddy. Naidu has repeatedly been locking horns with Jagan on various issues in recent months.
On Sunday night, the TDP had given a call for the state-wide bandh on Monday, with its state president K Atchannaidu calling upon party activists all over the state to oppose Naidu's arrest. "This arrest is illegal and politically motivated. Those who support democracy should come out to protest and make the bandh successful,'' he said.
But, since a large number of state and district-level TDP leaders have been put under house arrest by the police, the party has not been able to organise the protests on a large scale so far.
Police chiefs in the cities and the superintendents in the districts have banned rallies and processions, deploying massive police across the state to curb demonstrations. The biggest protest was reported from Naidu's home turf Kuppam – the constituency from where he has been elected continuously since 1989.
Observing the bandh on Monday, the TDP activists blocked roads and set tyres on fire, but were later arrested by the police. Protests were held at various state transport buses facilities as the TDP workers tried to prevent buses from leaving. The police made arrests in Visakhapatnam, Vizianagaram, Tirupati, Anantapur, Guntur, and other places. Among those arrested at various places were many women TDP members.
At several places, the supporters of the Jana Sena Party (JSP) also took to streets to hold protests. JSP chief K Pawan Kalyan has condemned Naidu's arrest, calling it "politically motivated".
Senior TDP leader Yanamala Rama Krishnudu alleged that the party leaders' house arrest and crackdown on protesters amounted to a "total failure to uphold democratic principles" in the state. "At least IAS and IPS officers who are supposed to uphold democratic values should not participate in this. The way a 73-year-old leader (Naidu) who has a name world over is being ill-treated is shameful and condemnable. If anything happens to Chandrababu Naidu while he is in police custody or jail, Chief Minister Jagan Mohan Reddy and YSRCP will be responsible," Krishnudu said.
Pawan Kalyan also said that the police action preventing peaceful protests and locking up leaders was against democracy. "People protest when they see injustice but this kind of crackdown on people and their leaders is condemnable," he said.
The CID is currently seeking to interrogate Naidu over alleged irregularities in the construction of the Amaravati capital city's inner ring road during the TDP regime. The Jagan government claims that Naidu allegedly rejigged the original design of the inner ring road to increase the value of lands owned by the TDP leaders there.