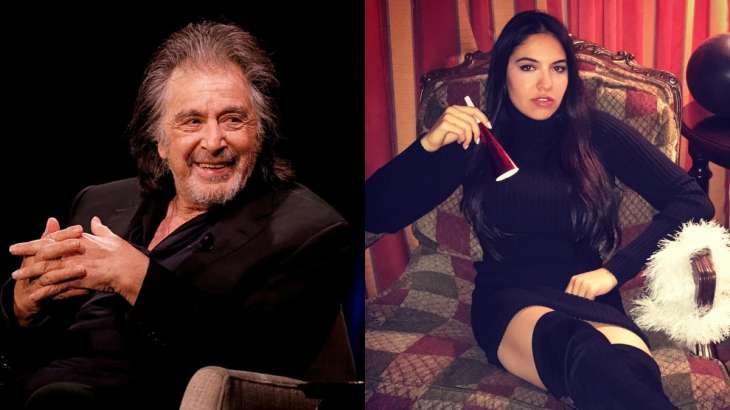 The news of AI Pacino becoming a father at 83 stirred the internet. The news of him expecting his fourth child with his 29-year-old girlfriend took the internet by storm last week. Reports were a buzz that the Godfather actor was himself stunned by the news and later demanded a DNA test to prove he was the father of the unborn child. According to reports, Noor has already gone through with the test, and it's proven that Al Pacino is indeed the father of her child.
Now, for the first time since the reports went public, the Godfather actor has publicly addressed the pregnancy revelation, and said that it is 'very special.' As per a report by Page Six, Al Pacino has broken his silence about the pregnancy for the first time and addressed the revelation. In a video, he said, "It's very special… It always has been. I've got many kids. But this is really special coming at this time."
Noor is reportedly eight months pregnant, and Pacino's representative revealed that the couple will be welcoming their first child together in a month. Al Pacino reportedly had no idea about the pregnancy for the first 11 weeks. This will mark Pacino's fourth time becoming a father, having already fathered three children with two different women. His twins, Anton and Olivia, who are now 22 years old, were born during his relationship with Beverly D'Angelo, while his 33-year-old daughter, Julie Marie, was born during his relationship with Jan Tarrant. He has never been married.
Speculation about their romance began last year after a viral photo showed Pacino and Noor dining with several Hollywood stars. Despite the widespread coverage, neither Pacino nor Alfallah has publicly addressed these reports. It's worth noting that Alfallah has been involved in previous high-profile relationships, including ones with Mick Jagger and billionaire Nicolas Berggruen.
Al Pacino is one of the most revered actors in Hollywood, having starred in several iconic films including The Godfather, Scarface, Heat, Scent of a Woman and Dog Day Afternoon. He will be next seen in David Mamet's Assassination. The film, which is about the murder of former US president John F Kennedy, also stars actors Viggo Mortensen, John Travolta, Shia LaBeouf, Rebecca Pidgeon, and Courtney Love.
Also Read: Captain America 4 gets a new name; retitled as 'Brave New World'
Also Read: Emma Watson dating American businessman Ryan Walsh? Actress spotted with him in Venice
Latest Hollywood News