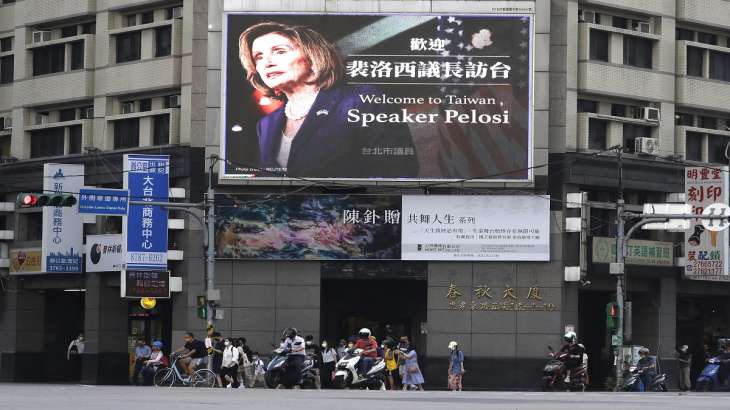 Highlights
Nancy Pelosi visited Taiwan despite serious warnings from Beijing threatening the US
Chinese fighter jets crossed into Taiwan strait to showcase its disapproval to Pelosi's visit
China insisted its military exercises around the Taiwan Strait were "necessary and just"
Nancy Pelosi Taiwan visit: 27 Chinese warplanes entered the Taiwanese air defence zone, AFP quoted Taipei as saying after US House Speaker Nancy Pelosi's visit to Island on Tuesday.
Nancy Pelosi visited Taiwan on Tuesday night despite serious warnings from Beijing threatening the United Nations of serious consequences.
Justifying its action, China insisted Wednesday its military exercises around the Taiwan Strait were "necessary and just" in the wake of US House Speaker Nancy Pelosi's visit to the self-ruled island.
Nancy Pelosi who visited Taiwan yesterday departed from the Island nation on Wednesday evening, ending a controversial landmark visit that Beijing responded to with threats and military drills.
Meanwhile, Taiwan struck a defiant tone on Wednesday as it hosted Pelosi, with a furious China gearing up for military exercises dangerously close to the island's shores in retaliation for the visit.
Taiwanese Ministry of Foreign Affairs "warmly welcomed US Congressional delegation led by House Speaker Nancy Pelosi… it marks 1st visit by a US House Speaker in 25 years… underscores high-level support for Taiwan-US relations from US Congress and wide scope of bilateral cooperation."
The inclusion of Taiwan in the itinerary of Speaker Pelosi's first Asian tour… fully demonstrates the high regard that Congress has for Taiwan and once again emphasizes the rock-solid US commitment to Taiwan, Taiwanese Ministry of Foreign Affairs said.
The visit by Speaker Pelosi and other prominent members of Congress will enhance the close and cordial relations between Taiwan and the US and further deepen global cooperation between the two countries across a broad range of areas, it added.
ALSO READ | China: 3 killed, 6 injured in knife attack at Kindergarten in Jianxi
ALSO READ | Rishi Sunak pledges crackdown on UK's most 'significant terror threat' Islamist extremism
Latest World News